Bumps, bruises and bloody noses arise seemingly more often than pins in high school wrestling.
For Northfield senior Ethan Johnson, he needed to endure the entire gamut during Saturday afternoon's Section 1AAA championships at the Rochester Civic Center in order to qualify for the Class AAA state tournament.
During his semifinal match in the 160-pound weight class, the fourth-seeded Johnson upset Farmington's top-seeded Austin Hamel in a 7-4 decision that required every ounce of energy, plus some blood, that Johnson could spare.
"I took him down that first time and his head bounced up and bruised my nose a little bit," Johnson said. "Then I cut my gum in my mouth and got my first every bloody nose actually in that match. That was pretty crazy, too."
That was all worth it for Johnson, who even with a 4-2 loss to Rochester Century's Owen Pharo in the finals secured a return trip to the individual state tournament after last qualifying as a sophomore.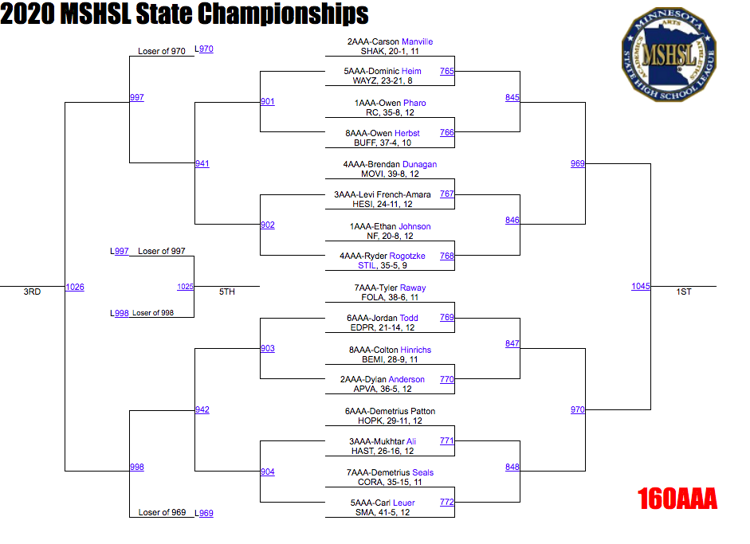 He'll be joined Friday and Saturday at the Xcel Energy Center in St. Paul by sophomore Beau Murphy, who finished second at 113, junior Chase Murphy, who won the title at 126, junior Sam Holman, who finished second at 132, and senior Drew Woodley, who won his fourth straight section title, this time at 138.
Despite the difference in seeds, Johnson said he felt confident walking onto the mat against Hamel. The only other time the two had squared off, Johnson claimed a 3-1 overtime decision last year.
Still, Johnson's presence on the mat, and even in that weight class, was a bit of a surprise to just about everyone involved. For most of the year, the plan was for Johnson to wrestle the regular season at 152, and then bump down to 145 for the postseason to maximize his chances at qualifying for state.
Then, the field at 145 in Section 1AAA turned into a gauntlet thanks to Farmington's Luke Peterson, ranked second in the state, and Albert Lea's Cole Glazier, ranked third in the state. That development temporarily returned Johnson to 152, with top-ranked Landen Johnson from Owatonna, fourth-ranked Caleb Talamantes from Albert Lea and ninth-ranked Cole Han-Lindemeyer from Farmington.
Then, Northfield coach Geoff Staab came to a realization regarding Johnson's entry two days before the section tournament.
"Staab called me over to his desk and said, 'I think you should go 60,' looking at it and breaking it down," Johnson said. "We decided last minute to go 60. I was pretty undersized, like right now I weigh 156 pounds before practice (Monday), so actually getting it done is a huge weight off my chest. I didn't want my sophomore year to be the last (trip to state)."
After the late strategizing, the only thing left for Johnson to do was outwrestle his No. 4 seed.
That, and not worry about the bumps, bruises and bloody nose.
"At that point it hurt pretty bad," Johnson said. "My eyes were watering and stuff, and I could feel it going to my head after the match, but the adrenaline was definitely pumping during the match. I felt like I was on cloud nine and wrestling my best."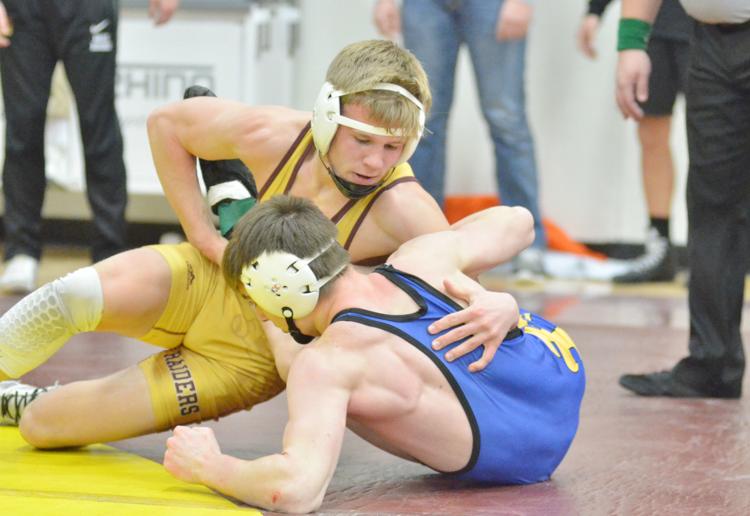 Woodley the underdog?
In terms of resumes, Northfield senior Drew Woodley has garnered one of the longest and most distinguished in the state.
With a pair of state runner-up finishes, a 44-1 record this year and wins over defending state champions Reid Ballantyne and Charlie Pickell, Woodley's sprint to his fourth Section 1AAA title Saturday more or less should have assured him of a top seed in the 138-pound state tournament bracket.
A butterfly effect associated with Woodley's one loss this year, however, repelled Woodley down to the No. 4 seed.
"I don't focus too much on the seeding," Woodley said. "I'm not going to get too high or too low about it, but I did feel like I was disrespected because I've been to the state finals two times now."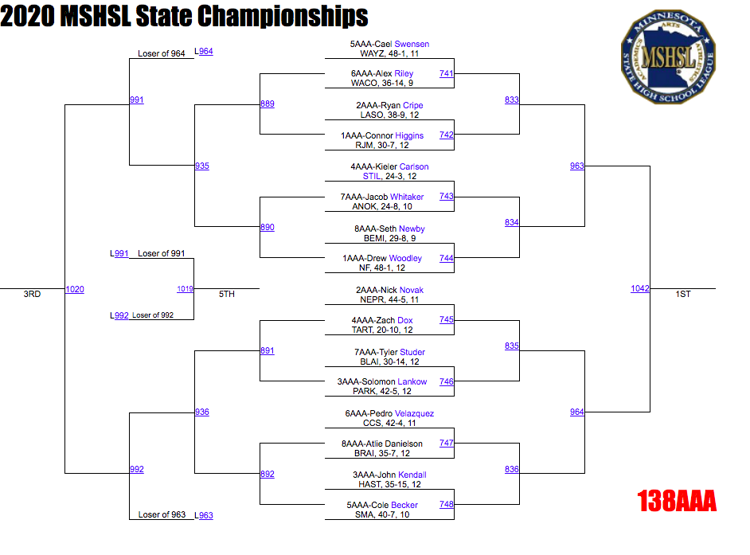 The logic behind the seeding goes back to the semifinals at December's Rumble on the Red tournament in North Dakota. There, Woodley lost a 4-2 decision against New Prague's Nick Novak, who then went on to lose in the finals to Wayzata's Cael Swenson by a 4-2 decision.
Novak then lost later in the season to St. Michael-Albertville's Cole Becker by a 2-1 decision. That meant Swenson was awarded the No. 1 seed, Becker the No. 2, Novak the No. 3 and as the result of the transitive property, Woodley the No. 4.
By Woodley's logic, though, it sets up a potential semifinal clash between him and Swenson, who both have only one loss this season, before a potential chance at revenge against Novak for his first state title.
"To see that four seed is actually a good thing for me, because it gives me more motivation to get that state title," Woodley said.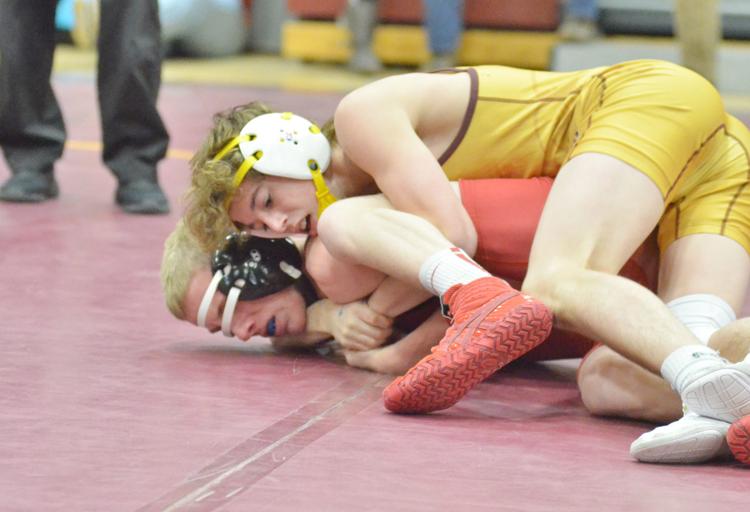 Healthier Murphy ready for round two
In no other sport is a wrestler more zeroed in on his weight, down to the decimal, than wrestling.
Last year, in hopes of a potential state title, Northfield's Chase Murphy cut weight to sneak into the 106-pound weight class for the postseason after wrestling primarily at 113 all season.
He succeeded in making it down, while also winning a section title and claiming fourth at state, but the tribulations of that experience informed the sophomore's decision at the dawn of this year's postseason.
After wrestling most of the season at 120, Murphy decided to move up to 126 as the section tournament neared to better accommodate his lengthier frame.
"I'm just naturally bigger," Murphy said. "Like, I'm naturally taller than, like, everyone. The weight cutting has been so much for me the past two years, so I decided to go out and feel a little bit healthier."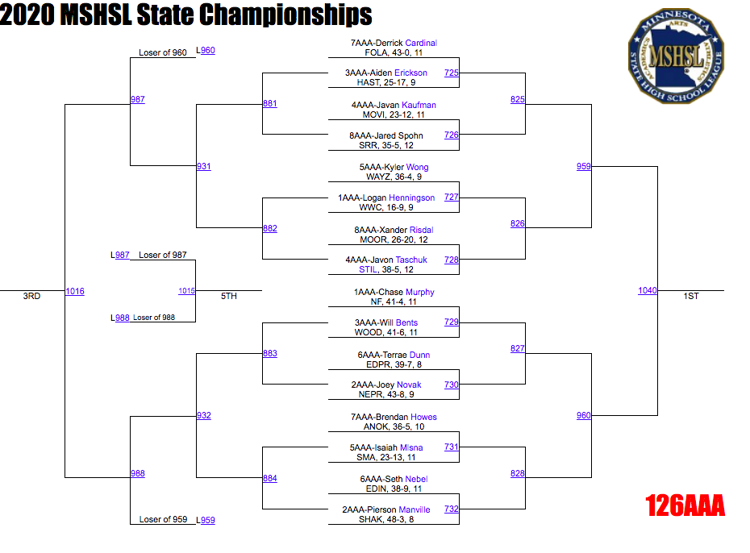 He looked plenty healthy at the section tournament, where he motored to a title with a pair of falls and a technical fall.
That extra strength will be needed in the state tournament, where Murphy is seeded third behind top-seeded Derrick Cardinal from Forest Lake and second-seeded Pierson Manville from Shakopee, the latter of which beat Murphy in the team state tournament last year before winning an individual state title at 106.
"It feels really good to get back up there and be seeded high again like I was last year," Murphy said. "My bracket's really tough, so it's going to be hard matches all the way through, so we'll see what happens.
Holman's confidence carries him to state
Once he took Albert Lea's Cameron Davis' figurative best punch, all the nerves quickly subsided for Northfield junior Sam Holman in the Section 1AAA semifinals.
Yes, he was the fourth seed wrestling the No. 1 seed, but after he withstood Davis' initial attack, he foretold the rest of the match.
"I was not nervous whatsoever," Holman said. "As soon as I got out there he snapped me down and I was like, 'OK, I can definitely do this.' I can feel when someone's better than me, probably, and he was not."
Holman's inner monologue was spot on, as he upset Davis with a 7-2 decision to advance to the finals, where he lost a 3-1 decision against Rochester Mayo's Marshall Peters, but didn't need to win a true second match to advance to state since Davis emerged from the consolation bracket.
"I was a four seed, so coming back from that is pretty nice to get top two," Holman said. "I beat a pretty good kid and felt like I was in control the whole match. I felt like I was stronger than him, and when I'm stronger than someone I usually beat him."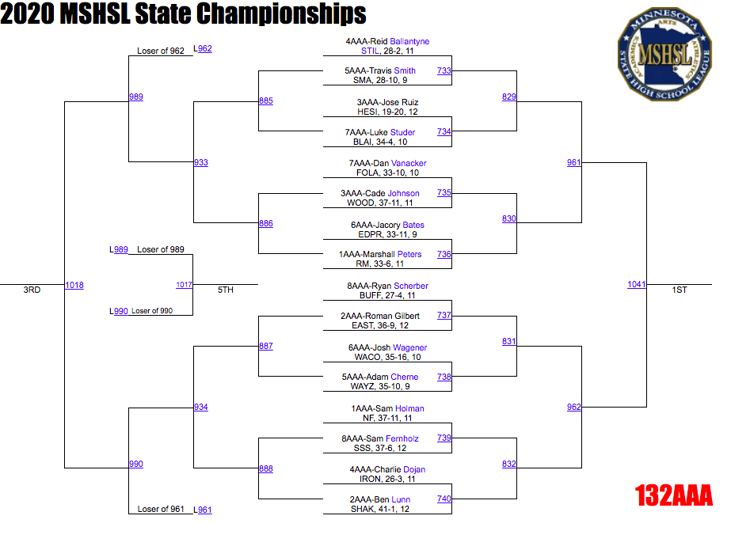 Holman might not have that same strength advantage in St. Paul.
He enters as the seventh seed, and was randomly drawn against Sartell-St. Stephen senior Sam Fernholz, who sports a 37-6 record this year. A first-round win likely pits Holman against Shakopee's second-seeded senior Ben Lunn, a previous state runner-up who beat Holman in last year's team state tournament in a 9-3 decision.
Again, Holman ins't terribly worried about his nerves, though. Those were all exorcised at last year's team state tournament, in which Holman finished 1-2 with the two losses by decision and the win by major decision.
"When we went to team state, that's when I was nervous with it being the first time up there," Holman said. "I think I'll be better now."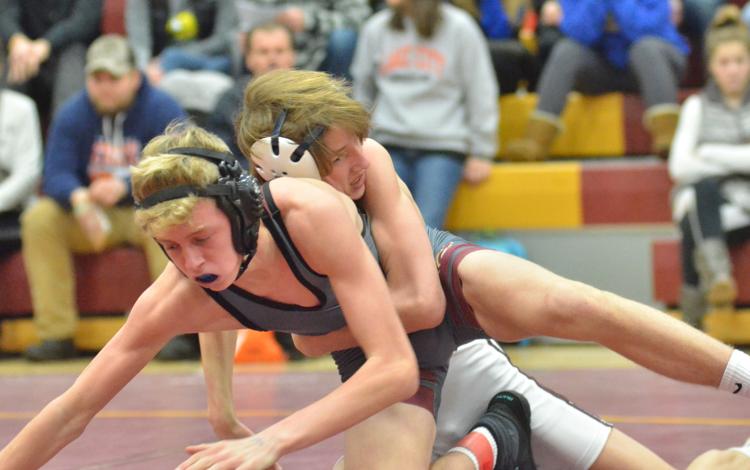 Murphy motors through 113 bracket
The blueprint for sophomore Beau Murphy was simple.
In the 113-pound semifinals, he needed to beat Owatonna's Owen Thorn, who Murphy bested a week earlier, to more or less wrap up qualifying for his first individual state tournament. Murphy did so, and did so with an 11-0 major decision.
After losing to Farmington's Hunter Frost by a 13-4 major decision in the finals, and Thorn was the wrestler who emerged from the consolation bracket, Murphy's work was done.
"Basically I was just trying to score as many points as I possibly could," Murphy said of his semifinal strategy. "Just trying to get him to his back so I could get it done early."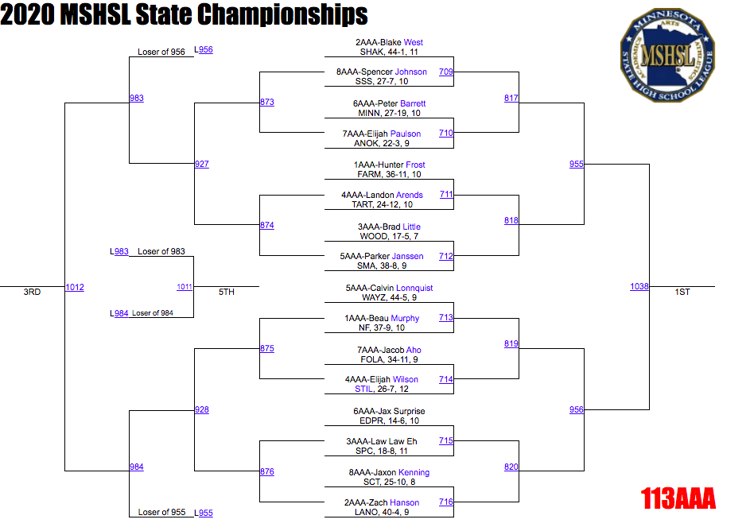 That makes Murphy the lone Raider making the trip to St. Paul on Friday without state wrestling experience. While Johnson, Woodley and Chase Murphy have all competed individually before, and Holman was part of Northfield's team lineup last year, Beau Murphy was squeezed out of the lineup when his brother, Chase, bumped down to 106 for last year's postseason.
Now, he has a chance as a sophomore to take that stage.
"Just wrestle hard," Beau Murphy said of his strategy entering state. "All the matches are going to be tough and you can't stop scoring points."