Entering the final stretch of Wednesday's cross country race, Northfield senior Nicole Theberath was sandwiched between her eighth grade teammate Anna Forbord in first and Rochester John Marshall's Greta Freed in third.
Despite running on tired legs, Theberath decided she still had enough strength to take off up the final hill along the border of the Northfield Middle School building. Freed was unable to match the burst, while Forbord maintained contact but trailed by four seconds when Acheson crossed the finish line.
It was Theberath's third consecutive race win, and the one-two finish helped the Raiders remain undefeated through this season.
"I was like, 'Let's push together,'" Theberath said. "(Anna) was pushing me the whole way, so I was going to slow down, but then I was like, 'Oh no, Anna's here.'"
Clara Lippert, Claire Bussman and Adriana Fleming finished in fifth, sixth and seventh to solidify Northfield's win with only 21 points, well ahead of second-place Red Wing (45) and third-place Rochester John Marshall (66).
After Forbord won the first race of the year at Faribault, and Theberath was second, the senior has won the next three races.
Wednesday's win came as a bit of a surprise to her coach, Nichole Porath, who put the entire team through a grueling workout two days before and had every runner complete an additional five kilometers before and after the race.
"She's running on really tired legs, and despite that she ran just over 20 minutes," Porath said. "That's incredible for her, so it'll be really exciting once she tapers to see what she can achieve."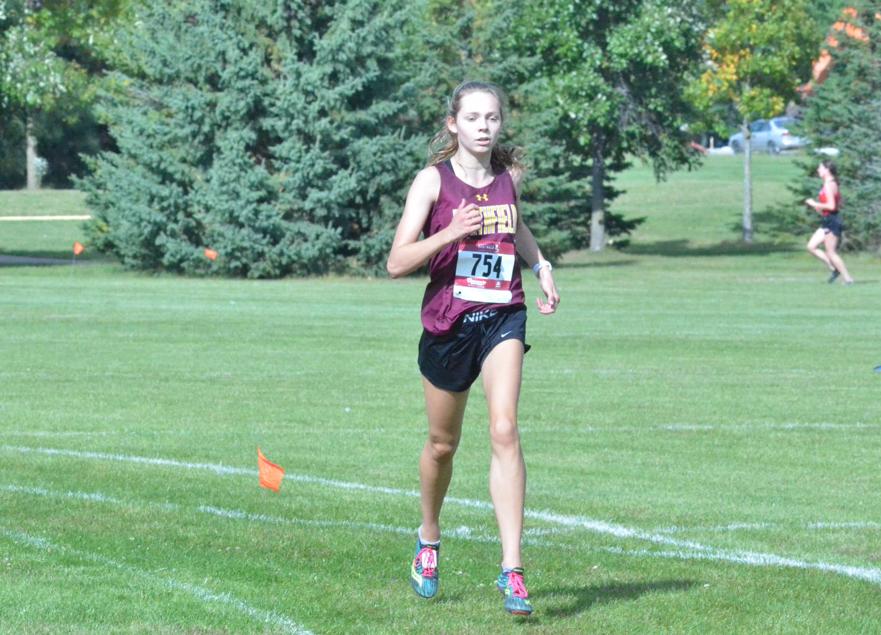 While Theberath's legs may have been tired Wednesday, they were healthy, which is a stark change from last season.
As a junior, Theberath competed the entire season with a meniscus injury. Despite the pain and reduction in speed and endurance, she was able to snag the final state-qualifying position at last year's Section 1AA meet.
"You see the possibility," Theberath said. "Last year was a total surprise."
Now fully healthy, Theberath is favored to make a repeat appearance at state — if there is a state meet. If not, she's one of the contenders to win a Big 9 Conference individual championship.
Last year, she finished in eighth at the conference meet behind a trio of runners who have returned for this season. Already this year, she beat Rochester Century senior Kennedy Speer. Red Wing freshman Addie Fjetland hasn't run in a race since August.
She won't have a race against Owatonna freshman Carsyn Brady, last year's second-place finisher, until this year's Big 9 Conference meet in Owatonna. Brady has won all four of Owatonna's races this season.
After last year and the start to this year, though, there's no doubt for Theberath that she belongs in the discussion for the conference's fastest runner.
"Just the way she carries herself is different," Porath said. "She's just a lot more confident and she just looks like she belongs there, like she believes she belongs there."
What's also helped Theberath continue to build her speed this fall is that there's been no room to drop back. Even in duals and triangulars where Theberath is well clear of the closest competition from a rivaling team, Forbord is always close behind if not ahead.
"It's good for both of them," Porath said. "Both of them push each other in different ways and it gives Anna the confidence that she can be that fast, and it pushes Nicole with the fact that Anna is always right there."
That duo, plus Lippert, Bussman and Fleming, puts the Raiders as a whole in the conversation for a Big 9 title.
So far this year, the only blemish has been a tie against Rochester Century.
"It's amazing to be this good," Theberath said. "We put in so much work over the summer because of the pandemic, and I think it's time for Northfield to start shining and go up from here."