Senior Khayleb Willis ran for a career-high 257 yards and two touchdowns as the St. Olaf College football team picked up a 33-20 victory over Luther College on Saturday afternoon at Carlson Stadium.
Willis racked up 257 yards and a pair of touchdowns on 33 rushes for St. Olaf (2-0), which gained 294 of its 475 yards of total offense on the ground to defeat Luther (0-2) for the second-straight season. Willis' 257 yards were the most by a St. Olaf rusher since Leon Clark '12 ran for 261 yards and a pair of scores in a 34-20 victory over Hamline on Nov. 14, 2009.
After the Norse scored the game's first touchdown midway through the first quarter, the Oles scored the next 30 points to take a 30-7 lead midway through the third quarter. Luther rallied with back-to-back touchdowns to get within 10, 30-20, early in the fourth before the St. Olaf defense held the hosts off the board for the final 14 minutes, 10 seconds.
Sophomore Lars Prestemon, a 2018 Northfield High School graduate, threw for the first two touchdowns of his career as part of a 12-for-23, 181-yard performance. Prestemon connected with sophomore Gabe Alada and senior Gonzalo Pirela for lengthy touchdowns less than two minutes apart in the first quarter. Alada posted his fifth-career 100-yard game with four receptions for 105 yards and a score.
Sophomore Brandon Foster, also a 2018 NHS grad, was in on a career-high 16 total tackles for the Oles, while senior Shiloh Goodwin totaled 11 tackles, including 3.5 tackles for a loss and a sack. First year Mark Riley had an interception on Luther's first possession.
Parker Kizer carried the ball 21 times for 101 yards and a pair of touchdowns for Luther, but was just 10-for-22 for 65 yards and an interception through the air. The Norse gained 219 of their 313 yards on the ground.
St. Olaf hosts crosstown-rival Carleton College in the battle for the Goat Trophy on Saturday, Sept. 21 at 1 p.m. in the Minnesota Intercollegiate Athletic Conference (MIAC) opener for both teams. The game will be the 100th meeting between the Oles and Knights.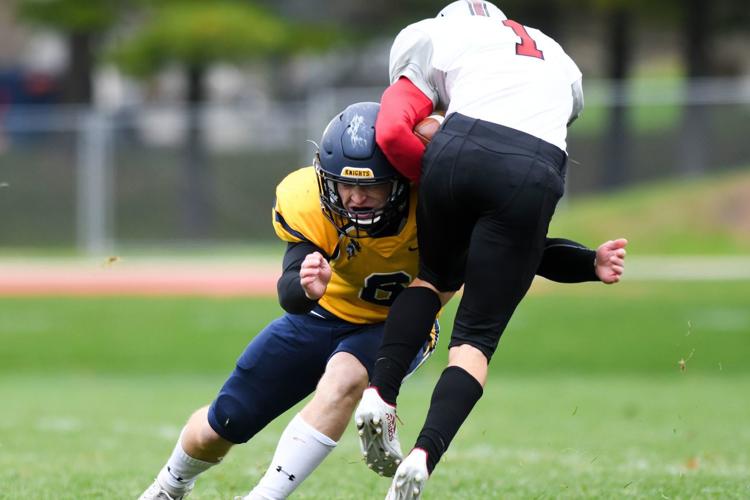 Knights defense holds off Lawrence
It was not always easy, but the Carleton College football team overcame three turnovers to secure a hard-fought, 20-10 road triumph over Lawrence University. The Knights moved to 2-0 for the first time since 2013.
"It's always great to win in the road," said Carleton head coach Tom Journell. "I'm really proud of our team, and I'm really happy for our players. We faced a lot of adversity today, but we stuck together and grew as a program."
Lawrence (1-1) totaled 336 rushing yards in its season-opening win, but the Carleton defense limited the Vikings to only 75 yards on 33 carries. The Knights held their hosts to less than 200 yards of total offense and accumulated five sacks, Carleton's highest figure since an eight-sack performance against St. Olaf on Oct. 17, 2015.
Sean Goodman collected a game-high 72 rushing yards on Saturday and added a two-yard touchdown run on Carleton's opening possession.
Mack Journell continues to improve his placement on the school's all-time lists after hauling in eight more passes for 69 yards and a touchdown. He now sits ninth and 11th, respectively, on the Carleton's career reception list (110) and touchdown reception (12) chart.
Emanual Williams added eight catches for 53 yards and the go-ahead touchdown in the third quarter. Quarterback Beau Nelson was 29-for-47 for 236 yards with the two touchdowns and three interceptions.
Both teams found the end zone on their first possessions of the game. Goodman capped off an eight-play, 68 yard drive with his two-yard plunge. The Vikings answered with a 71-yard drive, the bulk of the damage coming on a 39-yard scoring strike from D'Andre Weaver to Tanner Morris.
Lawrence added a field goal with under three minutes remaining in the first half and led 10-7 at the break.
The Vikings marched into Carleton territory on the opening drive of the third quarter, but Weaver fumbled, and Ed Kotula pounced on the loose ball. The Knights marched 69 yards on eight plays for the go-ahead score. Goodman began the drive with back-to-back rumbles up the middle for 17 and 18 yards. Later, Fletcher Metz had a five-yard reception on fourth-and-one to move the chains. Williams had three catches on the drive for 32 yards, including a 13-yard grab inside the pylon to put Carleton ahead for good.
That's when the Carleton defense took over, forcing the Vikings into six consecutive three-and-outs.
Christian Cavan had seven tackles to pace the Knights defense. John Witte had two sacks of the Knights' five sacks.