After nine seasons as head coach of the Carleton College women's basketball program, Cassie Kosiba '03 has resigned in order to accept the position of Associate Athletic Director for Internal Operations/SWA at the South Dakota School of Mines and Technology, a NCAA Division II school in Rapid City, S.D.
In conjunction with Kosiba's departure, Carleton athletic director Gerald Young announced that a familiar face returns to take over the Knights' program as hall of famer Tammy Metcalf-Filzen, the winningest coach in program history, comes out of retirement to serve as Carleton's interim head coach during the 2019-20 campaign.
"I want to thank Cassie for her incredible passion, dedication, and thoughtfulness in leading the basketball program the past nine seasons," said Young. "Although, I am sad to see her leave, this is a fantastic administrative opportunity, and I wish her nothing but the best.
"I'm extremely grateful that Tammy has agreed to come home and lead the Knights program once again. Coach Metcalf-Filzen has been an incredible mentor to many young women student-athletes, and we look forward to having her back courtside working with a whole new generation of Knights."
Metcalf-Filzen originally retired in 2010, opening the door for Kosiba to return to her alma mater. Now, the two women will once again transfer leadership of the Carleton women's basketball program.
"Ten years ago, I intentionally retired from collegiate coaching as that was the best move for my family at that point of our lives," said Metcalf-Filzen. "Having now entered into a new phase of life, I am excited for the opportunity to step back into this role and give back to the program and institution that has been such a huge part of my life and career. There is a lot of work to be done, and I am excited to get started!"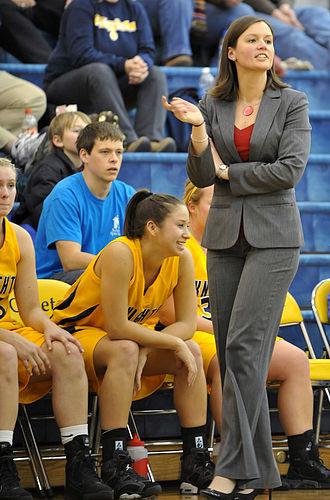 When Metcalf-Filzen initially stepped down following the 2009-10 campaign, she had just concluded her 15th season as a collegiate head coach and 13th at Carleton. She owns a 252-148 overall career coaching ledger (.630 win percentage), including a 226-122 mark (.649) at Carleton.
The Knights won three consecutive regular-season Minnesota Intercollegiate Athletic Conference (MIAC) titles under Metcalf-Filzen's guidance from 2002-05, including the school's first outright crown in 2004-05. Carleton won five MIAC Playoff titles, including four consecutive from 2001-04 and another in 2007-08, coinciding with the program's five NCAA Tournament appearances. Metcalf-Filzen was the first coach in MIAC history, regardless of sport, to capture four straight post-season conference tournament titles.
A three-time MIAC and region coach of the year, Metcalf-Filzen first came to Carleton in 1992 as an assistant and assumed head-coaching duties on an interim basis for the 1997-98 season before taking the position permanently, eventually establishing the Knights' program as one of the elite in all of NCAA Division III.
Under her watch Carleton was ranked in the nation's top 20 and averaged more than 20 wins over a nine-year span from 2000-09. Metcalf-Fizlen was inducted into the Carleton 'C' Club Athletic Hall of Fame in June 2019.
"I want to extend a heartfelt 'thank you' to the players, administrators, fellow coaches, and alums at Carleton," said Kosiba. "I feel very fortunate to have spent the past nine years at my alma mater working alongside such talented and dedicated individuals. While I am leaving Carleton to pursue my career in athletic administration, I will forever be a Carleton Knight.
"As an alum, I am beyond excited for the future of Carleton basketball under the guidance of Tammy Metcalf-Filzen and am honored to welcome her back to Carleton. Having played for Tammy when I was a student at Carleton, I have no doubt the current student-athletes will continue to learn and grow as people and athletes during her leadership."