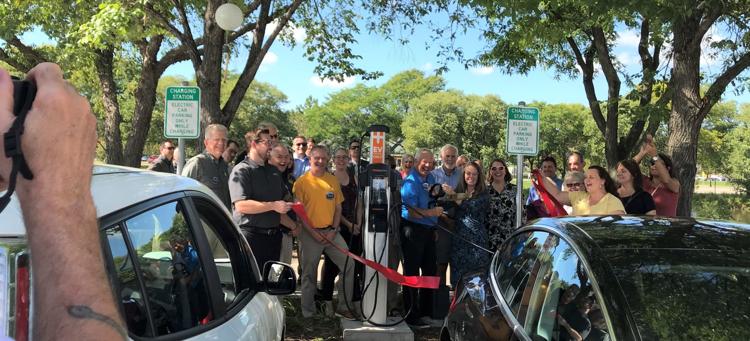 People looking to charge their electric vehicles have a new option in Northfield thanks to a $7,000 Rotary Club grant.
A ribbon-cutting ceremony to mark the opening of an electric vehicle station in downtown Northfield took place Sept. 19.
The station, featuring two plugs so two vehicles can be charged at once, will cost approximately $11,000 once electrical costs are factored in. Station users will pay a minimum $1.25 connection fee. The city used Public Works Department money to fund the balance of the station and installation costs.
Organizers see EVs as important, especially with the transportation sector being the No. 1 contributor to carbon emissions. Electric vehicle sales have grown between 60% and 80% each year for the last several years. There are 84 registered electric vehicles in Rice County.
"Projections are that the rate of increase will continue to grow," Andrei Sivanich, of Northfield Rotary, stated in a press release. "Despite the growth, one of the main reasons people don't buy EVs is concern over lack of charging options. Now, we all know that this one terminal isn't going to reverse the effects on climate change, but it's a place to start, and we hope to create a ripple effect."
The Rotary Club noted the charging stations support the city's Climate Action initiatives, create awareness of the work Rotary does and build a new market of potential customers.
Sivanich said it underwent a strategic planning exercise about two years ago and agreed to take action to fight climate change, something seen as a threat by the organization.
Rotary Climate Action teams looked for a high-profile project to create awareness about climate change impacts, and the electric vehicle team was formed about a year ago. The group researched electric vehicles and charging stations, spoke with EV owners, other communities that installed terminals and multiple vendors.
"We then created a grant program to fund three EV terminals near downtown Northfield," Sivanich said. "This collaboration between the city of Northfield and the Rotary Club of Northfield is the first."
Northfield Program Director Beth Kallestad said the charging stations are a visual sign of the city's commitment to having cleaner energy and reducing vehicle carbon emissions.
"It's sort of a way to say 'welcome' and attract tourism," she said. Kallestad added that Northfield is a good place to locate EV charging stations because of the number of people who travel through the community from major population centers like the Twin Cities and Rochester.
"It's a good way to promote the community in that regard," Kallestad said.
Although the EV charging station is the first one the city of Northfield had an impact on, it is not the first one in the community. Carleton College has two, and St. Olaf College has one.
Kallestad said Burnsville has the closest municipal-owned EV charging station.
The Minnesota Pollution Control Agency is aiming for 20 percent of passenger vehicles — approximately 200,000 — to be electric by 2030. There are approximately 10,000 EVs on the road in Minnesota. Kallestad expressed hope the goal can be reached because of the quick pace that EVs are being introduced into the market and their similar price tag to standard cars. She noted maintenance costs for EVs are lower because they do not need oil changes.