Odd Lovoll is an expert in all things Norwegian. As he should be. 
An American born in Norway, Lovoll has one foot firmly planted in both countries. Throughout both his childhood and adulthood, he spent periods in both nations, experiences that fed his desire to understand a history that he not only studied, but also lived.
After decades of writing history books, he's turned to a different story: his own. His memoir, titled "Two Homelands: A Historian Considers His Life and Work," was released in September from the Minnesota Historical Society Press, and chronicles Lovoll's life while placing it within the larger context of history.
Lovoll was only 5 years old when the Nazis invaded Norway in 1940 during World War II, but these early memories have shaped a lifetime. 
"There's one thing that makes children remember. If the adults around you are calm and collected, then this becomes normal for a child," he said. But that's not what happened: "The adults around me panicked, and screamed and ran." 
Lovoll recalls his mother hurriedly taking down curtains, in fear the Germans would steal them. He remembers seeing German soldiers with Polish and Russian prisoners of war. To this day, he said, he's still disturbed by memories of Jewish Norwegians arrested from their homes, and the children pulled straight from schoolrooms — especially that of the Steinfelds, a family from a nearby town whose reputation for community service didn't save them from a concentration camp.
"This particular wartime atrocity, more than any of the many others, haunted the sensitive 8-year-old I then was and continues to haunt me to this very day," he wrote. 
Foreigner in two countries
Lovoll's story is not just one of war: It's also one of identity. Because his father had worked in the U.S. and held American citizenship, Lovoll grew up familiar with American ideals and customs. The family moved to the U.S. in 1946, and from then on, Lovoll alternated between countries throughout periods of his life.
As a school kid in Norway, he said he often felt like a stranger, singled out as 'the American.'" In the U.S., the experience was similar. 
"I was sort of a foreigner in two countries," said Lovoll. 
As an adult, he has made peace with both countries, preferring to identify himself as "an American of Norwegian birth." He feels at home in Norway, he said, but has mainly lived in America since the late 1960s, when he was invited to teach Norwegian at St. Olaf College. 
Lovoll's personal experience fed the curiosity of his professional life as a scholar and historian. 
"I became passionate about understanding what it means for a human being to move from a society they're familiar with, which is home, to a totally new one," he said. "How do they adjust? How do they feel about that?"
He doesn't believe these questions have definitive answers, but that hasn't stopped him from searching.
Over the course of his career, Lovoll published more than a dozen books on Norwegian history, especially regarding immigrants, and edited many more, along with a long list of articles and other writings. He spent three decades teaching at St. Olaf, and was the first to hold the title of King Olav V Chair in Scandinavian-American Studies at the college. In 1989, King Olav V of Norway awarded him the Knight's Cross First Class of the Royal Norwegian Order of Merit, an honor given to Norwegians living abroad.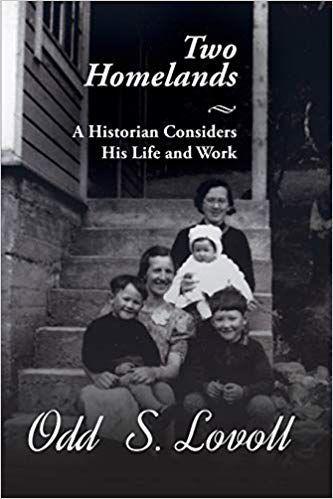 The memoir, said Lovoll, was a different undertaking than his other books. More than anything else, it was born from a desire to leave something behind for his son, daughter and their own children. 
Even before the memoir, Lovoll ensured his heritage and love for both Norway and America passed to the next generation. Ronald, his son, said that Norway is a frequent discussion topic among family members. He described cooking Norwegian-style Christmas dinners, attending a Norwegian church and traveling back and forth between countries. 
The family heritage was "always foremost in everybody's head," said Ronald Lovoll.
"Ask him about any subject, and he'll know something about it," Ronald said of his father. "He's very kind and generous; he cares a lot."
This compassionate nature meant that the process of writing the memoir stirred up difficult emotions and memories, including wartime experiences and the death of his wife, Else, in 2011. Still, Lovoll rose to the challenge.
"It is a very honest story," he said. "I do not make myself a hero."
In today's divisive political climate, Lovoll is troubled at the prejudiced rhetoric that he often hears, degrading immigrants that he feels should instead be commended for their bravery. His memoir serves as a reminder of the humanity he sees in all immigrant experiences. 
"We are a nation of immigrants, and we do need immigrants," he said. "We're all Americans, no matter where we come from, the color of our eyes and our skin."