Three years ago, in the middle of a blustery April day, Stephan Koplowitz found himself walking the streets of downtown Northfield.
An award-winning artistic director, Koplowitz's work has taken him from London to China and across the expanse of the United States. And yet, as he stood along the quaint, jewel-like streets of downtown Northfield, Koplowitz saw a canvas of inspiration, a stage.
He saw "The Northfield Experience."
Koplowitz, who held a longstanding friendship with St. Olaf College Professor of Dance Janice Roberts, was invited to Northfield in the hopes that he could propose a project allowing Carleton and St. Olaf colleges to collaborate in some way. Roberts, whose background is dance, originally dreamt of a partnership between the two dance departments.
"We both had some roots in Utah," says Roberts. "He was dean of a college and I was chair of a department. I had seen his work and thought this would be an interesting possibility."
But Koplowitz had bigger dreams. His plan, later coined "The Northfield Experience," would involve students from both schools using a variety of different artistic mediums, including music, theater, dance, media and visual arts.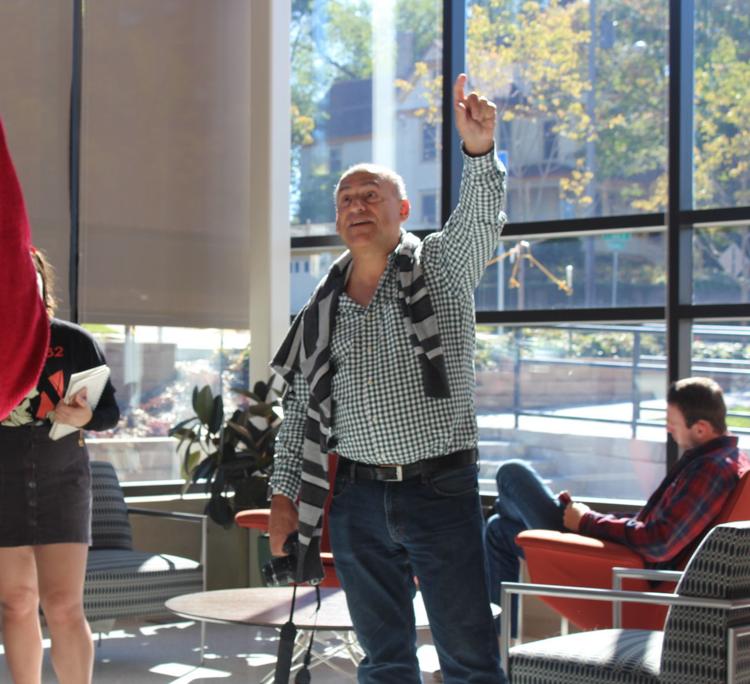 "I never let an art form get in the way of me trying to fulfill a concept," says Koplowitz, whose work on stage, film and site aims to provoke curiosity amid the concept of place, site and scale.
What he envisioned as he stood on the streets of downtown Northfield was a performance involving the concept of "promenade theatre," an idea that borrows the atmosphere and aesthetics of a site for an interactive theater experience.
He envisioned each site as a fully involved work of art, placing emphasis not only on the unique cultural and architectural heritage of Northfield, but also on the concept of time — how humans experience the passage of time, how time affects our memory, how we experience time distortion.
Koplowitz and Roberts spent the next three years planning — selecting sites, forging relationships with local businesses, auditioning students — and soliciting funds from myriad sources. As Koplowitz says, "a project of this caliber cannot take six months."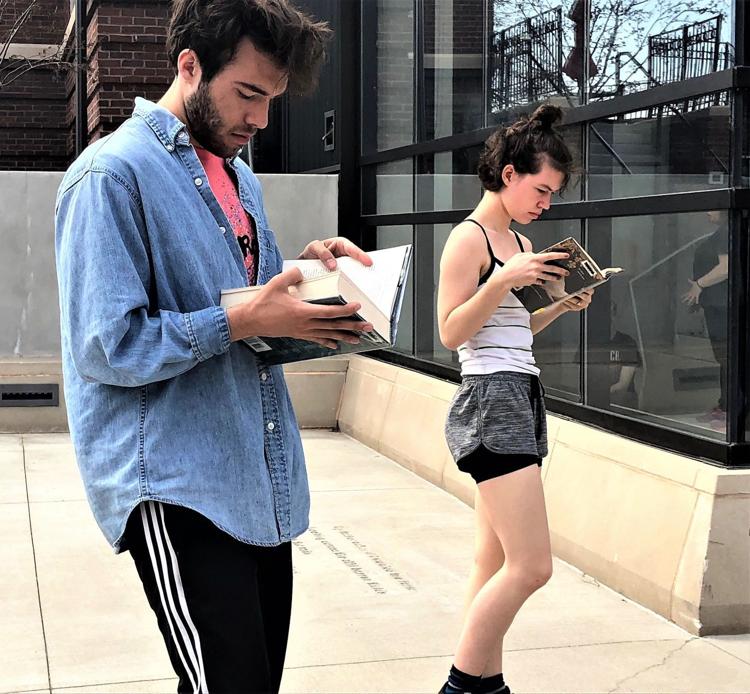 Little by little, his artistic plan came into focus.
What has culminated is considerably larger than Roberts' original idea.
"The Northfield Experience" is not simply a performance — it is a production, one comprised of 10 separate works of art involving five different disciplines and partnering with two colleges, seven different civic institutions and the Northfield City Council.
"It is a student production," Koplowitz adds, "That has involved the contributions of over 400 people from the Northfield community."
Each performance will initially bring attendees to The Grand Events Center, a swanky 1900s auditorium often used for weddings and community gatherings. Here, they will experience beautiful media installations projected onto the walls of the second-floor balcony followed by a short play directed by St. Olaf Associate Professor of Theater William Sonnegais.
From there, five groups — led by their own Northfield Experience tour guide — will circle through five sites scattered across downtown Northfield. From the Depot (which is currently undergoing renovation) to the Northfield Public Library, these site-specific works combine audio and visual technology alongside art installations, dancers and live actors.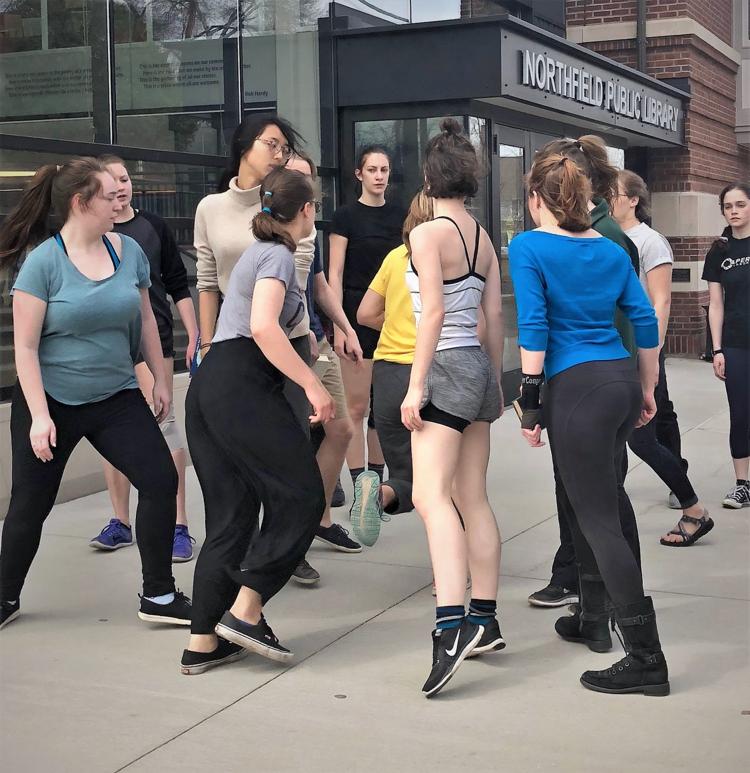 All five groups of attendees will circle back together for the final production, set on the grounds of Northfield Cemetery, and alluding to the metaphorical celebration of the life of the performers. With 30 student dancers and an original vocal score by composer and St. Olaf Professor of Music Justin Merritt, the finale is a unique melding of dance and a cappella vocals.
"It has kind of this eerie beauty," said Koplowitz. "Artistically, I have always wanted to do a performance in a cemetery. It's a nice little bookend, from marriage to death."
And while Koplowitz played a critical role in choreography and art direction, Professor of Dance Roberts emphasizes that "It has really been a collaborative process between the students and him," adding that, "Working with students from Carleton College has also been fruitful for them."
The showrunners believe they've put together something special.
"It is unlike anything most people in Northfield have ever seen before — it brings together live performers, media, music, not to mention the sites that the pieces are being performed at," said Todd Edwards, assistant professor of theater, designer, and technical director at St. Olaf College. "Everything is consciously composed and put together, the pieces are entertaining, engaging, and we can't wait for you to see the finale."