Before mounting an art exhibit featuring 10 of Northfield resident John Johannes Sletten's works, Cathy Osterman hesitated a few days before going forward.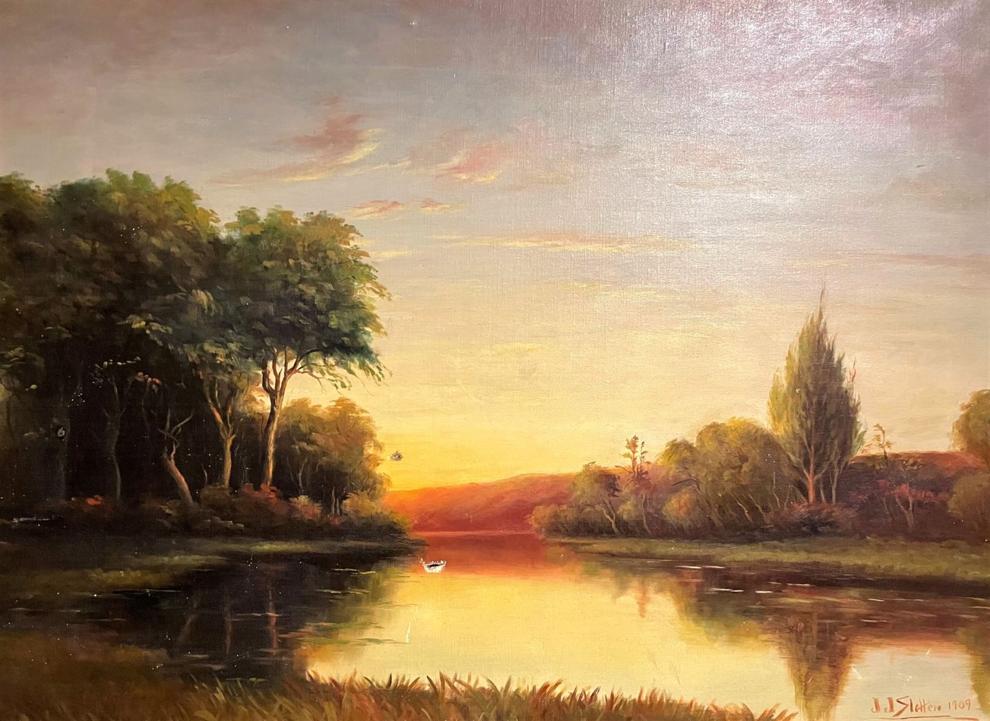 "Art is not something we typically do," said Osterman, executive director of the Northfield Historical Society.
What convinced her of the historical relevancy was Sletten's job as the town cobbler who owned a shoe store inside the First National Bank where the famous James-Younger bank robbery was thwarted.
John Johannes Sletten was born in Solar, Norward on Nov. 3, 1869 and died in Northfield Dec. 20, 1947. Between the dashes, he lived a life as a painter, a cobbler, a musician, a husband, a father and a caring community member.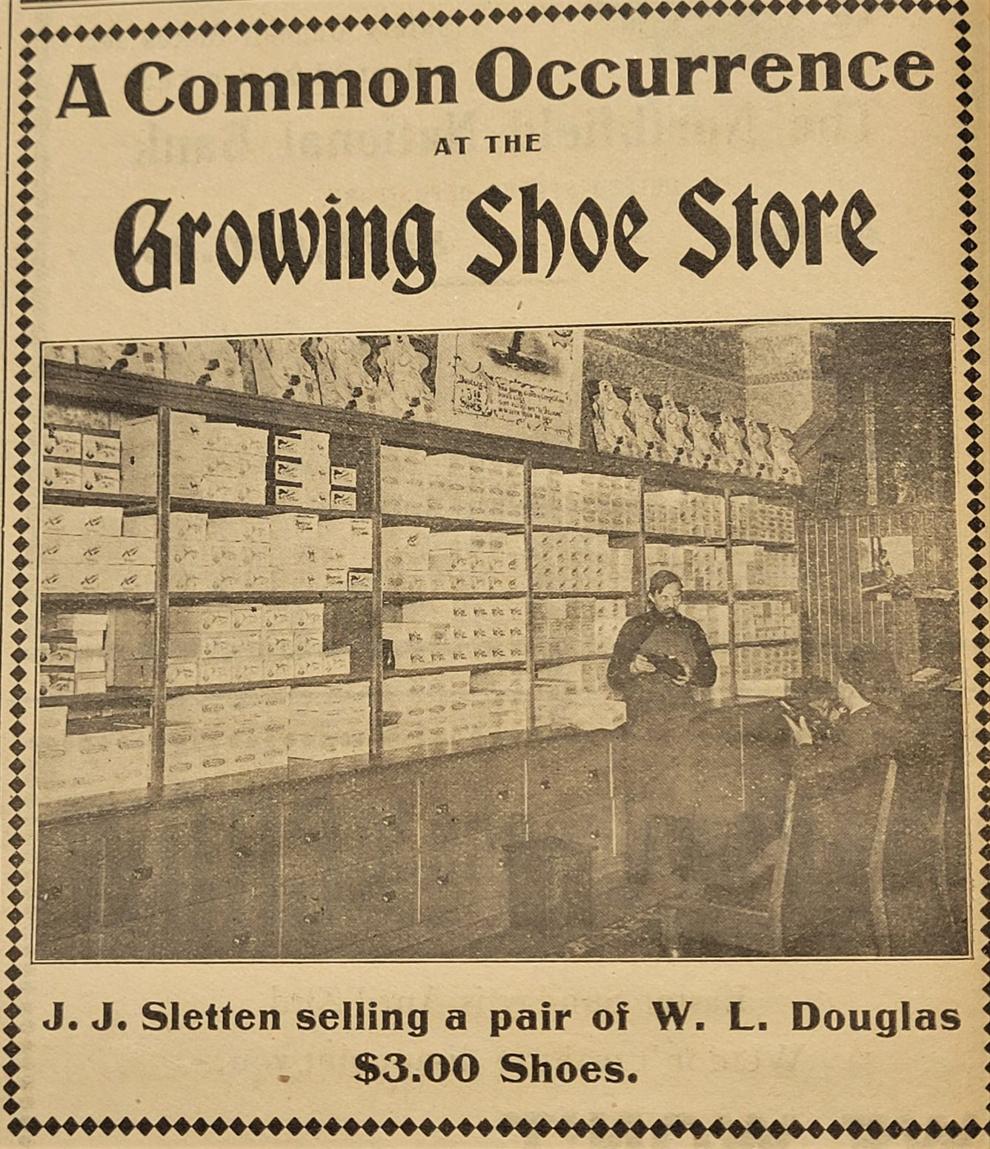 The exhibit, which runs through the end of February, features 10 Sletten paintings hung gallery style on the walls. There are interactive opportunities for visitors, young and old, to test their knowledge about shoes with a trivia game, a replica shoe shine kit and a talk-back board about hobbies.
In the exhibit, we tried to blend both the artwork and the cobbler's trade to create a glimpse into the life of Northfield's own cobbler-artist, Osterman explained.
While Sletten may not have become an internationally known artist during his lifetime, in 1922 he was selected to be a part of a national art exhibit in Brooklyn that featured a group of Scandinavian artists, Osterman said. He submitted "The Unsolved Problem," a smaller oil painting of a man in his library with his head in his hands that is encased in glass at the museum.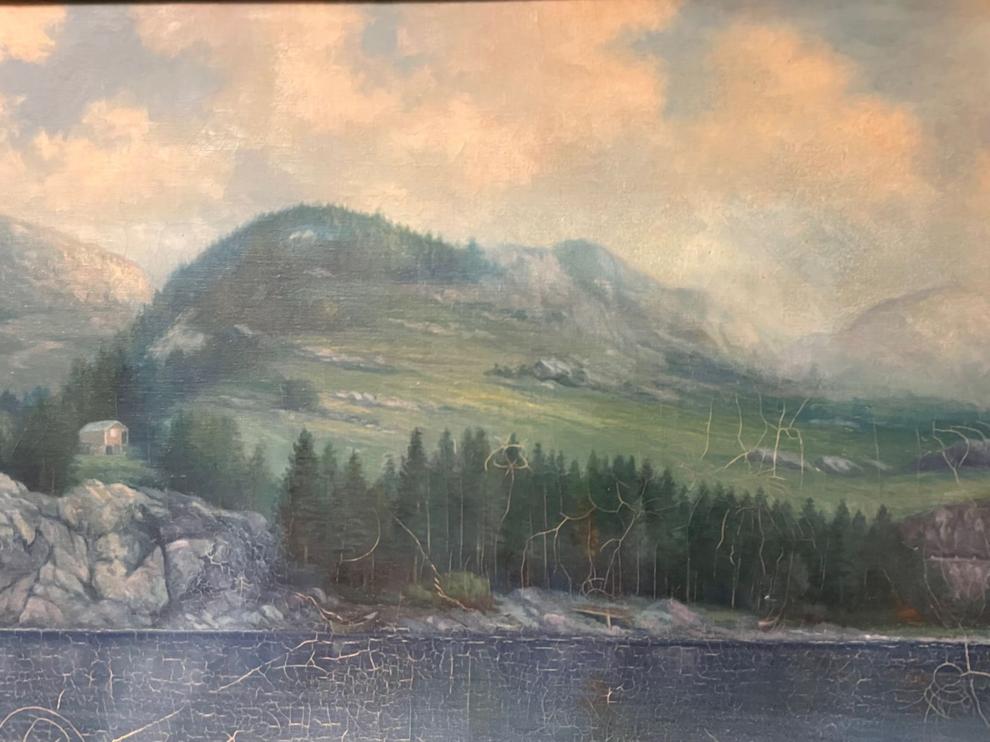 Essential to filling in the historical gaps was Janet Sletten Wilson, J.J. Sletten's granddaughter who now lives in Eagan. She said many of her grandfather's bucolic landscapes of Norway and Northfield, along with commissioned portraits of city leaders, hung in homes around Northfield. Wilson said his works also graced the walls of City Hall, St. John's Church, the American Legion, the library, St. Olaf College and Carleton College.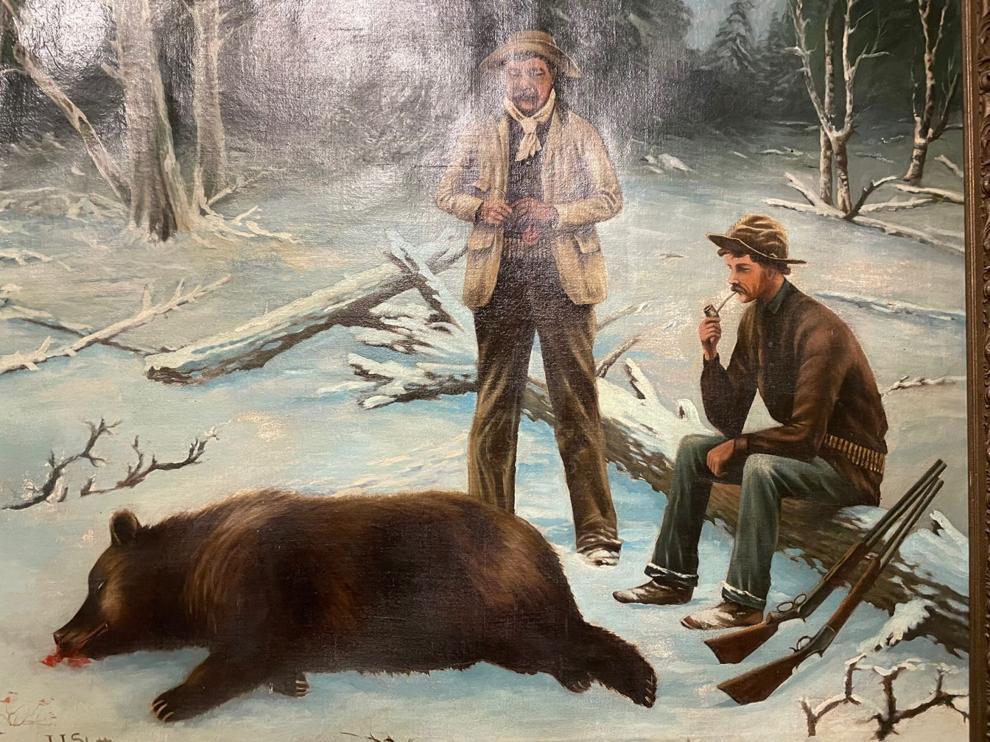 Sletten often sold his paintings by using them in the window displays at the shoe store. Another down merchant, Karsten Grastredt, who owned a plumbing store, commissioned Sletten in 1930 to paint the fjord on his family's Norwegian homestead. That work was donated to the museum, Osterman said.
Occasionally, Sletten's paintings would be incorporated into advertising campaigns, like the Douglas Shoe Store in 1905 that used his portrait of Theodore Roosevelt in an ad where the legendary hunter is looking at a sign stating: "No hunting unless you wear the Douglas shoe."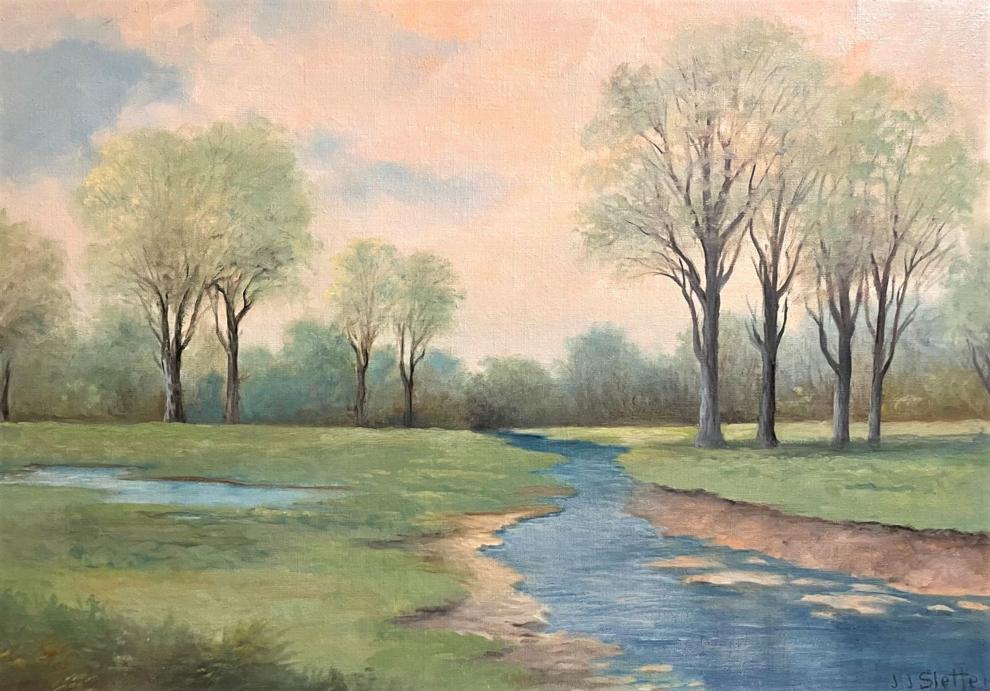 Wilson said she enjoyed visiting the museum last fall with her four children. "I really liked the exhibit with the shoes," Wilson said. "It reminded me of the time I wanted a pair of penny loafers but I was told they were bad for my feet. My grandfather knew how much I wanted a pair, so he put a strap across the top of my foot and off I went."
Wilson, who was born in 1936, said she remembers walking into her grandfather's shoe store on Division Street and seeing his artwork hang near the ceiling high above the rows of shoes. She remembers the big canvases like the one with the bear hunters.
She said she acquired an early appreciation for art growing up in Northfield. "My father was also an artist so we had art on every wall."
Wilson said she particularly likes the portrait encased in glass in the exhibit that she has nicknamed "The Thinker." The oil portrait shows a man at his desk with his head in his hands. "I think that is a self-portrait of my grandfather," she said. "Some of the elements around him seem familiar like the books and the furniture from his study."
For Janet's daughter, Nancy Bauernfeind, seeing her great-grandfather's artwork displayed in a museum exhibit was a special experience.
My siblings and I were able to view artwork of our Great-grandpa's – some we had seen before, some we had not," Bauernfeind said. "We were treated to hearing for the first time, the stories behind some of the paintings. I was thrilled to be able to share some items that were not just seen as 'old' but appreciated as items that were attached to a story - the story of my family."
Her appreciation for history and love of Northfield may have grown even more, Bauernfeind explained. "Northfield has always been a part of my life, and I find myself always being drawn back to it. Hearing stories of J.J. Sletten and his life in Northfield, gave me even more reason to feel like I was truly home when I walked up and down Division Street and shopped in the stores that once housed the beginnings of family ties to Northfield." 
She said her daughter, a student at St. Olaf, recently began working in a shop directly across from the Historical Society, which gave her "a feeling of family history coming full circle."
"The exhibit gives Northfield an opportunity to learn the history of the town beyond Jesse James and the colleges," she said. "It personally gave me the desire to learn more about the impact of the Sletten family - all generations - on Northfield."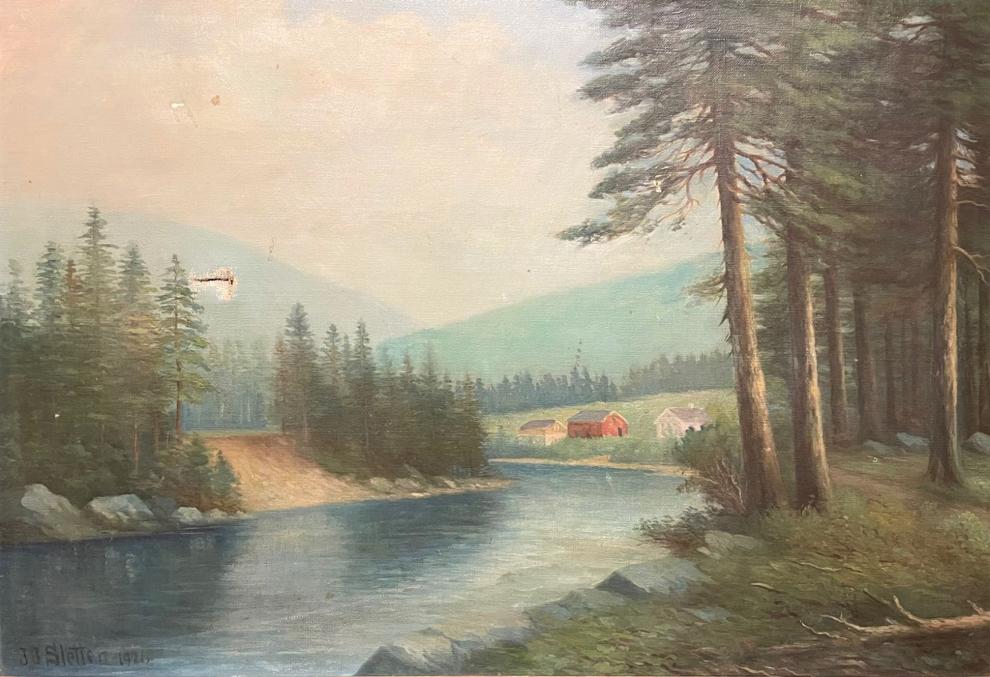 While some of the artwork was loaned to the museum for the exhibit, Osterman said the NHS owns many of the pieces. Unfortunately, she said many of the paintings are damaged or distressed, including noticeable rips in the canvas, discoloration and chips and scratches in the oil paint.
Besides the large landscapes of Carleton College and St. Olaf College buildings, the exhibit includes Sletten's self-portrait and a portrait of his second wife Helen Crary, whose family owned the bookstore across Division Street from Guess' Shoe Shop, which later became Sletten's Booterie.
"It's been fun to watch people's reactions to the art," Osterman said. "Typically we are just seen as doing the bank robbery."