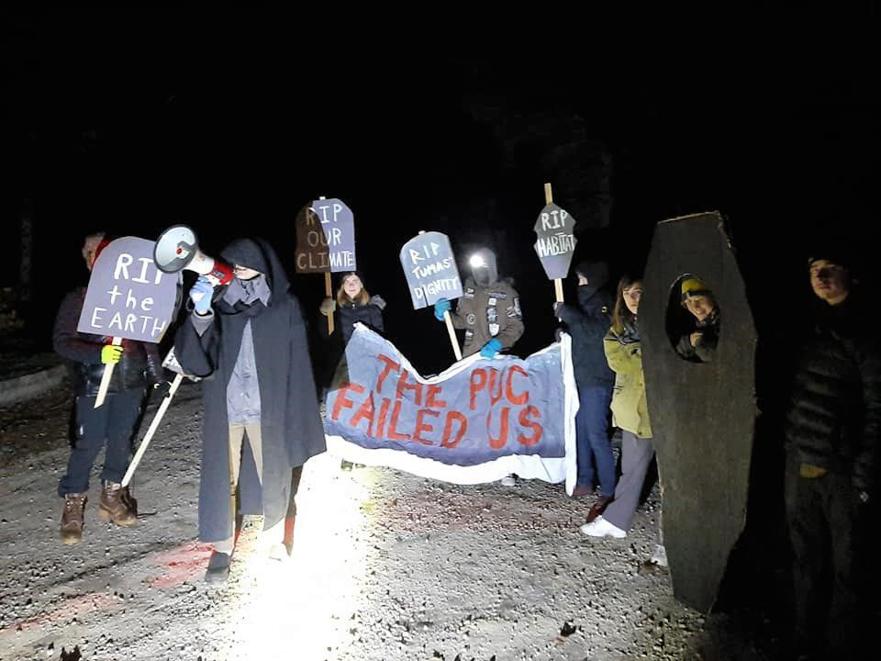 A dozen members of Northfield Against Line 3 and St. Olaf College's Climate Justice Collective protested on Thursday evening at the home of Minnesota Public Utilities Commissioner John Tuma.
According to the organization, the protest related to the PUC's June 2018 decision to grant a certificate of need to Enbridge for the company's proposed Line 3 project. In protesting, demonstrators said they were pressuring Tuma to deny project construction permits.
The pipeline is expected to include land in Canada and the U.S. Protestors said it crossed Indigenous territories, violating their sovereignty, and treaties between Indigenous nations and the U.S. federal government. They say oil produced from tar sands is the most pollutive fuel production process and contributes directly to global warming.
"The construction of Line 3 threatens large swathes of forest in northern Minnesota, and the threat of a spill will cause irreparable environmental damage," the release states.
In staging what organizers said was a "funeral for the Earth," they hoped to directly draw attention to the role Tuma played in the PUC'S decision to approve the construction of Line 3 in Minnesota. They noted protestors organized a similar event with Northfield Against Line 3 in October 2018, meant to "shame" Tuma.
In June, the Minnesota Court of Appeals reversed the PUC's approval of the project's environmental impact statement. The PUC is expected to review the amended statement and decide whether to issue necessary permits.