Questions concerning the proposed Kraewood development on a 12-acre former Christmas tree farm where residents say they've seen the endangered rusty patched bumble bee — came to a head at the Oct. 5 Northfield City Council meeting.
Developers' plans include construction of a 100-unit apartment building, 22 single-family homes, two twin homes and a four-plex off Lincoln Parkway just south of Greenvale Park Elementary.
Among those who spoke at the meeting, which lasted for 4 hours and 50 minutes, were three groups: Northfield for Sustainable Housing, Environments & Development (SHED), a residents' advocacy group united in demanding that the council require developers to order and pay for an environmental assessment worksheet (EAW); the Kraewood development team which opposed the EAW for reasons of timeliness and cost; and dozens of unaffiliated residents who mostly spoke out in favor of the council requiring the order.
More than 750 people, at least half of whom were Northfield residents, had signed a petition calling for the EAW in September, a number frequently referenced by Northfield SHED during their presentation to the council.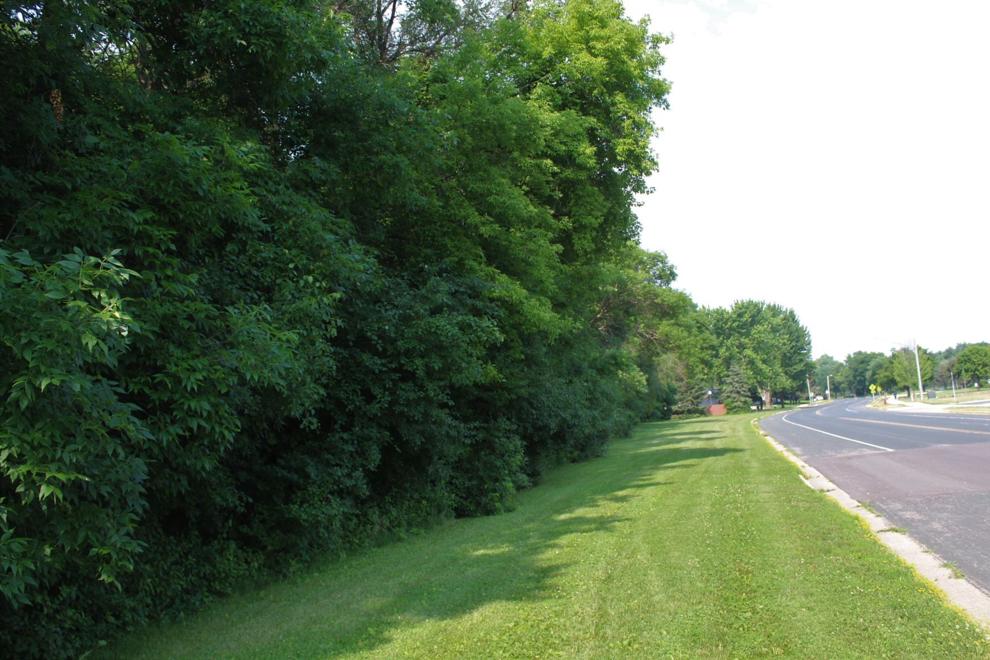 Nearly two hours after voting to extend the meeting beyond the 3-hour time limit, the council voted unanimously — with the exception of Councilor Brad Ness due to a conflict of interest — to deny the resident petition for the preparation of an EAW.
The council chambers were at capacity, with dozens of residents inside the full room and outside in the hallway waiting their turn to speak out on the matter during public forum. Nearly every speaker used their allotted 2-minute speaking time to implore the council to order an EAW.
"Pollinators are in decline across the globe," said Derek Haars, a beekeeper who sells honey and manages around 100 bee colonies in Rice and Dakota counties. "The rusty patched bumble bee is dependent on spring ephemerals … the only way to save bees is by making responsible land management decisions."
He added that the EAW is a good tool for making decisions regarding those issues and urged the council to vote yes on requiring developers to order one.
Another resident, Tristan Cox, said that "the matter of the EAW is a matter of law," citing Minnesota Statute 116D.04, Subd. 2a, which states that "[w]here there is potential for significant environmental effects resulting from any major governmental action, the action must be preceded by a detailed environmental impact statement prepared by the responsible governmental unit."
Diane Angell, a biology professor at St. Olaf College who holds a Ph.D. in ecology and evolutionary biology and has worked with endangered species for 30 years with the National Forest Service, told the council that, "As a scientist and Northfield citizen, I have both an ethical and moral responsibility to speak up when I see environmental concerns are not being taken seriously."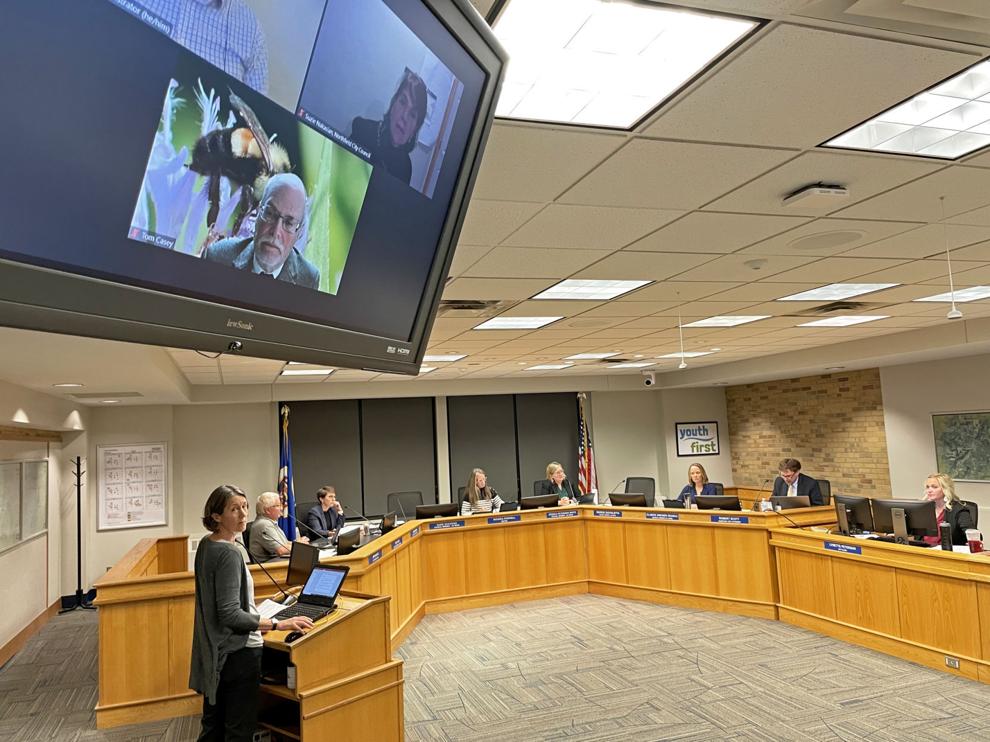 Angell spoke for about 10 minutes on what she saw as the development's threat to the endangered rusty patched bumble bee, as well as the negative environmental impact it could have on the city's west side. The bee has been living in the 12-acre parcel, she said, and the surrounding wildlife will not provide the adequate nesting and overwintering needs of the queen bees. Adjacent neighborhoods do not have spring ephemerals, she said, which queens rely on for their survival.
One point that was focused on by the councilors, who asked Angell questions after her presentation, was that EAWs are best completed in the March through October timeframe. Angell addressed Councilor Jami Reister's question about whether an EAW could be done outside that timeframe, saying that it would not be ideal, but it might be possible. Reister followed up.
"I guess I'm wondering if there are any intentions of actually insisting that it be done in March through October, thus delaying any project for months?" Reister asked.
"I can't speak to that," Angell said. "I'm not in charge of that. To me, that is the council members' choice. If you request an EAW, and somebody is required to complete that EAW, then that's going to get completed."
Councilor Jessica Peterson White asked about Angell's statement during her presentation that the ordering of the EAW would not delay development.
"Could you just explain how you see that to be the case?" Peterson White asked.
"It will slightly delay development, but the time taken for an EAW is time well spent," Angell responded. "Understanding what is there, I think, should be a priority."
Reister stepped in again to question Angell's point that the development will affect the west side of town, "the only region of Northfield identified by the MPCA [Minnesota Pollution Control Agency] as a region of environmental justice concern due to poverty," according to Angell's Powerpoint. Reister asked how "providing a safe community and affordable housing" supports Angell's broader points, to which Angell expressed her concern about the distribution of accessible green spaces to lower socioeconomic groups.
"The need for housing isn't gonna go away," Councilor Clarice Grenier Grabau said later to Angell. "How do we justify [canceling or delaying the development] to, for instance, a mother who needs an affordable place to live, and she could potentially walk her child to school across the street and we're saying that we can't do that because of these reasons?"
"I think we have maybe a more nuanced understanding of what makes a great development," Angell said. "We could have smaller apartment buildings. I would welcome people to ask the folks that live in our community what they would like to see, instead of assuming that people would like to be in large apartment buildings. That's not always what people would prefer."
In responding to residents' request for an EAW, developers invited in a traffic consultant, landscape architect, civil engineer and environmental consultant to present to the council on various concerns, including traffic and environmental risks.
Responding to Angell's point that city staff confirm there will be 808 total daily trips for the construction, putting the endangered bee through a 14.7% increase in traffic, Vern Swing, of Swing Traffic Solutions, said that the scale of that increase requires some perspective to understand. The Minnesota Department of Transportation, he said, typically requires "2,500 per day before they require an EAW, or 250 peak-hours trips … we are not close to that threshold."
Swing added that his traffic study's analysis indicated that "all of the intersections" involved in the development "will operate at level of service A," indicating very low delay, "with the worst movements operating at level of service B," indicating low delay. His results, he said, are the same as those arrived at by the traffic study done on Greenvale Elementary School, as well as by engineering consulting firm Bolton & Menk, and similar to those arrived at by city staff regarding the St. Olaf access reconfiguration.
Annie Weeks, of Midwest Natural Resources, an environmental consulting firm, presented the firm's survey of the parcel, which she said was conducted Oct. 1. The results of the survey, she said, came after looking at publicly available data pertaining to ecological resources followed by an in-person field assessment by the firm's senior botanist.
Historical aerial photographs, Weeks said, show that the site has been cleared since sometime prior to 1938, and since then, it's been used for agricultural production, meaning there are no native plant communities onsite. What its botanist later discovered, she said, is that "generally the site is pretty degraded as a result of historic land use."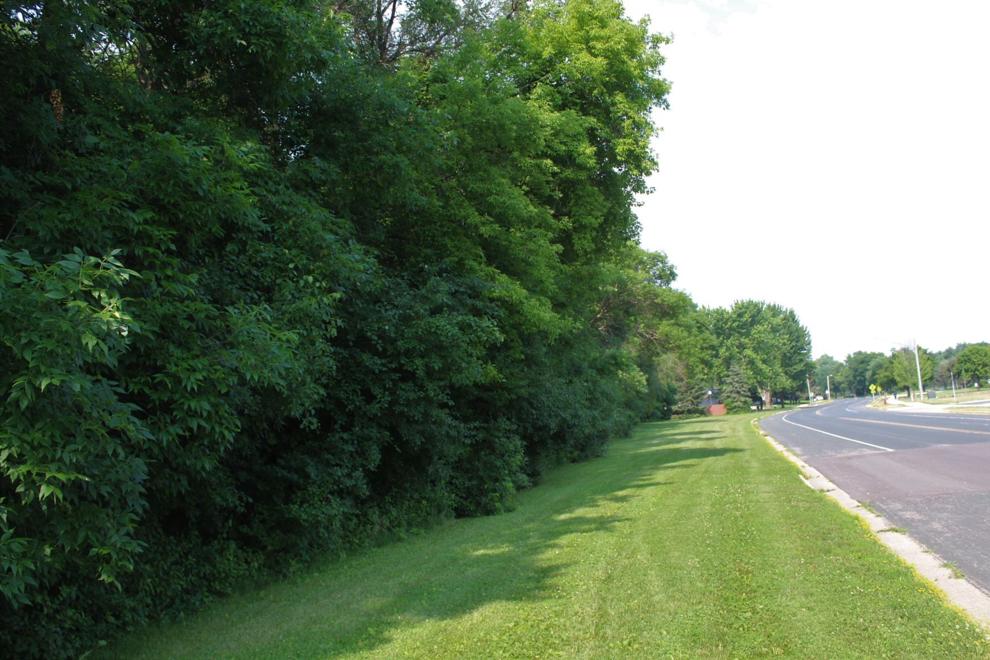 "The site doesn't necessarily provide high-quality forage habitat for the rusty patched bumble bee," she said.
"You can tell that to the bumble bee," an audience member mumbled.
While there are some spring ephemerals, she said, those mostly occur in "smaller pockets right along the edges of the property," a forested boundary, which the developers said they are planning on maintaining. "So a lot of that area may not even be impacted."
Later in the evening, Peterson White said that her understanding of EAWs is that their proper function usually pertains to things like former dry cleaning sites or places where gas tanks might be buried.
"This is not a native space," she said. "I do not view this land as a treasure of natural space, as it has been framed to be."
Forty-five more minutes of public comment took place after the developers' presentation, in which residents mostly advocated for the ordering of the EAW and disputed the environmental consulting firm's results, some suggesting the group was biased since it was funded by the developer. Some who spoke, though, claimed to have never seen the bee on the property and disputed the necessity of the EAW.
"This is a really precise thing we're called to do tonight, and a lot of the testimony I think has really failed to see that," Councilor Suzie Nakasian said. "The question of 'significant environmental impact' to me comes down to the word 'significant,' and not 'we must,' and 'we may,' and 'you must' and 'you better' and '808 of us' and then veiled threats."