Issues caused by the lack of affordable housing in Rice County and possible solutions were discussed Thursday during a brainstorming session at St. Olaf.
The event was organized by the League of Women Voters of Northfield and Cannon Falls, and St. Olaf College and consisted of representatives of organizations and groups seeking to address affordable housing in Northfield.
Breakout groups addressed funding affordable housing, affordable housing impacts on youth and building logistics and design ideas.
The first part of the session included discussion about past approaches, and solutions were contemplated in the latter part.
A countywide housing study completed in 2018 showed there's a need for housing the average worker can afford.
St. Olaf College junior social work major Mia Denuit called the event "a very interesting experience." She added although students have participated in classroom activities highlighting the issue, they had not taken part in a similar learning format.
She said she learned about housing policies and zoning ordinances in Northfield, including barriers to affordable housing and roadblocks to addressing the issues.
"It is a big issue in Northfield," she said.
Denuit said she hopes the housing conversation continues.
Faribault Community Development Coordinator Kim Clausen said the city is employing a mobile home buyout program and is in the process of working with a few developers, important because the city has large employers — like SageGlass and Daikin — which are expanding. The voluntary program is designed to purchase and remove substandard mobile home units from Evergreen Estates, Sunrise Mobile Home Park, Cannon River Mobile Home Park and Knollwood Courts Mobile Home City.
According to a recent study, there is a lack of rental housing as well as owner-occupied homes for sale in Faribault. The city has an estimated vacancy rate of less than 1 percent, making it difficult for people to move into the community. She said in a community with a solid housing stock, there is an inventory of 100 homes for sale. In Faribault, that number is estimated at 60.
She said despite the term "affordable housing," rent prices for the housing are still relatively high depending on the location.
Kathryn Lozada, of ISAIAH, a faith-based organization dedicated to racial and economic equity in Minnesota, said there is a mismatch between where people can find jobs and affordable places to live.
To Lazada, the nation's immigration system can hinder housing access. People who have lived in the U.S. for decades without official documentation are limited on where they can get loans.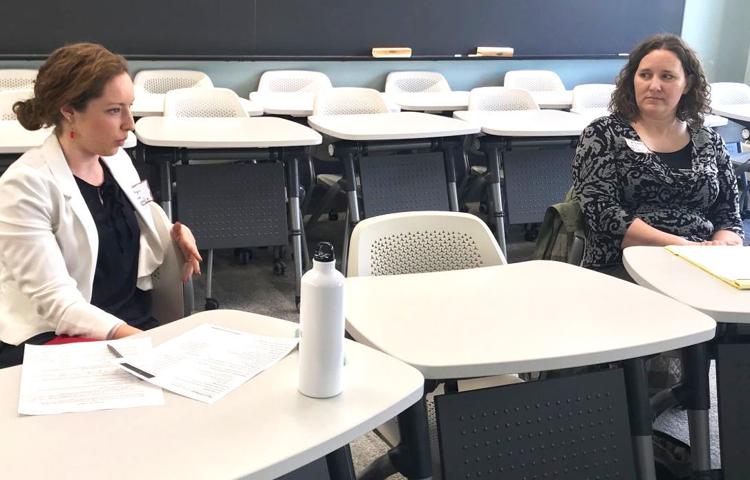 American Institute of Architects Minnesota President Eric West said there is no capacity to build new affordable housing. He noted there is legislation to reduce regulations to allow for more affordable housing to be built, but even with that, demand is not going to meet supply.
He added with the recent legislative push to reduce the role of government, using the government to increase the stock of affordable housing is a controversial approach.
Denuit said after Northfield's Spring Creek Townhomes opened in 2013, some potential tenants waited for three years before moving in because the eight townhomes had a waiting list of 200.
Faribault's Clausen said mobile home parks are an important part of affordable housing, but she deems some Faribault mobile homes as substandard.
Although providing shelter can have minimum standards, West suggested increasing the quality of such housing stock to ensure occupants know the city values them. He said construction costs and land prices are hampering the building of affordable housing.
The countywide housing study showed that housing costs in Faribault are among the highest in the state, lower only than the Cities and Rochester.
Clausen suggested employers allow employees to set aside a certain amount of money for rent.
"A lot of employers would be on board with this because it's hurting their bottom line not to have employees," she said.
Erica Staab-Absher, executive director of HOPE Center, a sexual and domestic violence advocacy organization, said by having access to more affordable housing, its clients can more easily leave violent relationships.
"It's just been fun to kind of meld minds and figure out what other people are doing and how they are addressing things, and also just to be reminded of how many people have this in common and how many people this affects," she said.
Laura Baker Services Association Executive Director Sandi Gerdes said her clients tend to be low-income because of restrictions, and need housing to establish lives away from their parents. The need for affordable housing is also evident for her staff members, who, because of low reimbursement rates from the state, are paid $10 to $12 per hour.
"If we don't talk about it, it's never going to happen," she said. "So we have to work together, try to come up with creative solutions on how we address the issue."