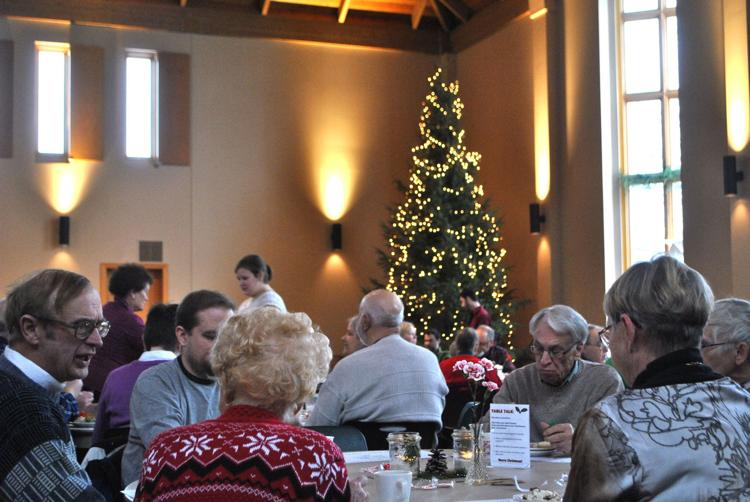 Once again this year, St. John's Lutheran Church in Northfield hosts a free Christmas community meal, thanks to a loyal group of volunteers.
Organizers take pride in the personalized service provided for the meal, which takes place Christmas Day. Coffee containers and desserts are carried around the room by volunteers, and those who are unable to carry plates. Greeters meet those who come.
"When you talk about a dining experience here, that it's inextricably woven with love, love for our fellow human beings, and that's why we do it," said organizer Jon Rondestvedt. "It's not just to put food in front of people, but it's to give them a sense, when they join others, something magical happens."
Northfielders Bill and Char Carlson have served Christmas meals at the church for approximately 15 years.
They emphasized that the event is meant to be a gift to the community and is not intended to proselytize or recruit people to the church. Diners are seated at round tables, which can each hold eight people.
"From our perspective, Christ was administering to the population," Bill Carlson said. "Christ had a dinner, people came and ate food. We do things to invite members in all sorts of ways, but this is not one of them."
"Many people are lonely over the holidays, so many organizations will provide them a meal on the 22nd or 23rd, but it's that holiday where people can often experience great loneliness."
Char Carlson recalled an instance where she was thanked by someone whose mother came from the nursing home to the Christmas dinner on her last Christmas.
The annual dinner began as an event organized by the Main Street Moravian Church decades ago. Today, the meal typically serves approximately 300 people.
"We have the reputation of having an excellent meal," Char Carlson said. "It's a home-cooked meal."
Bill Carlson, who noted the role of Christmas as an important holiday even for non-religious people, said the event is meant to create an open environment. The church also hosts Wednesday night meals that are traditionally more religion-focused.
In discussing what motivates her to serve Christmas meals, Char Carlson spoke of the Biblical story of Martha and Mary. In it, Martha welcomed Jesus and his disciples into her home. Mary sat at the feet of Jesus while Martha prepared a meal.
"I love it," Char Carlson said of the Christmas event. "I think, just for me, I am in charge of the kitchen, so I'm the Martha, and I'm busy making sure that people have their food and overseeing all of these workers so that the food is hot, the food is attractive, people have what they need. And then I take a minute and I look out. Every seat in that hall is full and the noise level is such that you can hardly hear the piano music. And that brings me back year after year."