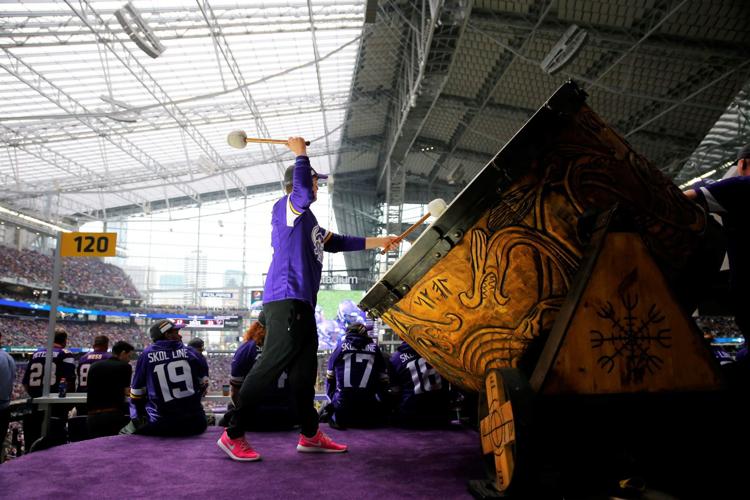 For Nerstrand artist Curtis Ingvoldstad, woodcarving has been a career for more than a decade.
One of his recent projects — a hand-carved drum — has garnered national attention and become a symbol for the Minnesota Vikings at U.S. Bank Stadium.
Ingvoldstad, who carved the drum three years ago, hopes it serves as an example of what Minnesota artists can accomplish.
The process
Skol Drum Line member Jay Matuzak called Ingvoldstad in April 2016 to invite him to design and carve the drum to be used before the gjallarhorn sounds just before game time. The drum also serves as a way to fire fans up during Vikings home games. 
"He just called me and said, 'I just saw these high school kids on YouTube make a drum, this big drum on YouTube,'" Ingvoldstad said.
Ingvoldstad later had River City Builders construct a barrel with 4-inch thick staves. Local company CGI Industrial made a 6-foot diameter metal band for the drum.
"The technical specifications for that, are, just for me, outstanding," Ingvoldstad said.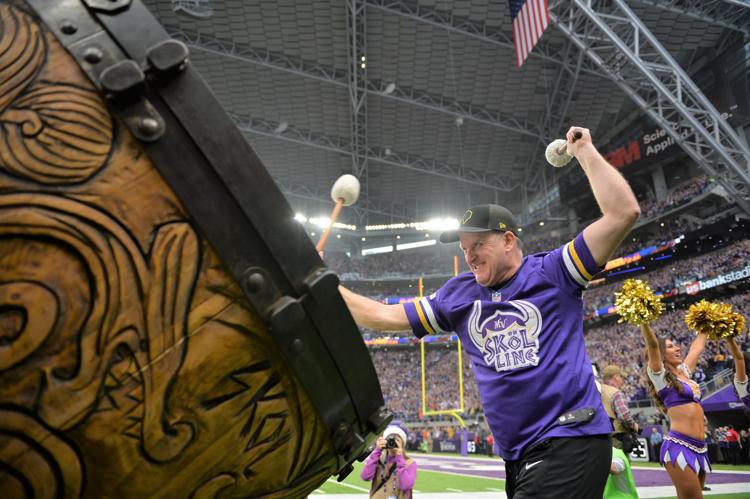 The cart for the approximately 1,800-pound drum had to fit through freight elevators and double-doors, so it had to be rotated 360 degrees on an axis. There are exterior rings on the top and bottom.
A delay in getting white pine for the drum forced builders to turn to another source and the project was delayed until well into the 2016 season. The first game it was used was before the Nov. 7, 2016 game against the Detroit Lions.
"When we got the materials, within 2½ weeks it was in the stadium finished," Ingvoldstad said.
Despite the delay, Ingvoldstad carved two dragons fighting each other on each section. On one axis, where the drum comes together with a rod, are Viking ships. The logos of the three other teams in the NFC North — the Packers, Bears and Lions — are carved into the drum as well. 
To Ingvoldstad, the drum sounds thunderous, something people would use to storm a castle. He intended for the drum to look old and worn to symbolize its intended use.
"It was better than I thought it would be," Ingvoldstad said.
Someday, he'd like to play the drum before a game.
Minnesota Vikings Entertainment Manager and Associate Producer Darius Smith said the team appreciates the work Ingvoldstad did as a Minnesota artist on the drum, incorporating the Nordic elements.
"It's always going to be a mainstay with us," he said.
The Vikings' Skol chant the drum is used in takes place to energize fans before the gjallarhorn is sounded prior to kickoff. The Icelandic national soccer team gifted the team the chant in 2016 after using it in the country's run in a European soccer tournament.
To Smith, the drum is a unifying moment for Viking fans around the world and has added to the pageantry of the gjallarhorn.
To Ingvoldstad, realism was not the most important part of the project.
"Balance is really what you want," he said. "Realism and everything else is fine, but balance and composition and all of these things that people read are way more important than your expectation of the details."
Woodcarving earns Ingvoldstad awards, a career
During a brief foray into architecture, Involdstad realized he couldn't draw well enough technically, and entered into video production for approximately 10 years. During this time, he did everything from directing, motion graphic work, camerawork and production for a home shopping network and a cable access network along with shooting video for cities in the north metro. Ingvoldstad, who has an art degree, then realized sculpting was what he wanted to do. Today, he can carve a perched eagle in 30 minutes using large chainsaws.
"I liked the quickness of it and how ready to go it was," he said.
He started full-time carving work in 2007 and has done jobs for large organizations such as Red Bull, Craftsman Tools, the Ordway Theater, the Minnesota Wild and Bemidji State University.
"I've just been very passionate in bringing art to people, and so I always said 'Yes,' and tried to fulfill pretty much anything I can as far as that goes, so I have gotten a lot of opportunities because of that," Ingvoldstad said.
He nabbed second in the U.S. Open Chainsaw Sculpture Competition, and swept the awards in the annual Wood, Wine and Blues in Storm Lake, Iowa. The field included artists from the U.S., Japan, Austria, Germany and Australia who had 26 hours in 3½ days to complete their work. He also finished 14th out of 69 carvers at what was then Japan's largest competition of its type.
Most art Ingvoldstad makes is commissioned. To him, the most important part of his work is the impact it has on others.
"It's the inspiration that other people find in it," he said. "Being able to make something that adds to somebody else's life in a way that we really just don't even have to speak about. They just love something."
To him, carving art that customers like is the most important part of his job.
"Being an artist is not just about what I want, it's about a service, like plumbing or anything," Ingvoldstad said. "It's making something that somebody needs or inspires them, that's the goal. When it happened on that level, I was so happy."
"I want people to understand that the process that I am going through is to make my best piece of work every time that I think is appropriate for whatever situation it is going into."