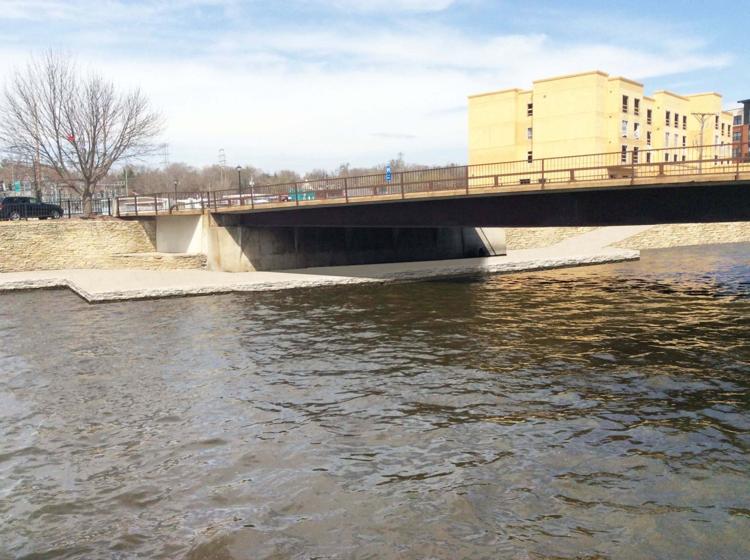 The city of Northfield is exploring the possibility of placing a floating walkway underneath the Cannon River Bridge in the Downtown Riverfront Corridor.
The option was discussed Wednesday at a Riverfront Enhancement Committee meeting at City Hall.
Northfield City Engineer David Bennett said the city is considering connecting the riverwalk on the west side of the Cannon River to a trail extension north, coming around The Crossing condominiums and eventually to Water Street.
To Bennett, the construction of a floating walkway would provide better pedestrian access across the downtown district and connect across Hwy. 19. He hopes it would create a more walkable community.
He also discussed possibly building an 8-foot permanent steel walkway underneath the bridge, noting that could connect Hwy. 19 to the trail.
Bennett acknowledged there are steps the city must take before implementing either option.
"It's not off the table, but we haven't, from a maintenance perspective, come up with how much the river fluctuates," he said.
The proposed underpass is expected to cost about $500,000.
The cost to construct a floating system is expected to be less, but Bennett said city officials have not yet found out how to make that work.
The Minnesota Department of Transportation is advising the city not to make structural connections to the bridge, and the Minnesota Department of Natural Resources is expressing concern over possibly narrowing the channel. The state is asking who would be responsible for debris removal and whether the walkway would impact high water levels caused by flood events.
"We still would have to work through some of those questions from both agencies if we continue to pursue," Bennett said.
Bennett likes the idea of having a floating system in the area but is unsure how the city is going to make it work. He said he is gathering concept numbers but is not yet comfortable with the option because he does not yet have state agencies on-board.
Northfield City Councilor Erica Zweifel said she would be comfortable with putting a placeholder for the potential project in the capital improvement plan so the city could include it if plans come more into focus.
Other steps the city is looking at in developing the corridor include possible decorative lighting, kayaking and canoe takeouts, and park improvements.
"This is just one of those items," Bennett said.
Northfield City Councilor and Riverfront Enhancement Committee member Suzie Nakasian said the possibility stems from the city's attempt to provide safe pedestrian connections from residential areas to the downtown district. She added she supports the floating bridge.