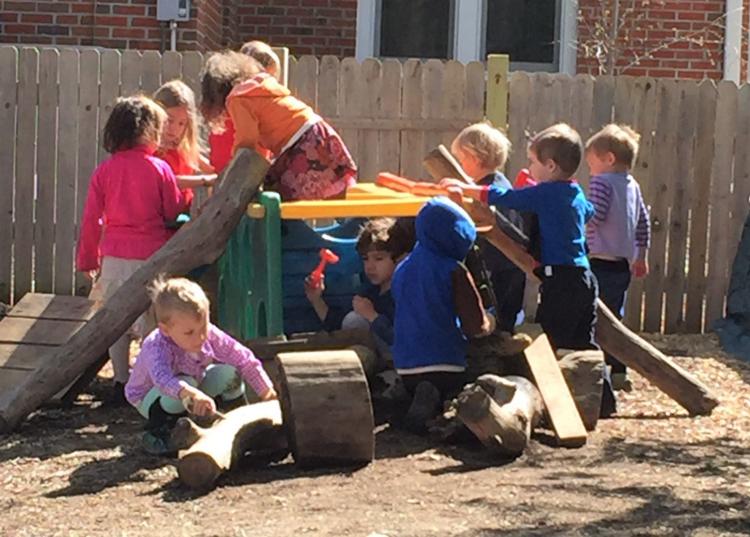 A Northfield day care facility marking its 50th year hopes to be around long into the future.
Northfield Daycare Center, incorporated in 1970 by Claire Erickson and several others, began as a head start center and became a day care center as more women went back to work and full-day childcare became a needed commodity.
Although the center is not affiliated with United Church of Christ, it rents space from the church. It welcomes children on assistance, with special needs and with disabilities.
"It's just a place where kids come to grow up," Director and teacher Sarah Kaul said. "Really our basic philosophy is kids come here to be good friends with each other, because that's where they are at developmentally."
The center's programs include art, music, story time, and small and large motor skill areas that encourage chances for dramatic play.
According to the center, teachers help achieve the mission by describing and interpreting behavior and functioning as role models. A life-size dollhouse, the block room, an outdoor playground, dress-up clothes and other toys are seen as beneficial for children.
According to the center, small muscles are developed by art projects and playing with small toys as well as catching bugs on the playground and helping with snack and mealtime preparation. The center aims to develop large muscles by having children build with large blocks, move freely to music indoors and by sledding down the hill, riding trikes, shoveling snow, raking grass, pushing a friend on a tire swing and other outdoor activities.
Northfield Daycare Center borrows books from the city library to supplement its collection, and teachers frequently read to children. Children are expected to create their own quiet time by browsing through books.
The center has typically enrolled approximately 25 children per year during its time in the community and has a staff of a half dozen teachers who are employed for up to six hours a day. A substantial number of Carleton and St. Olaf work study students assist, which enables children to learn to listen to adults of different ages.
Children have no TVs or computers. The center considers itself small compared to other day care centers, believing the size is beneficial.
"We give them the language that they need to get into games," Kaul said. "It's a game-based center. We feel like playing is how they learn best."
Kaul is aiming for the tuition-based facility to boost wages for its employees and create an endowment to fund families in need, who are either low-income or are in crisis situations. Northfield Daycare Center does not receive federal or state funding.
"That's the thing that's the best about this center, is that the families that have been here continue to support us and their kids come to work for us," Kaul said.
"It's family-oriented, and the kids that go here are lifelong friends."
Kaul wants prospective parents to understand their children will be happy with minimal interaction with instructors. The goal is to help children become independent. Instructors step in to resolve conflicts and to ensure no one gets hurt.
Kaul said she doesn't believe she could work at a place that did not have the same mission.
"We want them to know that the world is a safe place," she said. "And because there is so much fear in the world – they hear about it, they see it, they worry about it, but when they come here, they know that while they are here, there's a lot of people that will help them if they need it."