Each year, Northfield art teachers celebrate the artistically talented young people in the community with the All School Art Show.
An annual celebration for the last three decades, teachers from Bridgewater, Greenvale Park and Sibley Elementary, Northfield Middle, Northfield High, Prairie Creek Community, St. Dominic and Northfield Homeschool classes this year select four images that best summarize their collective experience during this unprecedented year. The images weren't limited to finished projects, because it was also important for the teachers to share process images of students working and screenshots of Zoom classes to paint a realistic picture of how things have looked.
This year, the show is titled, Creativity is Essential and demonstrates that even in the middle of a pandemic, the community's creative spirit was alive and well. The show is open for in-person viewing each week from noon to 5 p.m. Thursdays and Fridays and from 11 a.m. to 4 p.m. Saturdays through March 6.
In the art teachers' artist statement for the exhibit they said they hope the images form a quilt of ideas that represent the struggles and successes of teaching art remotely.
"We also hope these images will one day allow future educators to understand some of what it was like to teach and learn through a global pandemic," wrote the teachers.
Ada Leaphart, art educator at Greenvale Park, said the show normally showcases as much student work as possible from students in kindergarten through 12th grade. With remote, hybrid and in-person learning models, classes haven't looked the same and teachers didn't have as much in hand. Teachers got together and decided to approach the show in a different way.
"Our idea was that we could really take a script down approach to tell the story of this year," said Leaphart. "Both the successes and struggles of creating art and teaching art in the pandemic."
Leaphart chose selections that showed how students reimagined what they could use as an art tool and how their problem-solving skills developed. Two of the images show students using found objects as art supplies, for example an image with dandelions, leaves and twigs pieced together to form a picture of a larger flower and another where the students used gathered materials like string to form a line, a bottle cap as a shape on a face and grass for a texture. The other two images display problem solving with limited art tools, more specifically about the hurdles with digital art.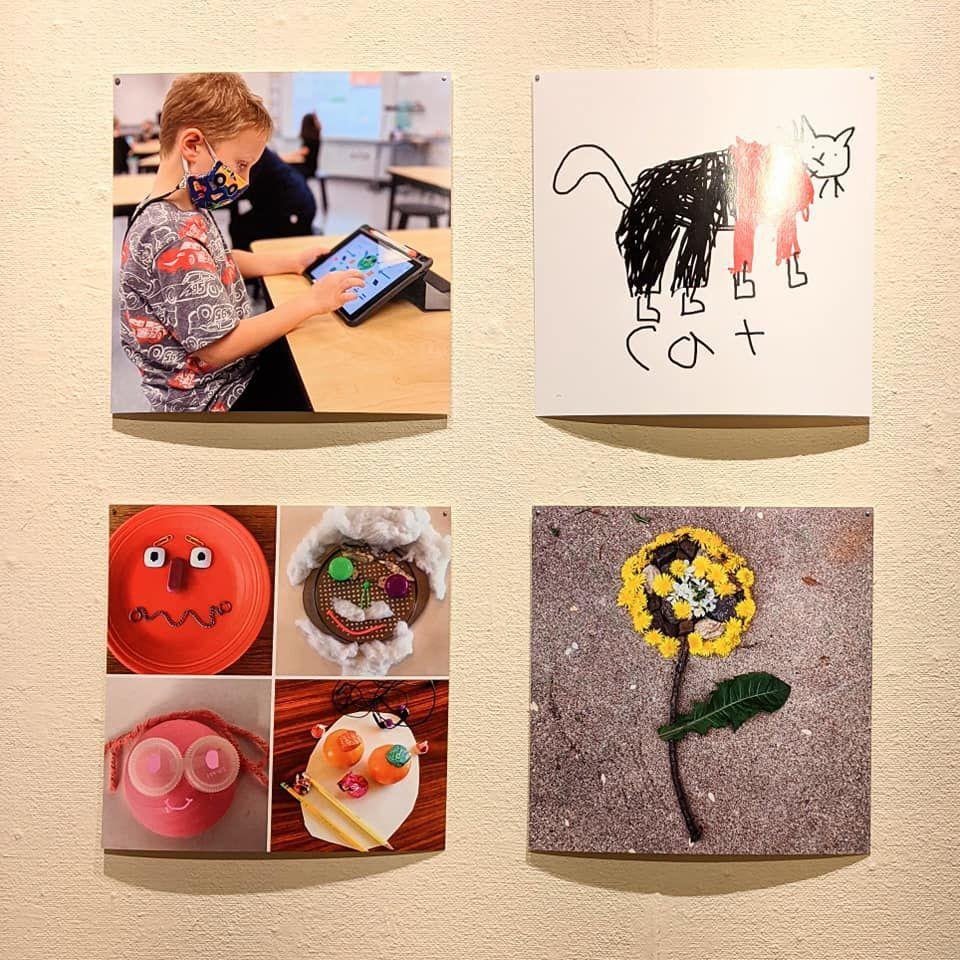 For her younger students especially, digital art is a new tool and a great new method for them to practice.
"What's awesome about the show is that it shows in art we teach innovation and problem solving all the time," said Leaphart. "We wanted to show how well art was suited for flexible thinking and showing actual struggles. Art is a great way to show it because it's visual. It's a fun way to share the story of distance learning."
All in all, Leaphart found art really helped students and adults alike.
"It was a lifesaver for a lot of people to be able to create," added Leaphart.
Focusing on the positives
Molly Otte, who works in the Northfield Middle School art department, has been teaching her classes online since last spring. With all of her students have been producing artwork in their homes, it seemed important for her to choose images that reflected that.
One of the images consists of sketches of furniture, an assignment Otte gave students to sketch a piece of furniture from their home. Since they would normally be in the classroom, pieces of furniture wouldn't typically be a drawing subject. Another image includes hanging sticks and bug sculptures made of found objects, representing how teachers had to think what materials would be available to students at home and what they can readily access.
"As educators, we've had to think outside the box with that," added Otte.
A third image emulates what students are doing now to create their artwork at home and a fourth depicts Otte's view of the classroom this last year.
Otte says it's been challenging to provide a hands-on experience through distance learning. Normally as art teachers, Otte says, they are doing the hands-on experience with students, but instead she tries to provide as many resources, videos and pictures of what she's doing as best she can.
Despite the challenges, Otte believes the hurdles of the last year will benefit teachers over the long term.
"I think we're all very excited to get back to a normal school year," said Otte. "As I've reflected and put things together for this show, I think it's changed the way we taught and I do think it'll benefit us as teachers. I'm just choosing to focus on the positives."