A potential new Kwik Trip in Dundas got approval from one of the two boards it will need it from.
The Dundas Planning Commission voted Thursday to recommend approval of a planned unit development at the proposed Kwik Trip site, although with conditions and comments. Most of the commission's concerns revolved around entrances and exits, in addition to planning for storm impact and future use.
The facility would be located on a 3-acre parcel between Schilling Drive and Hwy. 3, with Hester Street bordering it to the north. The proposed station features 10 gas pumps, six diesel truck pumps and a car wash attached to the convenience store, which will combine to take up 9,000 square feet.
The city has seen interest in a convenience store and gas station at this location before, but the process never moved this far along. After working its way through the zoning and site review process, Kwik Trip executives sent their plan to the Planning Commission, which makes a recommendation to the council on whether or not approve the business's application.
"It's been a long time coming, so thanks for hearing us, and we look forward to being in Dundas," said Kwik Trip representative Dean George at the meeting Thursday.
A major concern of the city was traffic stacking up on Hester Street, as cars attempt to enter and exit the convenience store and gas station. To help alleviate that concern, Kwik Trip is offering to pay for the widening of Hester Street into a four-lane roadway, with left turn lanes.
"We feel it will also discourage people from using the property as a short cut from Hester Street to Menards," said City Administrator John McCarthy.
Years ago, a Casey's General Store was aiming to take over the location, which is prime real estate for a gas station, sitting right off Hwy. 3 and near some large retailers. Casey's leaders, though, were not willing to make requested adjustments from the city regarding traffic flow, and the proposal fell through. City Engineer John Powell also indicated that the Casey's traffic analysis report was insufficient.
The city had a different experience with Kwik Trip.
"The applicant did significant traffic analysis and modeling," Powell said. "They looked at current and future conditions, and future conditions with site developed."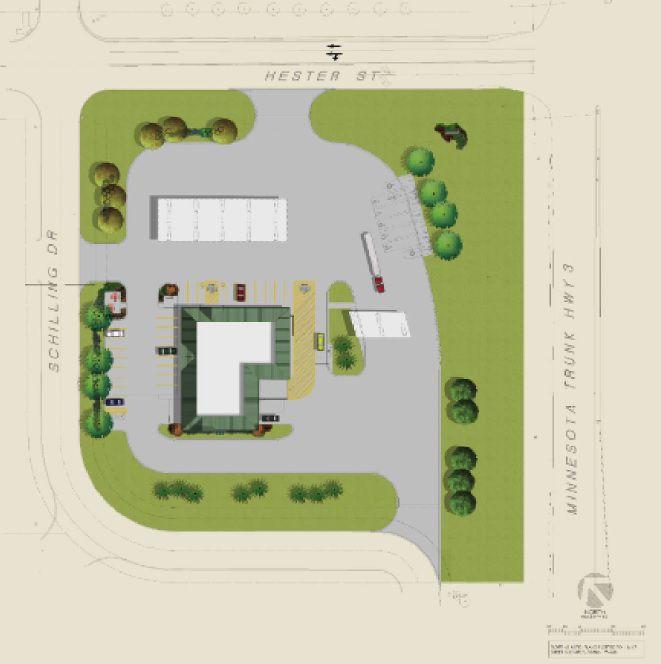 Members of the Planning Commission were concerned with one of the three proposed entrances/exits from the site. Larry Alderks noted that the exit on the south side, going into Schilling Drive (which wraps around the lot), is too narrow for large trucks exiting, and drivers would have to use the opposite traffic lane to complete their turns out.
George said he wasn't sure how many trucks would be fueling up at the Dundas location and noted it's common for trucks to need a second lane to complete turns. But Alderks felt it was silly to create an issue like that when the site is being designed from scratch.
Commission member Frances Boehning provided an alternative solution: make the south entrance/exit only an entrance. She noted that most vehicles wouldn't want to use that entrance anyway, as it's on the opposite side of the site as the pumps.
Commission member Bruce Morlan, meanwhile, was concerned about whether the developers and city were properly accounting for ever-increasing rains and storms. He noted that any community that is thinking the future is the past is going to be in trouble.
Engineer Powell said the site plan should be OK in combating regular flood events, though he said it's not common practice to prepare for 500-year flood events. Morlan expressed an interest in having a future policy discussion, requiring developments to consider the potential for more serious weather in the future.
All of the comments will be noted by city staff and plans may slightly alter before the proposal reaches the City Council at a future meeting. If approved, construction is expected to being in spring 2020 and end in fall 2020.