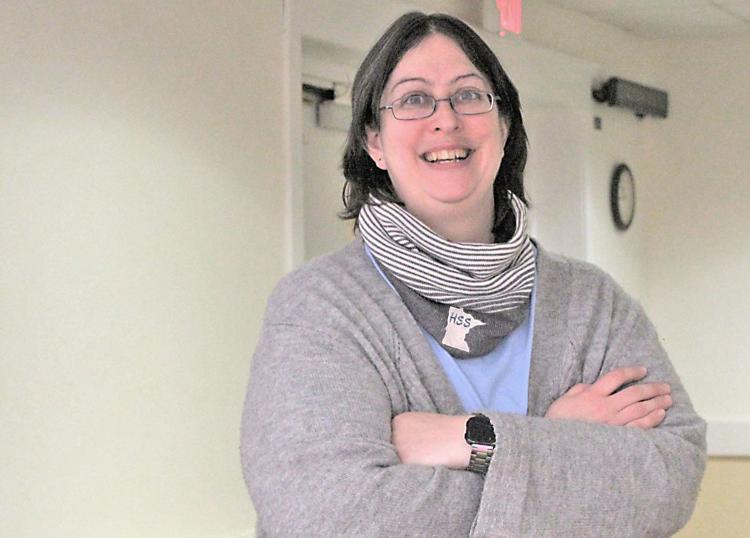 Being a caregiver is a natural fit for Three Links Pathways Household Coordinator Amanda Gruber.
Her passion, fostered by her mother's decades-long career in the field and a continuing interest in bettering the lives of dementia patients, has resulted in statewide recognition.
In February, Gov. Tim Walz awarded Gruber as the Caregiver of the Year at the LeadingAge Minnesota Institute & Expo, the state's largest aging services conference.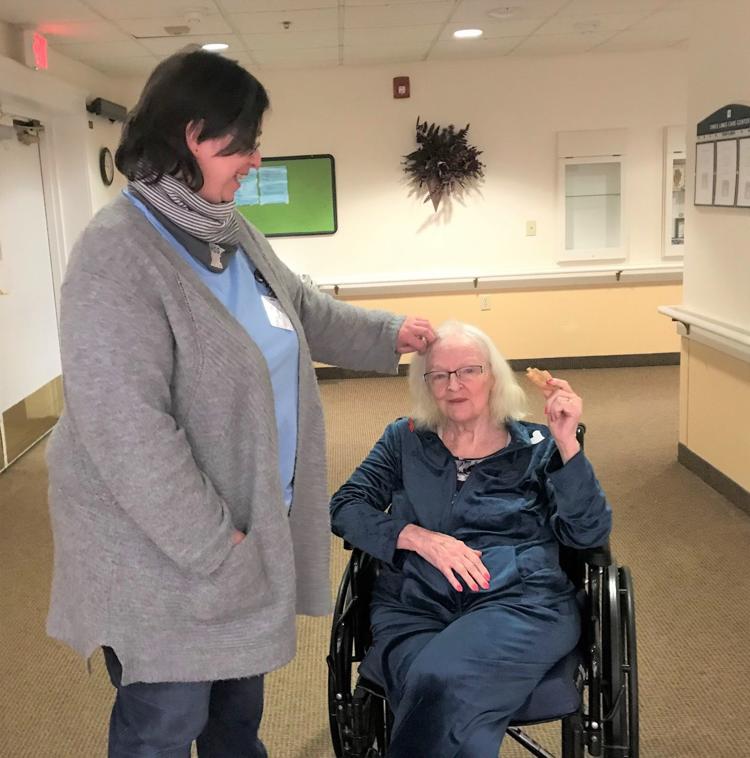 A Faribault native, Gruber joined Three Links as a nursing assistant in 2007 and has since been promoted to household coordinator for Pathways, a 24-bed secure memory care area. She leads caregiver support groups, and her drive and commitment to her profession has been consistently shown throughout her career. She completed the Health Support Specialist Apprenticeship program and serves as the site coordinator at Three Links.
She smiles when recounting how happy residents are when she walks through the door.
"They say they might not remember who you are but they remember how you made them feel," she said.
"If you're not here, they miss you. They might not be able to say it in words, but they'll say a smile, or they'll hold their hands out and want to give you a hug. They're just the best."
She sometimes meets with residents and families and shares Google Maps trips of their home neighborhoods, during which she maps out the trips via an iPad while drawing memories of favorite places and times. She is also known to sing to residents.
Gruber's caregiver involvement does not end when she leaves the facility. She is a family caregiver to her 85-year-old father and is involved in special projects throughout the community, including participating in the Alzheimer's Association and Age-Friendly Northfield.
Her initial goals did not include being a caregiver, however.
Gruber's career realization came after winding path
After graduating from Bethlehem Academy in Faribault, Gruber attended the College of St. Mary and then Northwest Missouri State University where she studied computer graphics. The cost of college, however, was weighing her down, and caregiving had been forged into Gruber's life since she was a child. 
"I just saw what (my mother) was always doing and just the way she did it, and we kind of grew up there volunteering, so I was just kind of used to nursing homes and the elderly," she said.
"I always loved the elderly. With graphic design and computer graphics, you are able to use your really creative mind. Yes, I am not working with a computer anymore, but I'm really being able to be creative."
After realizing she wanted to be a caregiver, she worked at a couple nursing homes before she was hired at Three Links as a nursing assistant. She now mentors nursing assistants, helping them become acclimated to the job. 
Three Links sent her to a school specializing in dementia care aging, and she was trained as an Alzheimer's facilitator through the Alzheimer's Association.
Through her experience, Gruber knows that no dementia patient has exactly the same symptoms.
"A lot of families don't have that education or maybe that experience with end-of-life, so just being there to support the families as well," she said. "Sometimes when people start passing away, their body kind of naturally takes the lead, and they do need a little help here and there for those kinds of things, but a lot of times the families need a lot of support because they are not understanding the process, or maybe they don't understand what is going on with their loved one at that time."
When patients pass away, their impact on Gruber often remains. They sometimes don't have family who can share their last moments on Earth.
"Each person really kind of takes a place in your heart for each person, and it is really difficult to be able to lose them, because they are part of your family," she said. "Sometimes we spend more time here than we do at home."
To Gruber, success in her job can be measured by the impact she makes on those she serves. Putting residents first is her top priority.
"I just want them to feel peaceful," she said. "They don't even have to say anything, but if they were able to speak, I would just want them to be as peaceful and content as possible."
"I don't like to see them distressed, but if they're distressed and I can change their distress to more of a peace or calm, I think that's what brings me a lot of joy."
Gruber earns praise from colleagues, officials
During the presentation ceremony, Gov. Tim Walz introduced Gruber and spoke highly of her attributes.
"Amanda not only cares for her residents and their families but also for her co-workers," he said. "She is at the heart and soul of the Pathways neighborhood."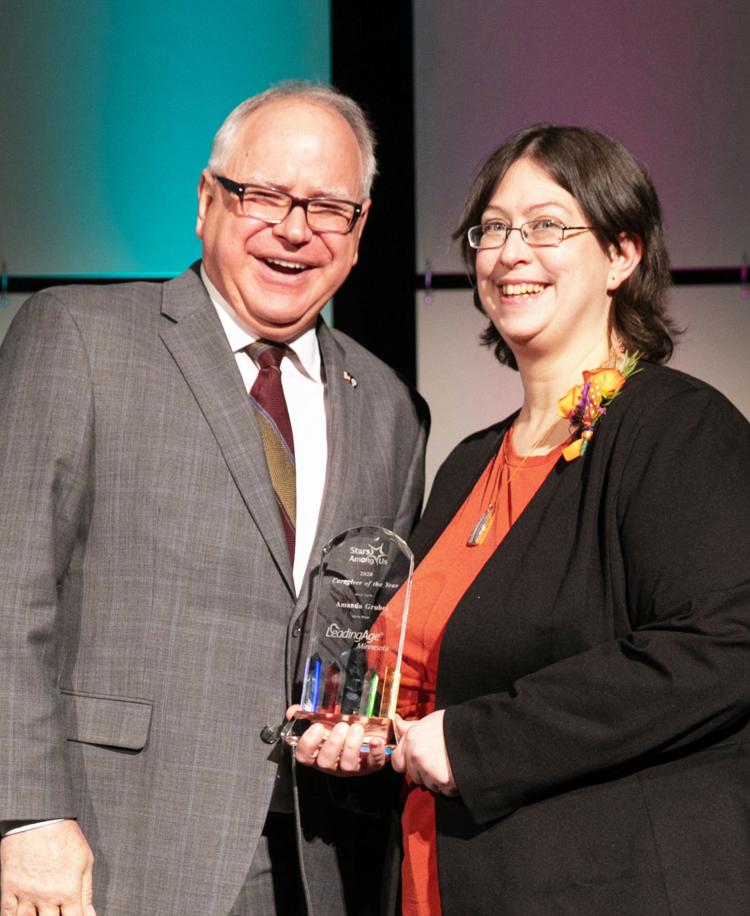 Said Gayle Kvenvold, LeadingAge Minnesota president and CEO: "Amanda Gruber is an exceptional caregiver who embraces the joys and challenges of caregiving. Amanda's excellence as a caregiver, devotion to her co-workers, and commitment to the residents and families she serves is unparalleled among her peers in the field of aging services."
Perhaps the most important trait Gruber brings to her position is the belief that perfect care can't be achieved, a belief that motivates her to continue to improve.
"Amanda is never satisfied, and that is an awesome quality and that's how she's such a great leader, too, because she pushes everyone around her, including administration, to be better," said Pam Tidona, Three Links marketing director.