Its recently become a certified SuperShelf, meaning it provides a welcoming environment where individuals and families can get the daily fare they need, with a focus on fresh produce. That means the about 100 households (and hundreds of individuals) that the shelf serves weekly will have access to healthier, more nutritious foods.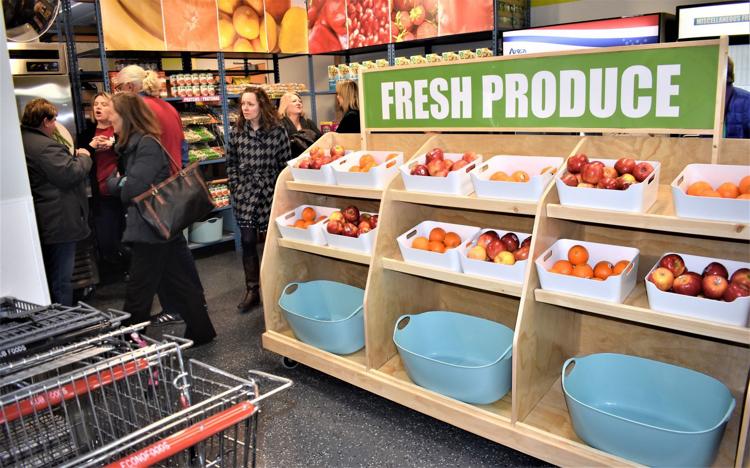 "When we asked clients what foods they want, over 88 percent said they wanted more healthy foods. They know how to prepare those foods; they just couldn't afford them," said CAC Program Director Anika Rychner. "If you're on a fixed income or tight budget, you have to make tough choices at a grocery store that are centered around stretching your budget. If we can source the healthy foods, we need to do that; it's the right thing to do."
In addition to making the food lineup healthier and more nutritious, Food Shelf staff and volunteers from around the community helped give the location a facelift. Walls were removed and painted with bright colors, a new floor was put in, massive refrigeration and freezer walk-ins were installed and colorful signage was added throughout.
On Wednesday, days before the onset of Minnesota FoodShare Month, community members joined together at the renovated food shelf for an official unveiling and ribbon cutting. Several dozen residents oohed and ahhed their way through the new space.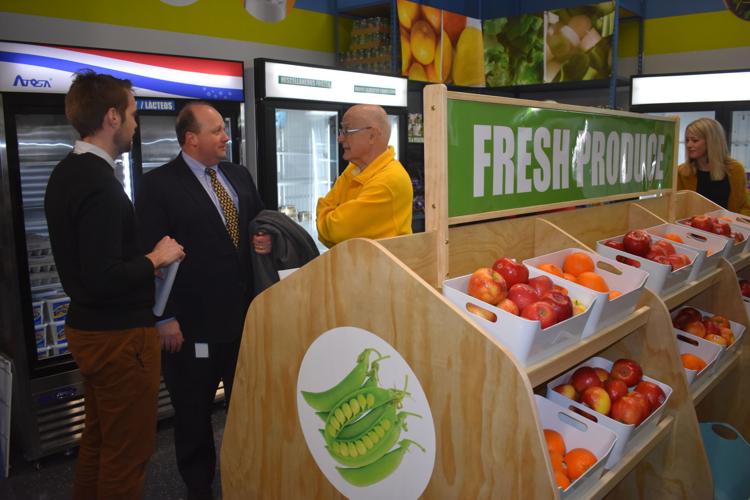 "It's fabulous. I think it's airy, easy to navigate. I love that we have multi-cultural signage. It looks great," said Ruth Neuger, one of the guests Wednesday. "I think people get stuck in life, and this is just such a lovely thing to be able to offer people."
The transformation to a SuperShelf, one of just 11 certified throughout Minnesota, involved a lot of help from the community. Rychner listed some of the contributors during a speech to those in attendance Wednesday.
"This is a fully funded project, and when you think of the walk-in coolers we received and all of the construction that went into this, that's amazing," she said.
The enhanced selection does not require an increased food budget, as staff are simply shifting spending priorities. Where donated money used to go toward the typical food shelf items — canned goods, boxed products and the like — more of it is now going toward fresh food. And staff will continue utilizing partnerships with local retailers to rescue unsaleable, but still edible, products.
The remodel, meanwhile, was supported by local individuals, businesses and organizations. It began with some demolition and reconstruction, courtesy of Northfield Construction, which donated its labor.
"What a great organization — Community Action Center and the Food Shelf. We did it around our holiday gathering last year, so the guys were very pleased to come volunteer our time," Northfield Construction owner Chris Kennelly said. "We had help from Tekton Engineers donating time to provide some structural information. Really it was opening up some walls and coordinating a lot of work to get in and out in there time frame."
Foundation For Essential Needs, based in the Twin Cities, donated labors and cost for a new floor.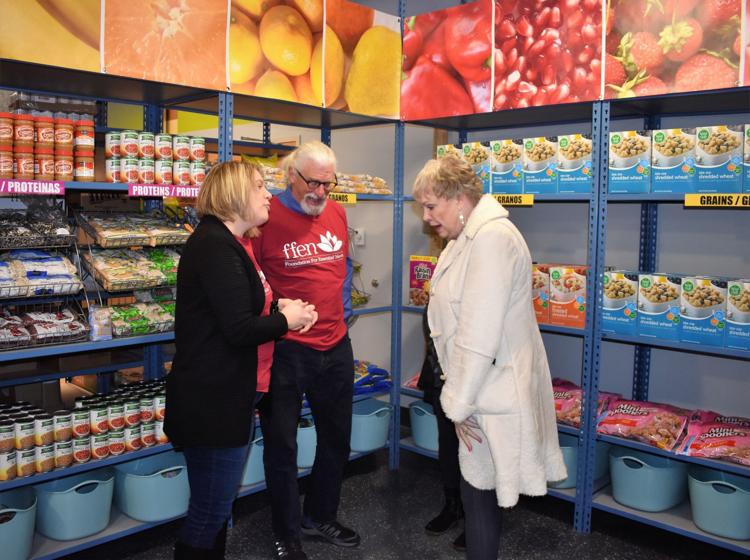 "At FFEN, we're really interested in supporting the transformation and new look of food shelves across the state, so this seemed like a great opportunity to be part of a project that increases the spirit and hospitality in which a food shelf delivers its services," said FFEN Executive Director Kate Burggraff.
Meanwhile, Koktavy and Daleiden Painting donated labor and Arrow Ace Hardware in Northfield gave the CAC a large discount on paint and painting supplies. Specialized Floor Coverings in Dundas installed the baseboards. And two local woodworkers, Bill Nelson and Lee Score, built a new produce display.
To pay for the new walk-in refrigeration and freezer units, upward of $50,000, Erica Zweifel and Alex Miller led efforts out of the Carleton College Center for Community and Civic Engagement to obtain a grant from the Minnesota Pollution Control Agency. The grant was secured on the basis that the new units would help the CAC Food Shelf to preserve more food longer.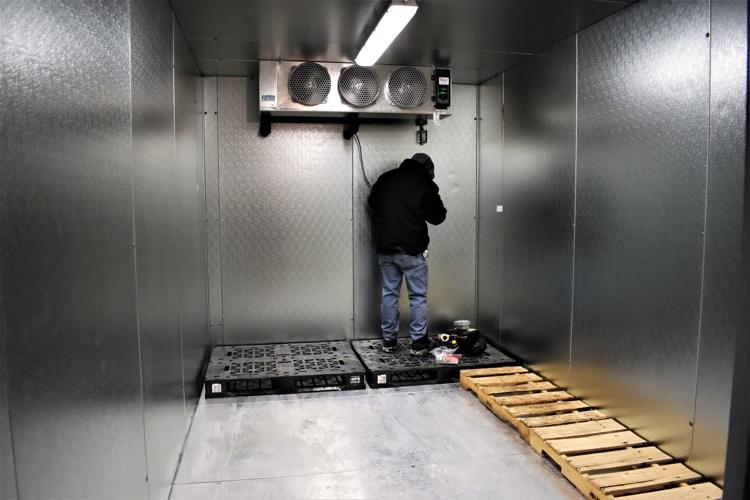 Rice County Statewide Health Improvement Partnership paid for the signage throughout the food shelf. The Northfield Hospital Women's Auxiliary funded the children's area. Channel One Food Bank, a regional organization, donated a refrigerator for the project. And Neuger Communications donated its time and ideas to the renovation.
In addition to all of that, the food shelf's team of volunteers put in countless hours, helped by dozens of other area residents who stepped in to help.
Walking into the new CAC Food Shelf is an entirely different experience than walking into the food shelf of the past. You're immediately met with bright colors, easy-to-navigate shelves and importantly, produce.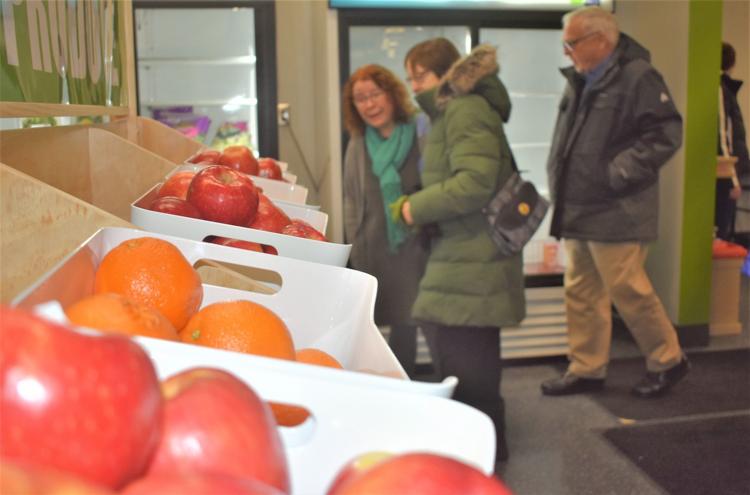 "We lay it out with produce first, because if you have an empty cart when you come across it, you are likely to take more of it," Rychner said.
The food shelf was opened in 1985. It began in the basement closet of a former church, where it remained until 2000 when CAC moved to the Northfield Community Resource Center. The space that is now the food shelf waiting area was the entire food shelf for a decade, before it was expanded in 2012.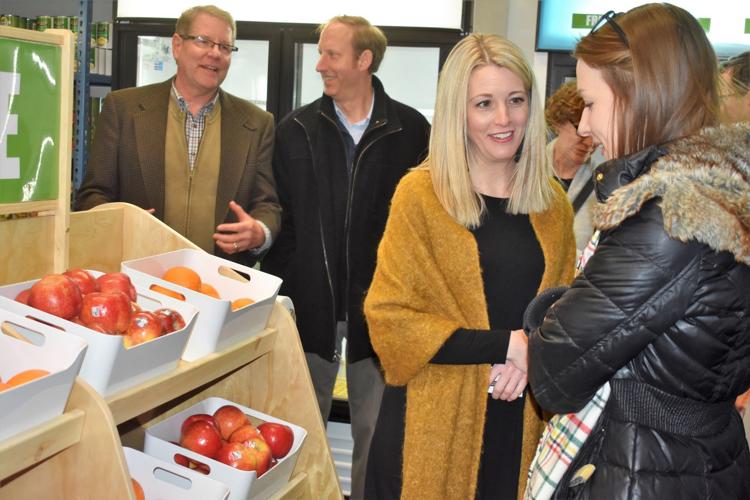 The newly renovated space is the same footprint as the last seven years, just laid out differently, in order to create a separate shopping area from the back stock area. This was important, Rychner noted, in order to create a welcoming atmosphere and experience for people accessing the food shelf.
According to food shelf staff, the early feedback from users has been hugely positive. "Some people cheer, others cry" when they see the new look at the food options in front of them.
For Virginia Merritt, Joellen Barak and Gina Lewis, of Channel One Food Bank, who paid a visit Wednesday, the CAC shelf stands above and beyond others in southern Minnesota.
"This is certainly a star food shelf," Merritt said. "They worked with the University of Minnesota to get the SuperShelf model … it's truly amazing for this community."
Burggraff, of the Foundation For Essential Needs, who has also seen many a food shelf through her work, said the new and improved CAC shelf is top of the line.
"It's beautiful. It looks great," she said.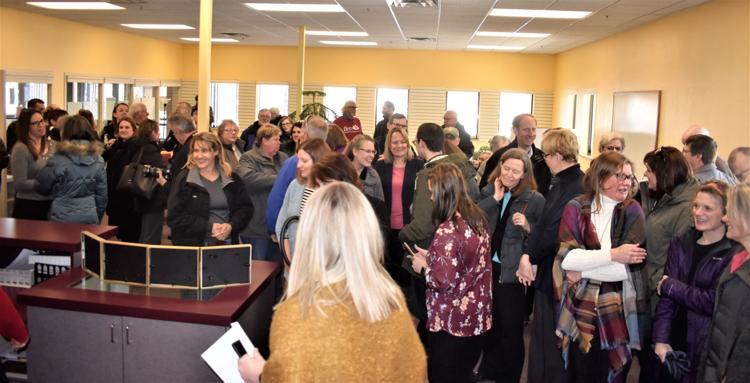 CAC leaders hope the new shelf will have a lasting impact on the community. They expect it to continue serving those who are food insecure in and around Northfield, and do so by providing them healthier foods to bring back to their families.
Leaders also hope the improvements will increase community enthusiasm and participation around the food shelf, something they already see in great numbers. Executive Director Scott Wopata summed it up, speaking to the audience Wednesday:
"This is not about the CAC; this is a community victory."