For many Northfield High School students, taking part in Rock 'N Roll Revival is more than a chance to show off a talent for song and dance onstage. It's about continuing a tradition. 
Now in its 13th season, the biennial production brings together students from all corners of the high school to perform classic rock and pop tunes from decades gone by. Students spend countless hours preparing for six performances — this year, the show runs for two weekends, with opening night on March 8. Shows frequently sell out; on the first day of sales, all of the tickets for two performances had already been snatched up.
Growing up, sophomore Jaida Gehring held the show in reverie, feeling "awestruck" by the glam and variety of the costumes. As a regular in other high school theater productions, she jumped at the chance to join as a singer and dancer.
"I've seen it before and I've heard so much before because it's so big all over town," said Gehring. "It feels so cool to be part of something that's just so beloved by everyone in Northfield."
This year's show includes songs by Kiss, Queen, Tom Petty and the Heartbreakers, Aretha Franklin and more. Over one hundred cast members, plus about 20 more instrumentalists, play tunes from the late 1950s through 2010s, with the majority from the 60s and 70s. 
Math teacher Ray Coudret serves as the show's producer and creative director, with middle school band director Ethan Freier and local musician Craig Wasner working with the band. Bob Gregory-Bjorklund is the vocal director, with Shari Setchell leading the choreography. Over 80 volunteers work to build sets, curl hair and keep students fed. 
Unlike a traditional high school musical, Rock 'N Roll Revival's musical revue takes audiences through over two hours of nonstop song and dance, complete with elaborate costumes, lighting and set pieces that transform high school students into rock stars for an evening. Due to the sheer amount of work involved in the production, it only takes place every other year, funded by ticket sales and helped along by parent and community volunteers.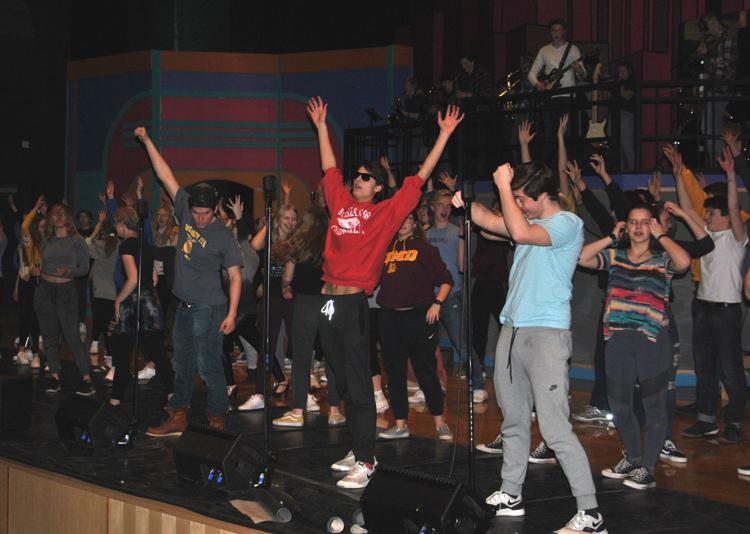 Though senior Angelo Perez will sing and dance for songs written long before he was born, the music still brings a sense of nostalgia for him.
"I grew up with this music, from my grandma and my mom," he said. "And the costumes are fun: the Converse, the rolled-up jeans, the slicked- back hair…"
Perez, a returning performer, was worried about losing his job at a local bank, with rehearsals taking up most of his after-school time for over a month. (He was able to work out a flexible schedule.) And Shay Wellentin, another returning performer, gave up a chance at the state wrestling competition in order to join.
"I had a lot of fun with Rock 'N Roll," said Wellentin. "I love (sports), but I don't want to look back and be like, 'That's the only thing I did.'" 
Northfield schools have already had eight snow days during prime rehearsal season. A few rehearsals have been rescheduled, but for students trying to learn several songs' worth of vocals and choreography, every practice counts. This year's cast has had to come together to help each other out, perhaps more so than other years.
"We all know we all have our work cut out for us. We all have to stay focused, and have a good time doing it," said Perez.
Despite the time commitment and workload, students said they never regretted their decision to participate. 
"It's twice in a lifetime. It's a huge deal; it's amazing," said Gehring.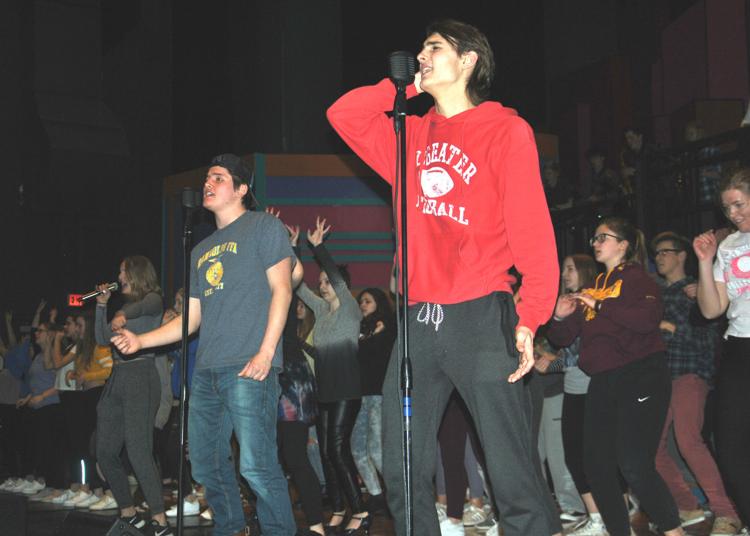 As this year's senior performers pass the torch, Perez had some advice for younger students considering a future role.
"I would just encourage the younger students to do it. Just go out on a limb and do it. If you don't feel comfortable, they make you feel comfortable within just a few weeks of doing it."