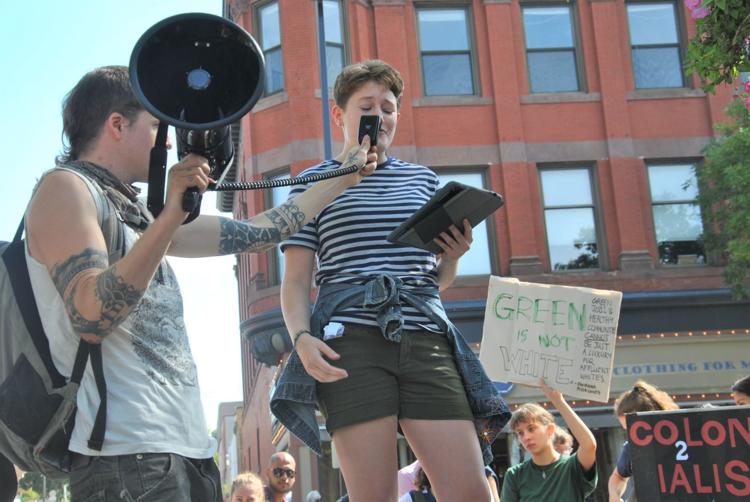 Bridge Square was packed late Friday morning with protesters demanding drastic action to combat the changing climate.
The event was part of the worldwide Climate Strike week that lasts until Sept. 27. According to organizers, the strike consists of activists demanding an end to fossil fuels in more than 150 countries.
The demonstrations, held from Canberra to Kabul to Paris to New York, were inspired in part by the activism of Swedish teenager Greta Thunberg, who over the past year has staged weekly demonstrations urging governments to take action to save the environment.
The world has warmed about 1 degree Celsius (1.8 Fahrenheit) since before the Industrial Revolution, and scientists have attributed more than 90 percent of the increase to emissions of heat-trapping gases from fuel-burning and other human activity.
Scientists have warned that global warming will subject Earth to rising seas and more heat waves, droughts, powerful storms, flooding and other problems, and that some have already started manifesting themselves.
Protestors in Northfield included community members, St. Olaf College and Carleton College students who arrived by foot chanting slogans calling for action on climate change, and Northfield Middle and High School students.
Climate activists gave addresses meant to inspire those in attendance to take action on climate change. Protesters held up signs calling for action, some pushing for an end to capitalist excesses and colonialism.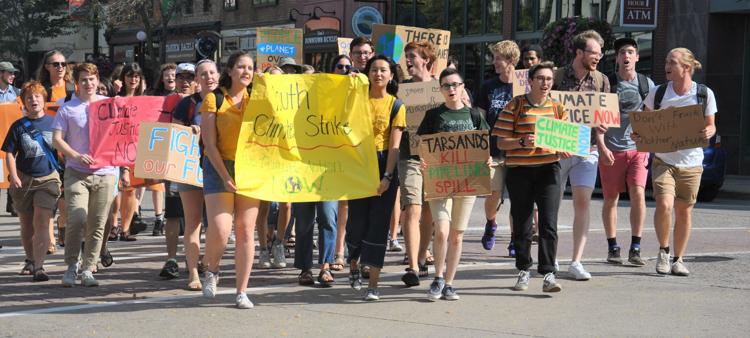 "This is about system change, not about climate change," said speaker Mary Jo Cristofaro, who briefly led the crowd while they chanted the quote.
To some, the individualistic mentality of society has resulted in less care for the Earth.
"This is why we are here, and it is an absolute privilege that you all are on this Earth for a reason," Northfield High School sophomore Ellie Hall-Holt said.
Speaker Jonas Goonface said "fossil fuels have done irreparable damage to the Earth," and called for a halting of colonialism and capitalism.
The call to action by those in attendance included recent climate disasters around the world. In Greenland, 12.5 billion tons of surface ice melted in one day. The rain forest in the Amazon continues to burn, and recent epic flooding has impacted the East Coast and Texas.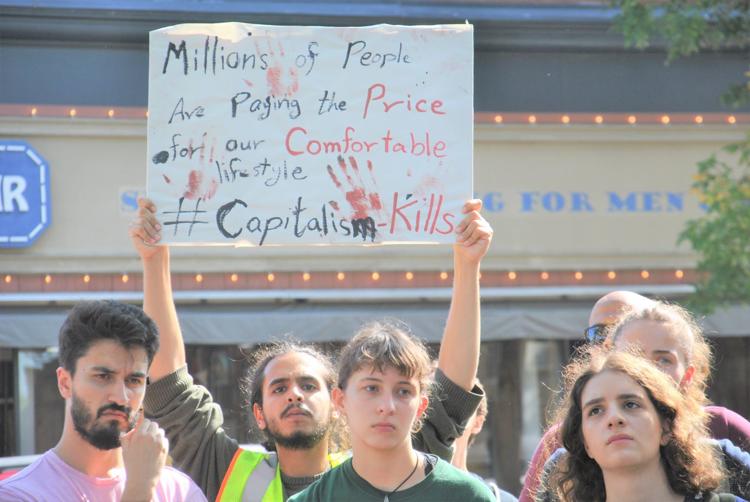 Those in attendance refuted the notion that the changing climate is not due to human causes.
"This is not random," Topp said. "The top three temperatures have been reported in the last five years."
They presented several policy options they say would help the environment, including eliminating subsidies to large oil companies and replacing them with investments in renewable energy.
"Our leaders haven't done enough to deal with the climate crisis that we are in," said Lakeville resident Beverly Topp, who attends church services in Northfield.
She said there is a 10-year window to act before it is too late.
"It's critical rather than too late," Topp said.
"I'm worried at 75 that we are going to be known as the generation that did not do enough," said fellow attendee Nita Wolf.
Northfield Public Schools Superintendent Matt Hillmann said approximately 40 Northfield High School students and eight middle-schoolers participated in the strike. He noted although the school supports students expressing their right to free speech, the students faced the same discipline anyone with an unexcused absence would face because the school does not endorse political movements.
He said he was proud of the students for participating in a peaceful event without infringing on the rights of others.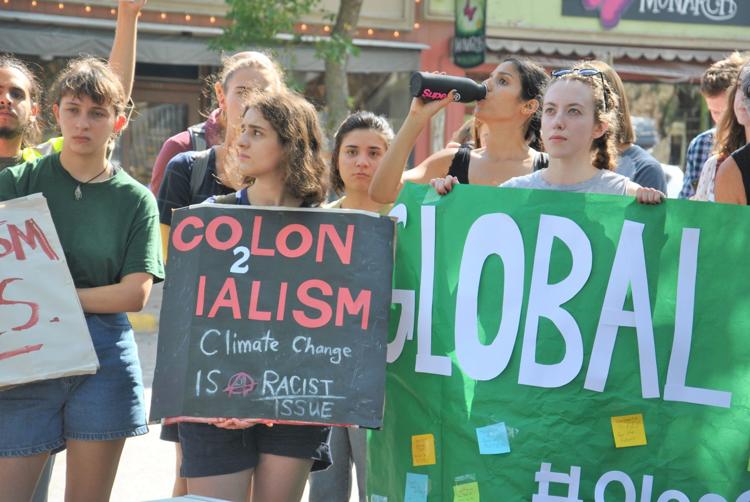 Carleton student Rebecca Chen said better attention needs to be paid to the climate change threat, noting reducing energy consumption is one way to fight the threat.
"We have to do something," she said, relaying her concerns about continued inaction. "It's going to be huge."