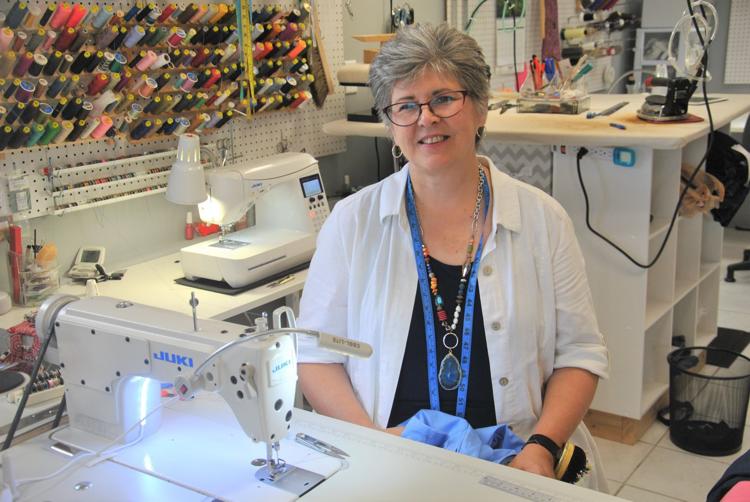 Sitting in her Northfield alterations business on a Friday morning in September, Lisa Emery sits down for an interview while the customers quickly come in and out.
Emery, who has sewed for at least 50 years, is using her talent to fill sometimes spontaneous customer needs while making a career out of it.
Days for her are never the same. Sometimes there is a constant stream of customers, on others the pace is slower.
In her position, Emery is allowed to do something many only dream of: Doing something she loves while getting paid.
Emery's business, Lisa's Alterations, began 18 years ago in her own home. After spending approximately nine years there, she moved her operation to the Weichert Realtors building, renting space in the back. Two years ago, she opened her own space at 507 S. Water St. She runs her own operation out of the building, working on alterations on bridesmaid dresses, mother of the bride gowns, suit alterations and pant hems and zipper repairs.
Emery also offers specialty hems. Her business hems formal wear, excluding wedding gowns, and men's suits. Lisa's Alteration partners with Jim's Formalwear to offer tuxedos and suits for rental as well as special occasion suits for purchase.
"This is my forever location until I retire," she said.
"I love it here. It's a much better spot. It's open. It's bright. Great parking, great visibility. It's perfect."
One of Emery's biggest jobs is absolving her customers of their wardrobe guilt over a garment that just doesn't work for them.
"Sometimes I just wave my hands and say, 'You're absolved,' she said. "'Go take it to Goodwill.'"
She also has to strike a balance between jobs she wants to take on and tasks she can take.
"If I want to be here for very long, I have to say no," she said. "Because there's plenty of lucrative stuff to do."
Emery has taken a winding path to where she is today. A Fargo/Moorhead area native, Emery originally went to school for fashion/merchandising for one year. She had a tailoring job at a menswear shop and advertised art for a time. From there, she went to school for one year in Detroit Lakes for sign-painting and then moved to Faribault, where she briefly worked, married her husband, Steven, and became a stay-at-home mother for 18 years while her children Ariel, Phillip, Megan and Mairin were growing up. During that time, she fulfilled her passion for sewing, sometimes doing so for weddings, zip covers and side covers to make extra money.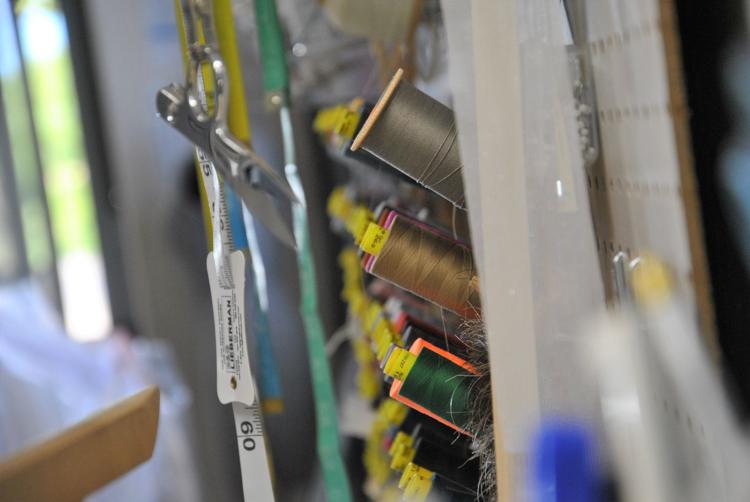 "I love being able to make something," she said. "It's sort of like sculpting when you're making it fit people. I love that part. I love all the little operations that you can sew something up and it turn into something. I guess I just have always loved that. It's like engineering or sculpting. You're making something that's flat into something that's not flat, and that's exciting."
There are challenging parts of Emery's job, including when she works with zippers or bridesmaid dresses.
"Everyone is different," she said. "You gotta reinvent it every time sometimes, so it's hard."
There have also been slight alterations to what people wear during her career. She is noticing more knit pants, which has required her to change her machine use.
Most adjustments Emery undertakes take between 10 and 90 minutes. Her prices are within industry norms, and in a typical day she usually works on a half dozen bridesmaid dresses. During prom season she sometimes fits 50 tuxedos and 50 prom dresses in 45 days.
Despite decades of experience, Emery is still learning. An 18-year-old assistant recently helped her learn how to tie a thread in a new way.
"You're always learning," she said. "I'm still learning."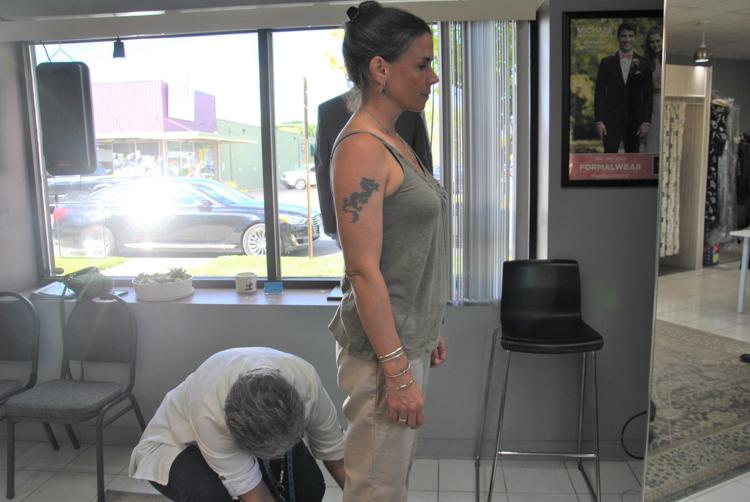 Emery's initial dream job centered around sewing but did not include alterations.
"It was my fallback, because I wanted to do dressmaking," she said. "I wanted to make stuff from scratch, but I realized early on this was where the money is. For me, it works for me."
The positive feedback she receives is constant.
"They are thrilled most of the time," Emery said of customer reactions to her work. "And I hear probably a half dozen times a week 'I am so glad you're here. We're so lucky to have you here.' There's just a lot of good feedback in this business."
Emery hopes to retire in a few years but wants to ensure she can pass on the business to someone.
Steven has seen the passion his wife has shown for alteration work. He also believes the city's welcoming environment for small businesses makes it a prime location for her establishment.
"It's something that she's always liked and done since she was very young, and because of that, once our kids were old enough, that allowed her to start the business at home," he said.
He described the evolution of the business, which he said blossomed from word-of-mouth from friends and customers who appreciated the quality of her work. After building her clientele, she established the brick-and-mortar location and became aware that she could sustain the business.
"That visibility has also added to her clientele and has been quite helpful in having her business name out in front of the public," Steven said. To him, his wife has the skill, talent and will to successfully run the business.
"It's all on her as far as what she has done," he said. "It's been all her effort. She wanted to do it, had the skill to do it. Put the effort in to do it. It's her business. All the credit goes to her for what she's built."