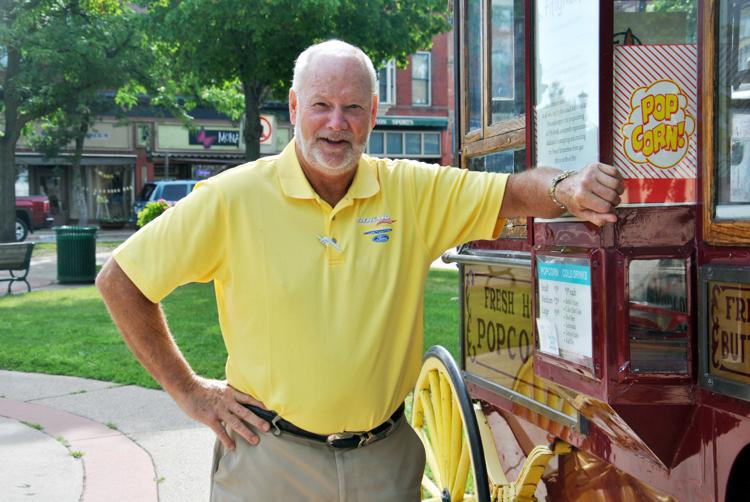 For 35 years, Northfielder Clancy Dokmo has worked to make the community better through his ownership of the Dokmo dealership and by donating to the causes he cares about.
His service is being recognized this year in receiving the Joseph Lee Heywood Distinguished Service award, given to one person who has long served the community and contributed to the Defeat of Jesse James Day celebration. The award is named for Heywood, the First National Bank cashier who was killed during the 1876 James-Younger Gang robbery, giving his life rather than see the bandits make off with the money.
"It's kind of the ultimate honor in community service and dedication to the event," Dokmo said.
Dokmo has promoted the DJJD event, contributed vehicles to the celebration and been a substantial contributor to the event's rodeo for more than 30 years. He takes 40 to 50 employees annually to dinner before the Friday night rodeo, and then they watch the event together.
In receiving the award, Dokmo joins the list of people who have been given the Joseph Lee Heywood Award.
"It's an honor," he said of receiving the award. "It's also been a pleasure for me to do the things that I've done for the city of Northfield. I didn't do it for an award. I did it because I love living here and the community's been good to me. I've dedicated a lot over the years, contributions, money, time, effort, to various events here. It's important to me. It's nice to be recognized, but I didn't do it for recognition. I did it because I like my community and I like to see it thrive and be successful."
Dokmo's community involvement also includes donations for baseball and softball fields and the downtown VFW memorial, Nature Conservancy, Ducks Unlimited, Wildlife Federation and University of Minnesota veterinary hospital. He is a member of the Sertoma Club of Northfield.
A White Bear Lake native, Dokmo attended school in Minneapolis, attending Ripon College in Wisconsin and the University of Minnesota before graduating from Hamline University. He then worked for St. Paul- and Worthington-based automobile dealerships before purchasing Dokmo from Jim Dunphy and moving to Northfield in 1984.
Thirty-five years later, Dokmo is in the process of selling the business at the age of 69 and expects to finish the sale in October.
He views community service as intrinsic to living in a city. He compared doing so to serving in the military to serve a home country. Dokmo's favorite part of volunteering is the core tenant of selflessness: knowing that he did something good for someone else.
"I believe that community service is part of the responsibility of every citizen that lives here," he said. "We owe something, especially if you have a business."
Dokmo and his wife, Connie, have been married for 36 years and have two children, Christopher, 46, a Florida-based health care industry worker, and Alesha, 40, who works for U.S. Bancorp in the Twin Cities.
Although he spends winters in Florida, Dokmo plans to remain in Northfield and views it as a unique community. To him, what separates Northfield is its people, their commitment to service and the number of good influences.
"I came here for a business opportunity in 1984 and I was blessed and fortunate to find that I moved to one of the nicest, best communities probably in the state of Minnesota," he said. "I did that by accident, but by luck I was here. I've been fortunate to say that I've had my business career and pretty much my life, raised my children in one of the finer communities in the state of Minnesota, without a doubt."
DJJD volunteer Arlen Malecha, who is leading the Heywood Banquet this year, said Dokmo "has been a strong advocate for many organizations in town through his dealership," including his support for organizations such as Pheasants Forever and Ducks Unlimited and with donations, sponsorships and test-drive fundraisers.