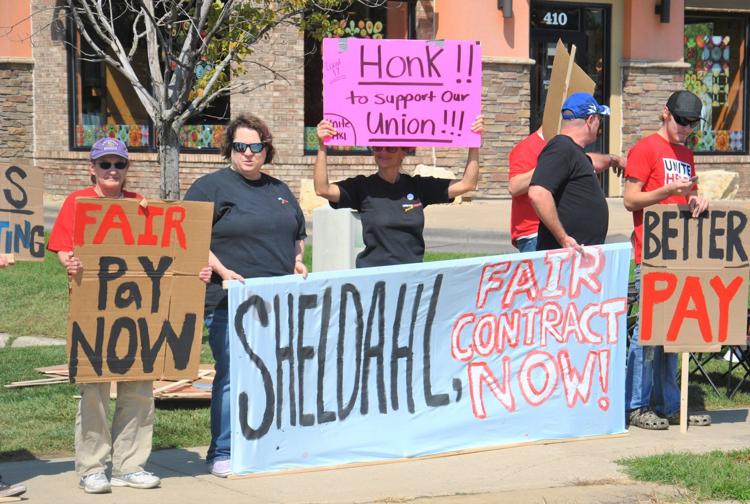 A group of Sheldahl employees picketed Thursday afternoon to call attention to what they say are low wages and insufficient employee health care.
The three-hour picket, consisting of members of the UNITE HERE! Local 17 union, took place at the corner of one of Northfield's busiest intersections less than a month before their union contract is set to expire. There were approximately 20 union members picketing a little after 1 p.m.
A bargaining session is scheduled for Friday. A majority of the approximately 200 union Sheldahl employees must approve a three-year contract extension for ratification.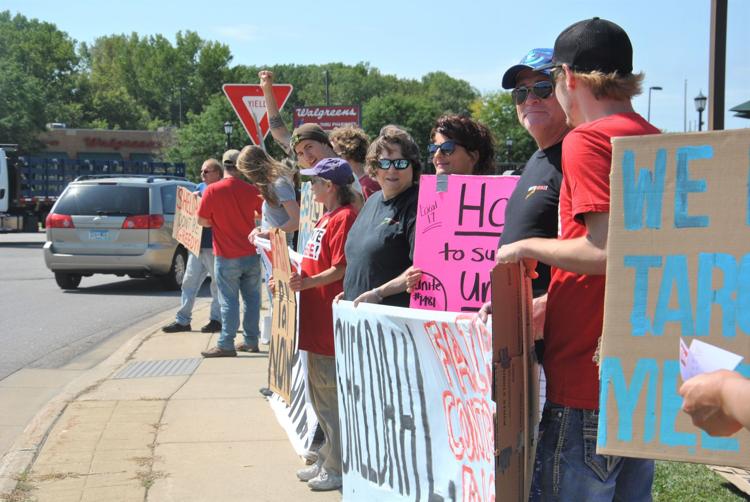 Union organizer Cliff Martin said Sheldahl has negotiated "some really bad contracts" over the years, resulting in deteriorating working conditions. He noted union members believe the health insurance plan they're requesting would reduce deductibles to zero and lower health care costs. Martin says the improved benefits are needed in an industry they believe can cause cancer and other adverse health conditions.
Martin said union members picketed after Sheldahl, a flexible circuit manufacturer, refused their contract demands, which included a provision they be paid for the couple weeks a year when the plant shuts down.
To Martin, the company has a difficult time hiring and keeping employees because of low starting wages — $13 to $17 per hour — that make it impossible for workers to afford to live in Northfield.
Packaging employee Sarah Blow said she picketed because she was "trying to fight for better wages, better health care." She said Sheldahl is proposing 35 cent per hour raises for employees. Blow wants a $1 per hour increase.
"The raises are definitely not high enough for the cost of living going up," she said. "They're not willing to give us enough raises every year."
Blow said she was "not very confident that they (Sheldahl) are going to go for everything that we are asking for."
"I wouldn't vote for it," she said of the position she would take if the company does not meet all of the union's demands.
Blow, a nine-year employee, said she has not been diagnosed with cancer, but believes other adverse health impacts have been caused by her work at Sheldahl.
"I've experienced headaches and nausea and sore throats from chemical smells and stuff being in the air," she said.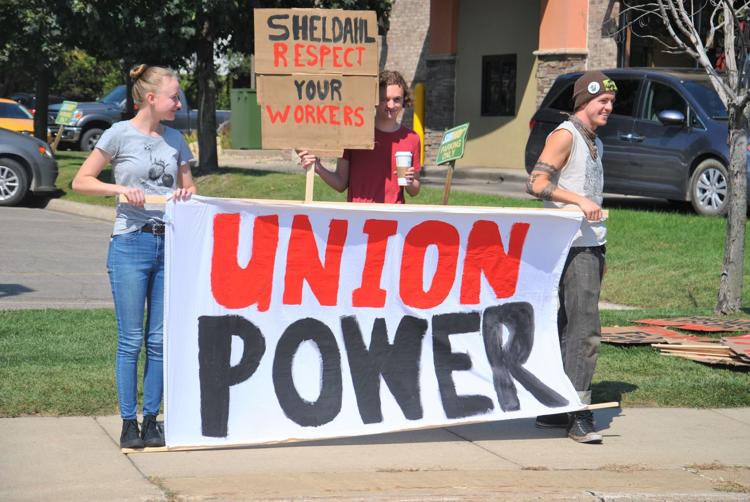 Martin alleged that the company's lawyer has told them Sheldahl can afford the union's demands but is not doing so because it believes the union is asking for too much.
A press release states a majority of the union's members are women and immigrant workers.
To Martin, working conditions at Sheldahl are decreasing employee morale.
"This used to be a good place," he said. "Lots of members are currently looking for somewhere else (to work). It's hard for Sheldahl to keep new people in the door when there's barely any benefits, and awful starting wages and a hazardous work environment."
Sheldahl has not responded to requests for comment.