The Northfield City Council last week received an update on the planned 79-unit high-end apartment complex in downtown Northfield.
The project is being developed by Northfield-based Rebound Enterprises. Two of the properties expected to be used in the project are owned by Premier Bank. The third one is a quarter-acre lot at 510 Washington St. and consists of a house and office space. The bank plans to move to space at The Crossing, in front of the Fairfield Inn building.
The apartment building is planned to be in a U-shape and feature 105 interior parking spaces on two levels. Thirty-three studio apartments are estimated to range in price from $882 to $1,225 per month. Thirty-eight one-bedroom units will be from $932 to $1,272, and eight two-bedroom, two-bathroom apartments will range from $1,123 to $1,550 per month. Ten percent of units will be considered affordable.
The apartment building will have one entrance off Washington Street and include 35 public parking spots. On the lowest level, 63 parking spots will be dedicated for private use.
The apartment building won't have hanging decks so it closely resembles the neighborhood. High-end, hard-surface finishes featuring brick and metal paneling are expected.
During the July 23 council discussion, developers discussed the city's need for market-rate and affordable housing as evidenced by a .03 percent vacancy rate. Over the next five years, Northfield is estimated to need 350 to 400 housing units.
Construction could begin in mid- to late October, and the building is planned to open in spring 2021.
The apartment complex would be unique in Northfield because it would be the only one in the downtown area that offers indoor parking, a shared social space and an elevator. There are higher development costs in association with the new apartment building because of its downtown location. Other expensive work includes underground and covered parking, and site and demolition costs to remove existing structures.
Rebound Managing Principal and Board Chairman Brett Reese, who recently led the effort to bring Marriott Inn and Suites to Northfield, told the board of a July 16 neighborhood meeting regarding the project. 
Relocating Premier Bank to The Crossings is expected to significantly increase car traffic at the bank. At its current location, an estimated 1,200 cars drive by on a daily basis. At the new site, 18,000 cars travel by every day.
Premier Bank President and CEO Casey Regan said the bank wants to demonstrate its long-term commitment to the community and create a modern banking facility with enhanced security by transitioning to the new site. He noted the bank plans to incorporate historic designs of Carleton and St. Olaf colleges as well as glass and roof-line features of historic Northfield landmarks.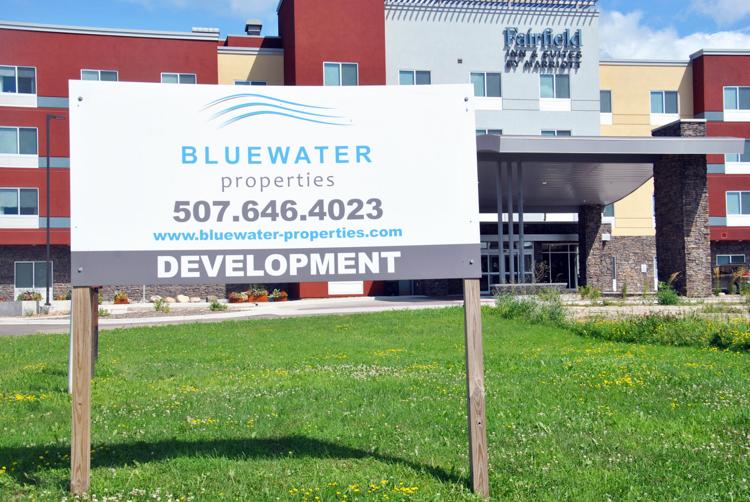 The new site is expected to have a drive-through on the east side.
Prior to construction being complete, Premier Bank will temporarily operate in a double-wide trailer north of the building for six to nine months as the new bank is constructed.
In response to a question from Northfield City Councilor Clarice Grenier Grabau on whether the first floor of the bank would be a good place for solar panels, Stencil Group CEO Nate Stencil said because of site space limitations, the plan would likely not work.
Councilor Suzie Nakasian asked the developers to consider a customer entrance from Second Street as part of the city's goal to extend the downtown district to both sides of the Cannon River.
The bank, however, is reluctant to implement that suggestion because of safety concerns.