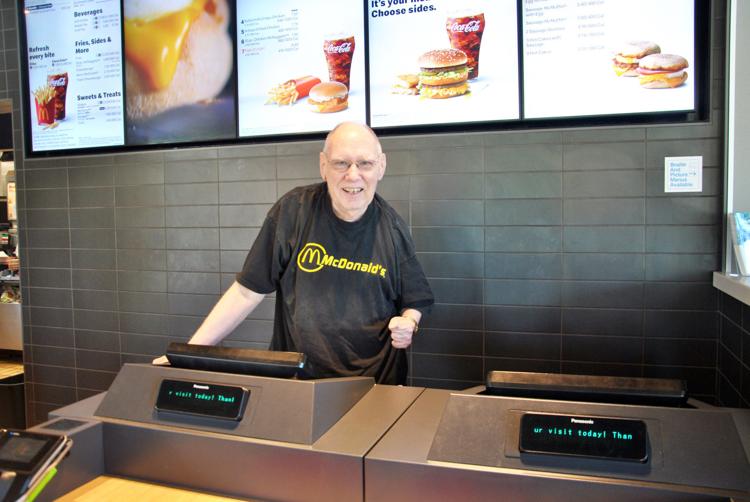 For 33 years, Bob Baker has navigated a difficult physical condition to provide friendly customer service to countless Northfield McDonald's customers.
Baker's unique career will end Thursday with a retirement ceremony at the place where he filled many roles and always took pride in treating customers well.
McDonald's has given Baker a chance to work consistently and happily despite his not being able to do certain physical tasks due to cerebral palsy. Baker has relied on an unshakeable sense of confidence and friendliness in his everyday work, earning him a certain celebrity status in the community.
Baker, who was born in Montana in 1950, spent the first 6½ years of his life there before moving to Long Island, after his father, the Rev. Harry Baker, accepted a job in the area. The move allowed him to be within one hour of the largest cerebral palsy center in the nation.
"I had the best care from Cornell University doctors," he said.
Baker graduated high school on Long Island before moving to Wisconsin around the age of 30.
There, he started racking up work experience, including at a sheltered workshop, Goodwill Industries and Ponderosa Steakhouse.
Baker was the first person with disabilities hired by Ponderosa Steakhouse.
"My disability hasn't stopped me in my job," he said.
Growing up, Baker's parents taught him how to pay bills and made him pay a portion of utilities costs when he had a job. He credits his parents with not pitying him because of his cerebral palsy.
"They were teaching me how to be independent," he said.
Baker began working at McDonald's on Aug. 1, 1986, exactly 30 years to the day of his retirement party. His starting pay was $3.10 per hour. He accepted the job after spending one year getting acquainted with Northfield and showing up at McDonald's with a sort of business card resume that his mom made for him.
"I remember Jerry Heinen, the head manager that day, 'Wait up, wait up, wait up, and he said, 'Here's an application. Can you come in tomorrow?,' Baker said. "I said sure. The rest is history."
For a long time, Baker walked to work almost every day, including in the winter. He would wake up at about 3 a.m., so he could get ready and make the 20-plus minute hike for his 5 a.m. shift.
He began on the maintenance crew, and though he was limited with only one functioning hand, Baker proved reliable. He eventually moved to a crew position, working the registers and in the lobby.
He was later promoted to crew trainer, and by 1989, only three years after starting, he was promoted to manager.
Baker underwent difficult personal situations during that time, however. His father died in 1989, his mother in 1992. For 12 years, he lived with little to no assistance. His sisters, living in different cities, kept an eye from afar, but Baker used the lessons of his parents to survive, and even thrive.
Today, Baker is stepping away after expressing concern that his physical condition would be a hindrance to the restaurant.
Baker is thankful to McDonald's for employing him despite his physical limitations. The restaurant has shown its appreciation for Baker throughout his time there, providing him with a watch for his 20-year anniversary and a ring to mark him being with the company for 10 years.
"They understood my disability," he said. "They knew I couldn't be on crew, on grill. Everything would be on the floor. I was good with customers here in the lobby. I would go out and visit. Great hospitality."
The effect Baker has had on customers is evident. Some have told him they will not enter the restaurant unless he is there and that he is the best at correctly taking orders.
The length of time Baker has worked at McDonald's has led to some interesting encounters. He has served adults in the drive-thru who he remembers as children.
Baker said he smiled often on the job for a reason.
"I love my job," he said. "Being active with the customers. They with me. Their personality toward me and my personality toward them."
The thing that Baker will miss most about McDonald's, however, is the people.
"I'm thankful for all of the customers that I've served," he said.