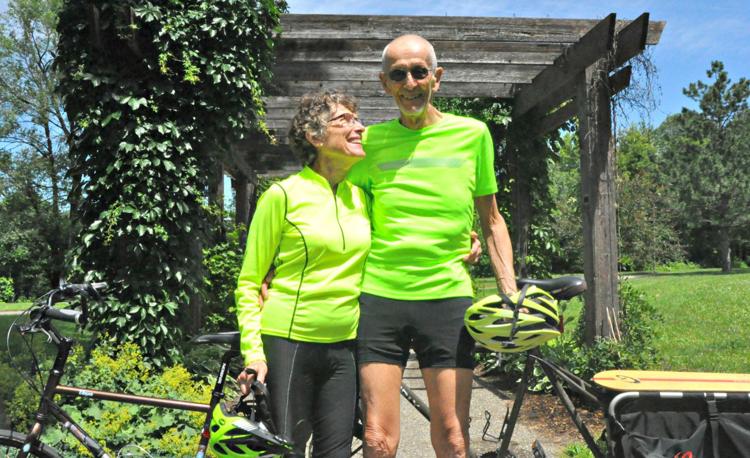 Making the approximately 800 mile trek from Wyoming to Minnesota by car could be considered grueling.
Traveling a majority of the way by bike would be considered a substantial feat that many would dare not even try.
For 80-year-old Northfield resident Lin Bruce, profiled by the Northfield News in 2016, that has been accomplished multiple times, including this year in a bike ride from Wyoming to Minnesota.
The journey was made possible after Lin's husband, Bob, said he wanted to see relatives in Wyoming but did not want to fly. The couple came to a win-win arrangement: They decided to drive to Wyoming but allow Lin to bike 20 miles per day. Her husband, Bob, served as a support.
It was on the way back that Lin's workload increased dramatically. She biked an estimated 500 miles on the way back to Minnesota from Sept. 1 to Sept. 12. Frequent rain posed problems, but Lin's good physical shape and their teamwork made the journey possible. Bob found routes that would put the wind at his wife's back.
"I'm very vigilant as I ride," said Lin, the mother of four adult children. "I've ridden a lot now."
Approximately 25,000 miles to be exact since she was 60 years old. Her first biking trip was from California to Florida, far longer than what she had ever done.
"When I was going to turn 60, I was feeling pretty flat in my life," she said. "And so things were going downhill, so I needed something to bust out."
Lin, a massage therapist who owned her own business for more than 20 years, has ridden from Virginia to Oregon, Washington to Maine, down the Pacific coast, down the Mississippi River to Hannibal, Missouri; around Lake Superior and Lake Michigan, to Indiana with her grandson and a couple of trips in Utah.
"It just feels like I am strong," she said. "I'm getting there, whatever the there is, under my own steam. I'm somehow free."
"It's the realizing that I can do that, that I can stretch myself. It's a mental stretch too. It's a mental stretch, and I can do that."
She's already surpassed this year's goal. She committed to riding 1,000 miles by September but reached that milestone in August.
"I didn't set out to ride thousands and thousands of miles," she said. "It's just that what you do one day at a time adds up and that really is a big lesson for me on my bike trips, the one day at a time comes together and gets you there. Makes miles that you hadn't even expected or had expected, but there it is."
Before their shared journey on bike trips, the Bruces have taken a long and winding path in their 60 years of marriage. The two are Wyoming natives who attended the University of Wyoming, where they met. They have lived in New Brunswick, New Jersey; Colorado, Afghanistan, Maine and Alaska and have mainly lived in Minnesota since 1969.
Lin wants her journey to serve as motivation for other people to stretch themselves beyond what they think is possible. She has become a motivational teacher and has her own website, http://www.yesithinkican.com/, that illustrates her journey and includes words of motivation to others.
Recently, she was told that someone, after hearing of her bike riding after turning 60, became motivated to attend a camp where he didn't know anybody.
"If she can do that, I can do that," she said. "And that's what I want the takeaway, is if she can take that on at her age, if she can do that, I can take on my dream."