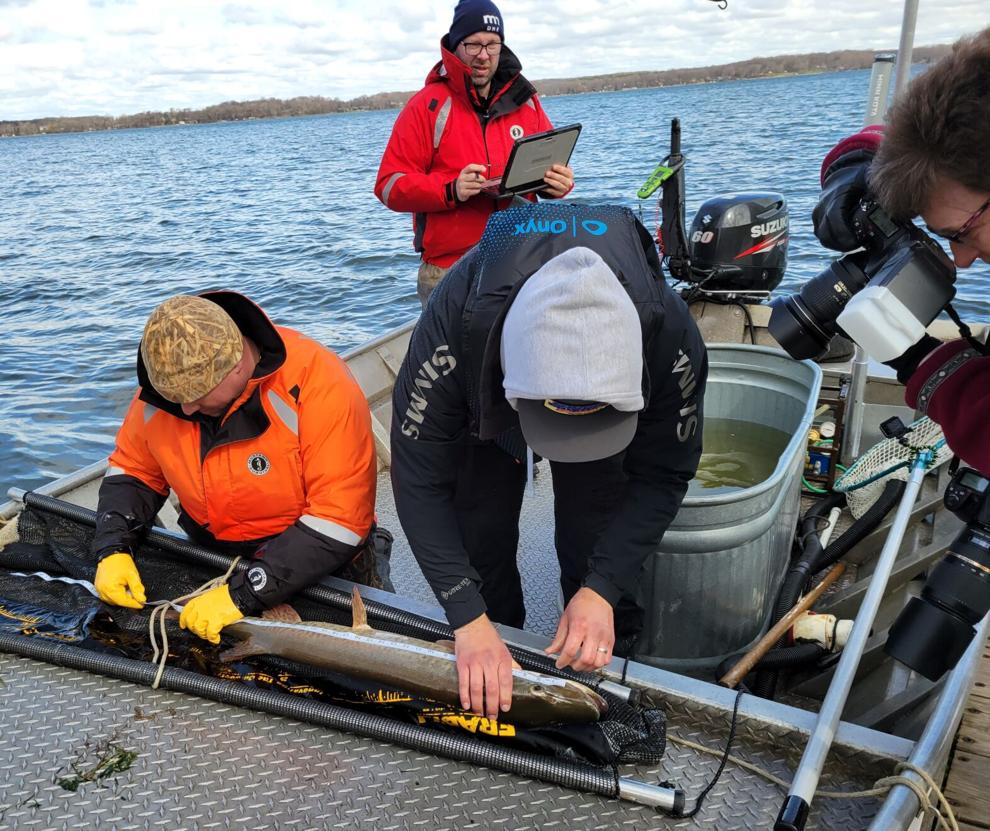 If you're interested in catching one of the biggest fish in Southern Minnesota, the Minnesota Department of Natural Resources and Muskies Inc. provide a unique fishing opportunity for muskies.
French Lake, near Faribault, has been stocked every year with 400 muskellunge since the '70s and still provides good fishing for the toothy, striped fish which reach more than 50 inches long and 50 pounds.
The most recent targeted assessment in April and May show the muskie numbers are down slightly.
In checking nine trap nets scattered around French Lake over eight nights, they caught 60 muskies. The DNR had a goal of 75 muskies. The most fish netted in a day was 17 on the last day, Friday.
Waterville Area Assistant Fisheries Supervisor Brandon Eder said numbers were low compared to previous surveys due to cold water temps. "We didn't get ideal water temps until yesterday (50 degrees)."
The muskies ranged in length from 27.4 inches to 49.4 inches, with the average 39.
"This year's largest fish was smaller than the largest fish surveyed in previous studies, Eder said. "We usually get at least one over 50 inches. It's possible the crew may have gotten a larger fish had they continued through the weekend. The average size is usually about 40 inches, so we were close on that."
The DNR won't get a population estimate until after next year's survey, but in 2017 the lake had an estimate of more than 200 muskies.
"In the spring, we can find them in numbers in spawning grounds and make population estimates," Eder said.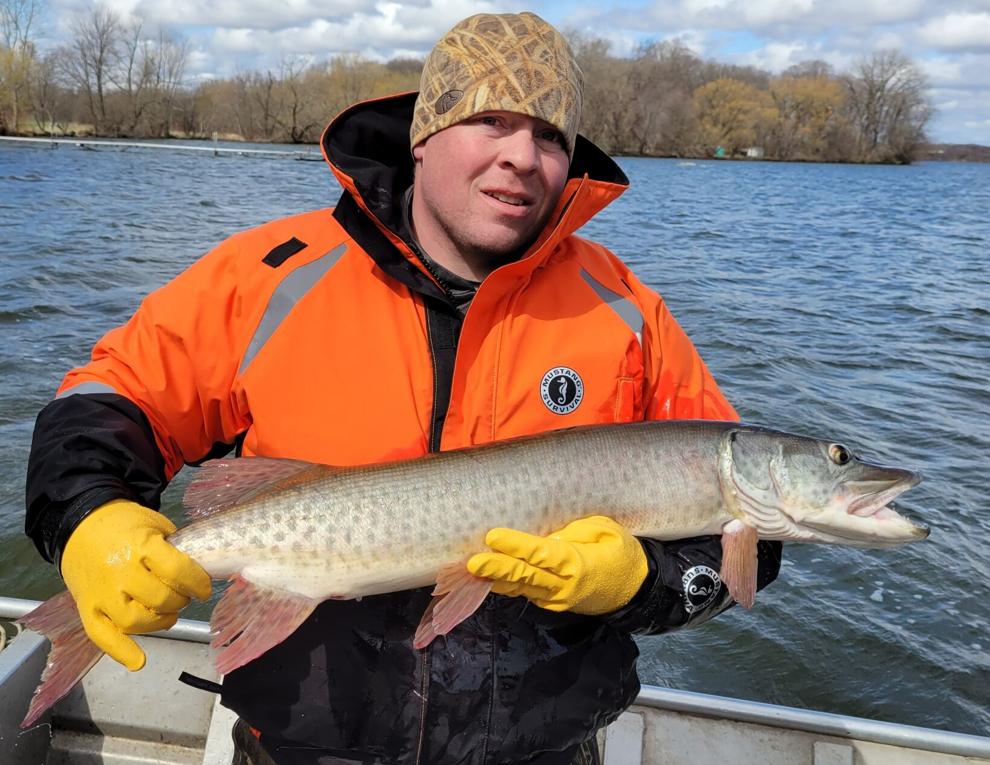 Although targeting muskies, Eder said they also found a lot of 10 to 12 inch crappies, big bluegills, walleye, perch, drum and a couple of really big pike pushing 40 inches.
The DNR conducts the study every five years for two years straight. This is the first year of two-year assessment.
The fish are pulled from the nets, weighed, measure and then tagged with a A Passive Integrated Tag (essentially a microchip like with a pet) for future study. 
Fish are scanned as a unique number ID. Then when recaught or netted they can track the history of the fish and see how much it's grown.
Anglers have reported success catching muskie in French even though it is known as the fish of 10,000 casts.
Muskies are more stealthy and difficult to entice to bite than their cousins, the northern pike, which roam the lakes with reckless abandon willing to bite almost anything that gets into their way.
While muskies are harder to catch, they fight just as hard or harder than northerns. And they grow much bigger than northerns which tend to only reach about 40 inches.
That's one of the reasons they are popular with anglers in addition to being mostly trophy fish. The minimum size for keepers is 54 inches. The fish still can be released and mounted as replicas that are that look better than the actual fish.
Matt Brozik, president of the Muskies Inc., Chapter 54, who lives on Madison Lake, volunteered to help take the netting samples.
Fishing success rate varies with the fisherman.
"Some people come out here and hate this lake," Brozik said. "Then there's other people that come out and have a three-four fish day and have a great time."
If you catch one muskie every time you come out, you're a really good angler, Brozik said.
"This is one of those lakes that gets a lot of fishermen like us," Brozik said. "We don't have the time to go to Waconia or Minnetonka and we don't want to have the frustration of all the pressure and stuff like that. 
"I have kids and I'll bring them out here and it's not something where you're going to be bashing into 6 foot waves and driving two hours to get to. And you have a chance to catch some fish. A 9-year-old catching a 40-inch fish like this that's a pretty fun time for anybody".
His son, Owen, who is a bass fisherman, has caught some big pike, but he hasn't caught a muskie yet.
"But he wants to fish them more this year," Eder said. "He's getting big enough, so they're not going to pull him right in the lake if he catches one."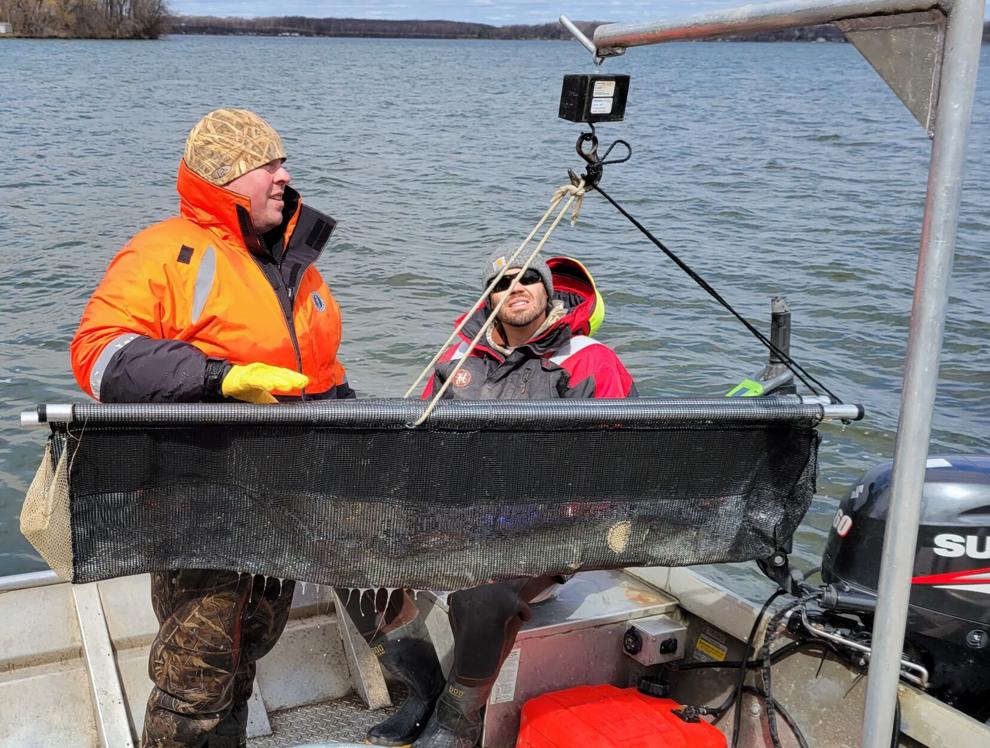 Brozik said he has a friend who caught a 54-incher in French.
"The opportunity to fish here is pretty awesome," Brozik said. "I live in Madison Lake, and in 35 minutes I'm here. We'll bring the whole family out here, take three, four hours in a night and have an opportunity to catch decent sized fish."
"It's not going to be Lake of Woods, Mille Lacs, Vermillion or anything like that, but it's an awesome for muskie fishermen.
In 12 years of fishing muskies hard, Brozik said he has caught 100s of muskies on French.
Muskie Inc. donates money to help feed the muskies in the hatchery.
"We feed these fish fathead minnows, and that's expensive," Eder said. "We pay them back by letting them get a little bit of the behind the scenes look."
French was chosen as a good candidate for muskies because it does not have a large population of big fish such as northerns and walleyes.
Muskies and northerns don't get along real well, Eder said. Yet it is still a strong crappie lake with 67 black crappie per gill net in the last full lake study in 2017.
"The crappie population especially in our nets has been rising, and there as some nice ones which gives the muskies a lot of fish to feed on," Eder said. "There also are a lot of golden shiners and white suckers. Sometimes they find muskies with a drum in his mouth. They'll eat what they can find." 
Other lakes in Southern Minnesota stocked with muskies include Fox, Fairmont chain, Zumbro and Tiger Muskies in Cedar Lake by New Prague. Rest are in the Metro.
The muskies, originally from the Leech Lake strain, are raised in the Waterville Area hatchery and stocked from 8 to 17 inches long. The bigger the fish the better they have a chance of surviving. They're hatched in the spring and stocked in the fall.