The COVID-19 pandemic has dominated the news and sports in 2020.
In high school sports, it started with the cancellation of the state basketball tournaments in March. It continued with the shutdown of spring sports in April and then with a delayed and shortened fall sports in September. Now winter sports have been delayed since Nov. 20 until January.
Through it all, athletes have continued to train mostly on their own with hopes of their teams getting back together and practicing and playing games.
It's has been a whirlwind year of high school sports, but athletes still managed to get in some games in some sports and provide some highlights. Here are some of the top Tri-City United sports stories of 2020:
1) Pandemic changes the game
The COVID-19 pandemic has affected sports at all levels from youth to high school to adult. For example, in baseball from T-ball to senior men's, seasons were shortened and schedules cut back. Spectator attendance was limited, many people wore face masks, and players needed to practice social distancing. It was a different world in sports in 2020, and it will continue into 2021 with the virus still looming.
2) A Titan performance in wrestling
Four Tri-City United wrestlers qualified for the state Class AA wrestling tournament Feb. 28 and 28 at the Xcel Energy Center in St. Paul.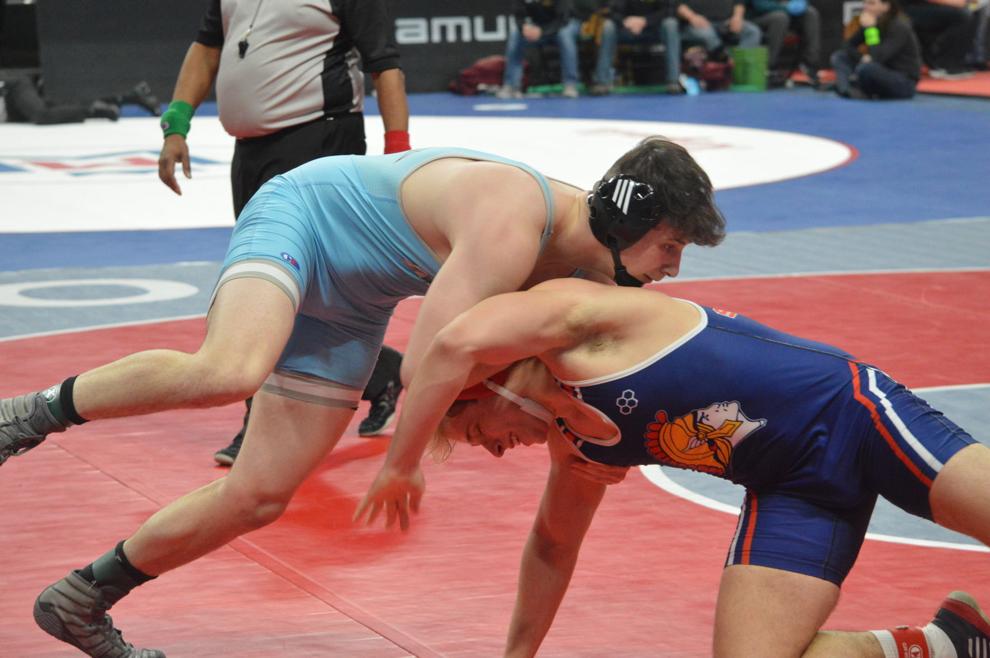 The four Titans — Caleb Whipps, Brody Rud, Riley O'Malley and Jose Reyes — didn't receive the medals they wanted, but they gave it their all and fought through all kinds of challenges — from top-seeded opponents to matches that went into overtime — to finish where they did.
Whipps earned an early victory but fell in two matches in the first day, while Rud, O'Malley and Reyes ended just shy of the top six medals with top-eight finishes. Whipps, O'Malley and Reyes finished with 1-2 records and Rud went 2-2.
"I'm ecstatic. I couldn't be happier for the kids," said TCU Assistant Coach Corey Block after the team had Rud, O'Malley and Reyes qualify to compete Saturday. "It's too bad that Caleb's not going, but for the other three to come back and win the way they did, to come from behind and two of them in sudden victory just shows the heart that they had in wanting to continue wrestling and not be done for the weekend. All three of those matches were won by pure heart in my opinion."
In the 182 weight class, seeded No. 16, O'Malley (39-12) fell in his first match against three-time returning champion and No. 1 seed Patrick Kennedy (34-0) of Kasson-Mantorville in 1:37. O'Malley went on to compete in the consolation bracket against No. 9 seed Karter Wensmann (35-10) of Sauk Centre-Melrose, who O'Malley defeated in a sudden victory by takedown 9-7. O'Malley was eliminated by by seed No. 5 Alex Nelson (37-8) of Hutchinson in a 3:55 pin.
Seeded No. 7 at 138 pounds, Whipps (31-6) gave the Titans their first win, defeating No. 10 seed Joe Kozlowski of Lake City in the first match in a 13-3 major decision. No. 2 seed Connor Simmonds (45-3) of Fairmont/Martin County West defeated Whipps in the quarterfinals 14-0 and Whipps was later eliminated in the consolation bracket by No. 15 seed Brady Kasprick (36-7) of Thief River Falls in a 2:00 pin.
No. 9 seed  Rud (23-12) opened by defeating No. 8 seed Brian Ramos (32-6) of Perham in an 11-2 major decisionat 170 pounds. He was then knocked out of the quarterfinals by top seed, Gavin Nelson (45-3) of Simley in a 17-1 technical fall. Rud won his next match in the consolation bracket against No. 16 seed Ian Wilsey of Mahtomedi (28-16) through a 13-8 sudden victory. In the second day of the tournament, Rud fell 5-4 against No. 5 seed Nathan Simmonds (44-12) of Fairmont-Martin County West.
No. 16 seed Reyes (33-9) dropped in the first match of the 195-pound weight class to No.1 seed Dawson Kellogg (29-3) of Perham in a 3:02 pin. The senior topped seed No. 8 David Wilfert (31-9) 9-8 in the consolation bracket before dropping to seed No. 12 Landan DuVal (43-7) of Simley in a 7-5 sudden victory.
Feb. 5 was a momentous day for TCU athletics, as six of its senior athletes took the next step in their sporting careers.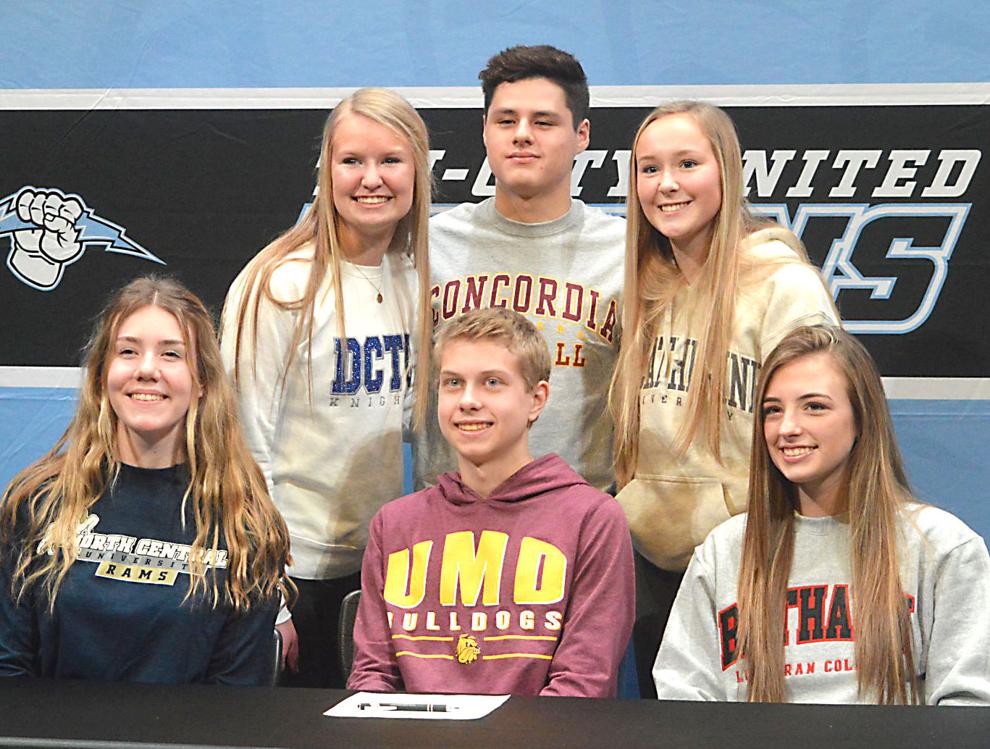 The students are Mateo Alonso, who signed to play Division II football with Concordia; Holly Schendel, who will be playing volleyball for North Central University in Minneapolis; Emily Borchardt, who will dance at St. Catherine University in St. Paul; Lillian Barnes, who will be playing softball at Dakota County Technical College in Rosemount; Grace Factor, who will run track at Bethany Lutheran College; and Austin Antony, who will run cross country at University of Minnesota-Duluth.
Over his high school career, Alonso has been a key member of the TCU football team. Alonso's specialty has been defense, where he plays cornerback, while on offense he's played wide receiver. Alonso also served as team captain of the football team during his senior year. 
For Schendel, this is the culmination of a seven-year volleyball career. During her senior year, Schendel was a middle hitter for the Titans and led the team as a captain. Off the court, Schendel is known to run track.
Borchardt will continue to dance in her move to St. Catherine University. At TCU, Borchardt spent her senior year as the captain of the dance team. 
In softball, Barnes has been a valuable player for the TCU team. In her last season, she helped launch the girls into the third round of the section as one of the team's leading hitters.
In the middle of her basketball season at TCU, Factor is signing on to run track for Bethany Lutheran College. On the field, Factor has excelled on the track team has a relay runner as well as in events like the long jump and triple jump.
Antony is continuing his cross country career after a record-breaking season. Antony had the privilege of running at state this year, where he placed 24th in 16:36.9. He also broke the school record twice this season. The time to beat is 16:22.5
Matt Collins took the reins as the new head coach of TCU football team, replacing 40-year legendary head coach/physical education teacher Ken Helland.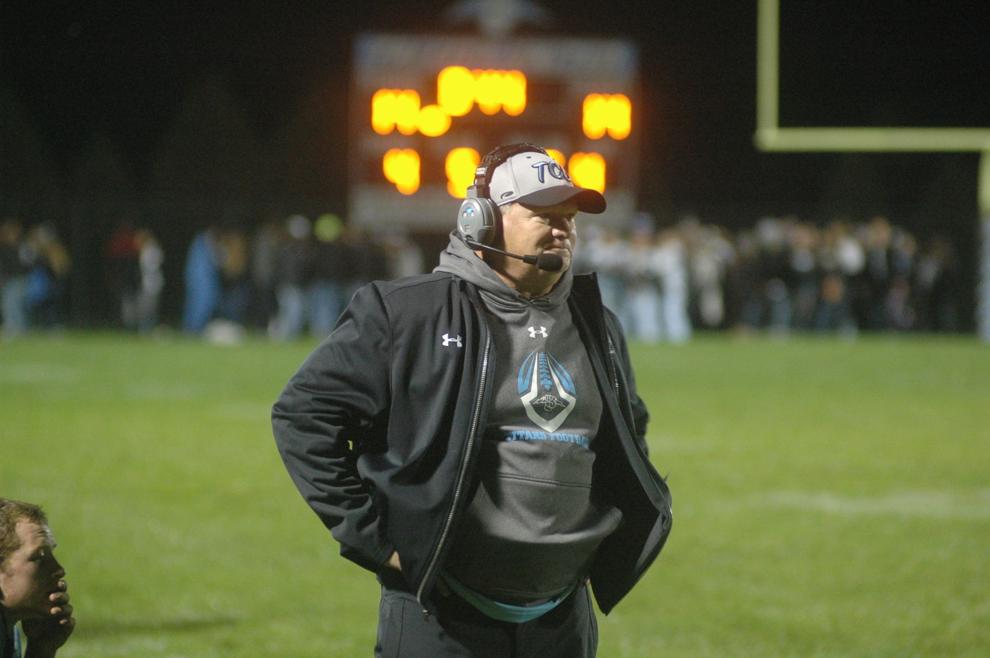 A Le Center native, Collins coached under Helland as an assistant coach for the last eight years. He started as a volunteer assistant and most recently has been a full-time varsity assistant, coaching the quarterbacks and the secondary. For the past two years, he has also been the head baseball coach at Janesville-Waldorf-Pemberton, where he taught physical education for the last three years.
He joined TCU High School in the fall as a physical education/health/DAPE teacher.
"I took the job at TCU, because when I went back to school for my teaching degree, it was my dream to come teach and be the head football coach at TCU," Collins said. "I wanted to be able to have a positive influence in my home community and school district. I am grateful to have that chance at TCU."
Helland has confidence in his protege.
"I think coach Collins will be a good head coach," Helland said. "He has been preparing for this opportunity for several years. As a player, he really loved the game and was very coachable and always worked hard and put in the extra time to be better. He has a lot of football knowledge, and will do the extra work to be well prepared. The knowledge and experiences he has gotten from being a player in high school and college, and an assistant coach, has prepared him well."
Graduating from high school in 2009, Collins, 29, played for Helland from 2005 to 2008 as a star quarterback, safety and captain for the Le Center Wildcats.
Coaching Minnesota high school football since 1980, the Emmons native finished his career with an overall record of 189-189.
The Titans also hired three other new coaches: volleyball coach Haley Fogarty, boys basketball coache Kyle Johnson and girls basketball coach Don Marcussen.
5) Record breaker in the pool
Seventh-grader Ella Schmiesing set numerous records in her first season with TCU/LS-H swimming and diving team.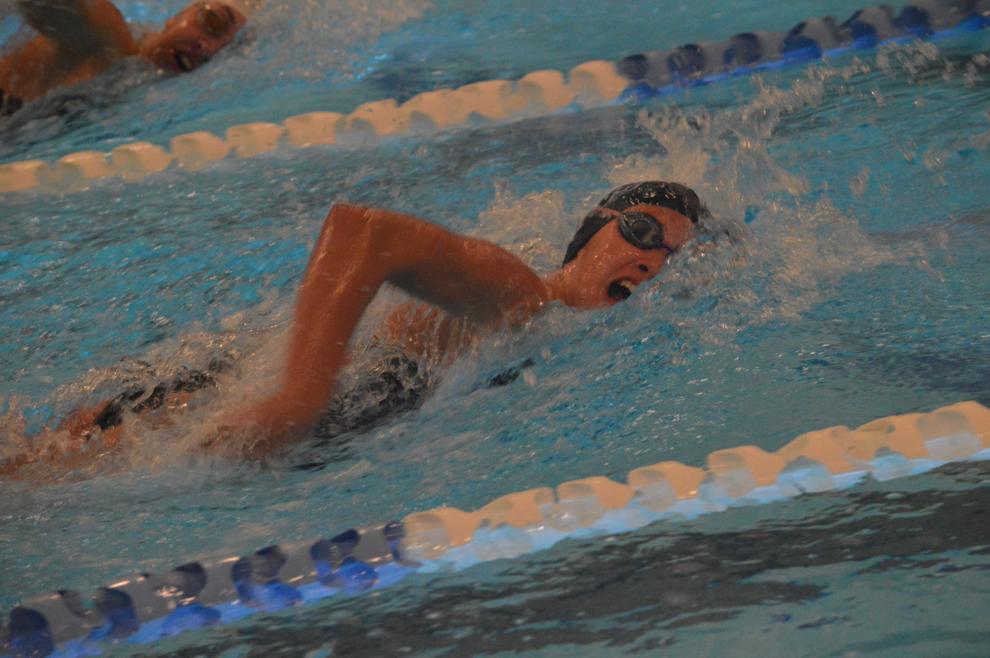 The Titans' highest points earner in the Section 1A tournament, Schmiesing placed seventh out of 40 girls in the 50-yard freestyle. She broke the team record and her personal record by a second with a new time of 25.84. 
Schmiesing also placed seventh out of 39 in the 100 freestyle, setting a new personal record of 57.52. Together, Schmiesing's races netted 24 points for the Titans.
The Titans' relay teams did not score high, but they did break personal records. Ellie Sladek, Natalie Lundahl, Katie Berger and Schmiesing shaved 3 seconds off their time to deliver a 10th place finish in the 200 medley relay.
In diving, Lily Traxler was one of 16 girls to make it into the finals. She placed 15th and set a new school record with 234.35 points. Traxler's performance was 20 points better than the previous record-holder.
"[I'm] very proud of all of them," said TCU Coach Kristen Munden. "Given the hand we were dealt this season, we made the very best of it."
Divers competed on Thursday, while swimmers faced off against nine other teams on Saturday at Inver Grove Heights Community Center.
The Titans finished 10th with 68 points.
Minnesota River Bulldogs girls hockey players Keely Olness, of LS-H, and Madi Kisor, of St. Peter, signed to play Division III college hockey.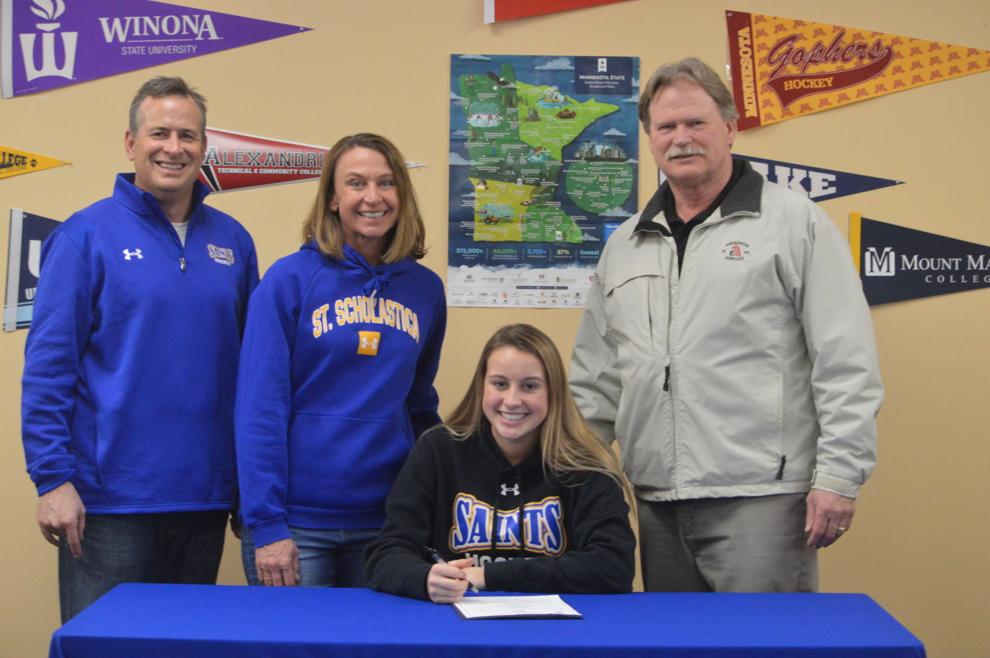 Olness, a center and defender, signed Feb. 5 with St. Scholastica in Duluth to play Division III hockey.
"I'm really excited," said Olness. "It's nice to be officially committed and everything. I'm really excited to meet all the girls on the team and just be in college and play college hockey because it's a lot different from high school hockey."
Olness ended her final season as the team's leading scorer, with 27 goals, 21 assists and 48 points.
Kisor plays goalie at Concordia College-Moorhead. In her senior season with the Bulldogs, Kisor had a 3.45 goals against average with 704 saves and a .892 goals against average.
"The coaches were always pushing me to be the best that I could be, and always making sure that my head was in the right place before, during and after games," Kisor said. "The support that the Bulldogs have is tremendous, and a lot of it goes to the coaches."
Mankato Loyola/Cleveland senior Tyler Erickson led Le Sueur County area boys runners, placing fourth out of 128 finishers in 17 minutes, 37.4 seconds over 5,000 meters in the Section 2A cross country championships Oct. 13 at Montgomery National Golf Club.
Also for the Crusaders, who finished 15th out of 19 teams, freshman Nathan Strobel placed 70th in 21:31.06.
Junior Connor Antony led Tri-City United in 28th place (19:01.89). TCU placed ninth as a team.
Also for the Titans, sophomore Dante Jubarian placed 33rd in 19:17.68 and sophomore Michael Pichotta 44th in 19:37.82.
Sophomore Riley Theleman led Le Sueur-Henderson with a 69th-place finish in 20:29.53. The Giants ended up 16th as a team.
Also for the Giants, junior Dylan Novak finished 76th in 20:47.49 and senior Sam Menne 81st in 20:58.34.
TCU freshman Yasmin Ruiz earned the top Le Sueur County area finish placing 14th of 120 runners in 21 minutes, 47.23 seconds over 5,000 meters in the section.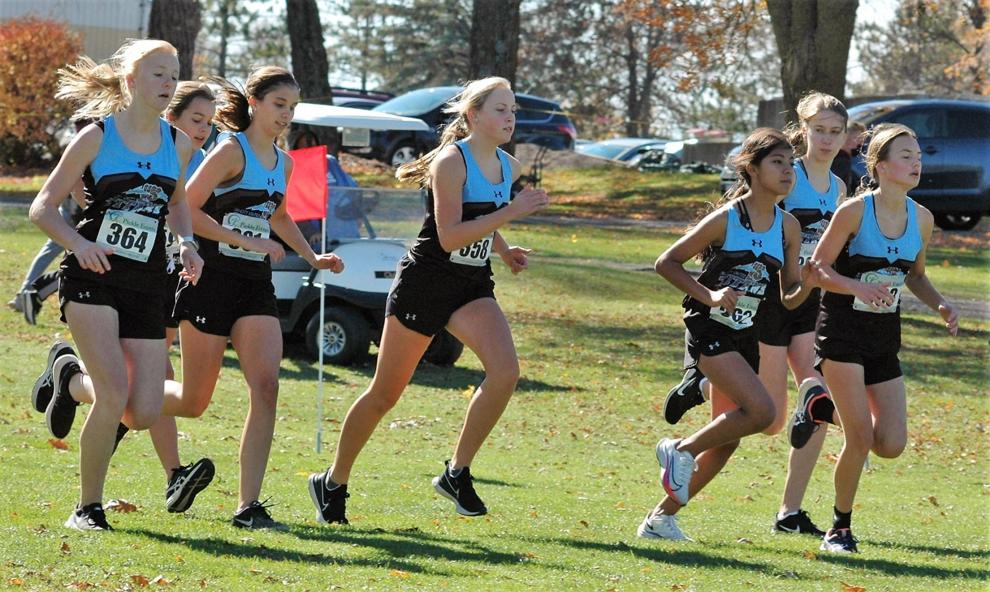 Also for the Titans, freshman Sophia Smith placed 35th in 23:01.39.
Led by seniors Arlett Rios and Abby Strom, Le Sueur-Henderson placed sixth in the team standings with 181 points. Rios finished 27th in 22:22.60. Strom was right behind in 28th place 22:24.47.
Seventh-grader Molly Koester led Mankato/Loyola/Cleveland to 12th place as a team with 343 points. She finished 58th in 24:06.27.