A yellow submarine, a 17-foot tall guitar, a 35-yard guitar-shaped fairway sand trap and street signs showing distances to "Beateley" places.
These are among the many props at the Beatles-themed Montgomery National Golf Club. As you drive in, you can't miss the vibrant yellow submarine, and as you approach the clubhouse, you'll find the giant guitar statue standing proudly. You'll encounter the massive guitar sand trap six holes in. The clubhouse walls, meanwhile, are covered with Beatles and family memorabilia, including photos and maps. Golf caps come with a Beatles logo. Flags are embroidered with musical notes. Even the scorecard is themed after The Beatles' "White Album" with each hole named after a different song.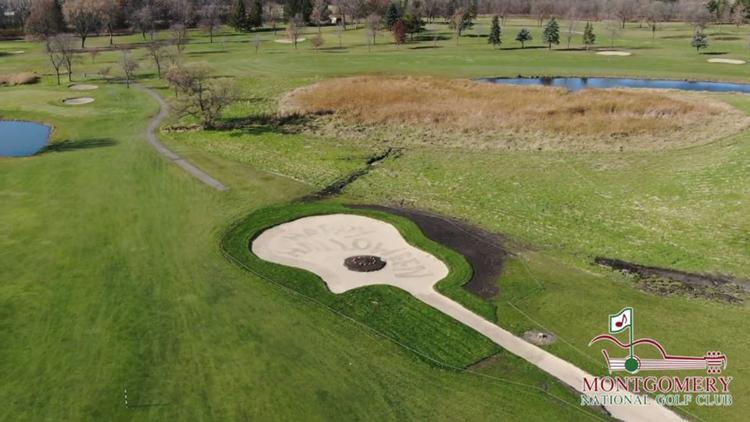 The man behind the menagerie is owner Greg McKush. A Beatles fan since he was a grade-schooler, McKush, 56, designed the course with his favorite rock and roll band in mind.
"Since I was 9 years old, I started buying Beatles albums," McKush said. "I had every one. I'm a huge [Paul] McCartney fan. I'm a singer-songwriter, so I've been playing Beatles' music since I was young."
The golf course gives McKush a chance to show off his creativity and his passion.
"That's what I love about this big 160-acre canvass," he said. "And I can't wait to keep adding to it. We're definitely one of a kind."
Also an actor and model in television shows and commercials, McKush played at farmers markets and private parties for years.
"My kids and I had a little band called Sunny-side Up," McKush said. "I play a little bit here when we have tournaments. I pipe out Beatles' music to the golf course with a big speaker."
The yellow submarine came last spring from Hot Sam's Antiques Store, Foto Park, Junkyard Theme Park along Interstate 35 near Lakeville.
"When I went by it was green, and right there I thought, I need to get that and paint it yellow," McKush said. "And also he had this great big guitar, which I refaced and made it into an Olson guitar, which is the kind of guitars I play. That was the first step of all this craziness."
The submarine was a fiberglass prop in the 1970 movie, "Tora, Tora, Tora," on the Japanese attack on Pearl Harbor. They made two of them, but they didn't need a second take when they blew it up. Guitar maker Jim Olson in Circle Pines, Minnesota created the 17-foot Lucian guitar.
"We refaced it, and at the top on my actual one that looks just like it is 'The Giving Tree' that I read for my kids for years," McKush explained, "We emulated that as best we could."
Then he decided to make an Olson guitar bunker on the sixth fairway last September. The sand trap is bigger than the green and provides a unique showpiece for the course.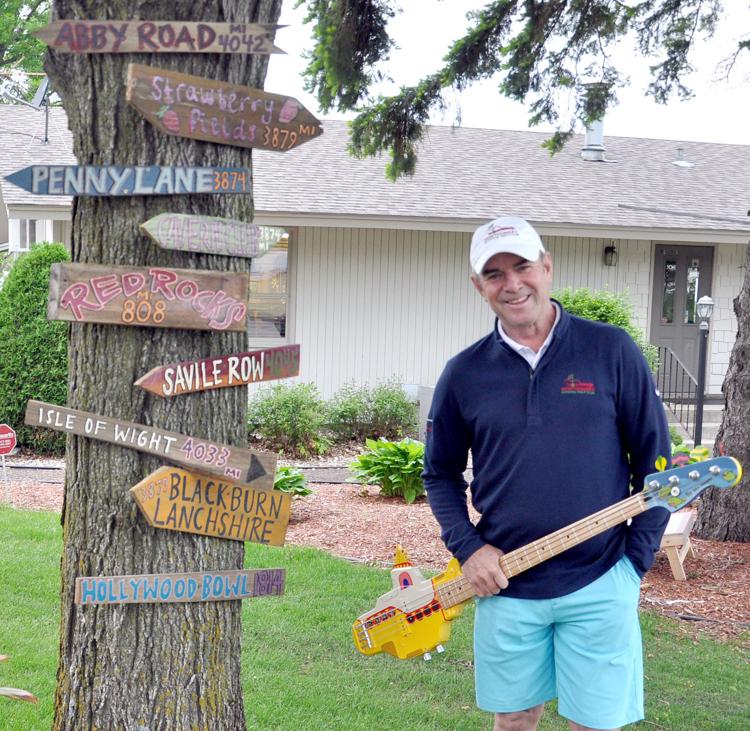 The street signs, posted on a tree, are chock-full of Beatles references, including Abbey Road, Strawberry Fields and Penny Lane. McKush's plan is to build a log cabin clubhouse at the course, like at a course his family bought in 1979 called Lone Pine.
"It had a log cabin, so I'm kind of reliving my childhood," McKush said. "We ended up selling that to Mystic Lake in 2002, and then I was director of golf at the Meadows at Mystic Lake and built that golf course. Then I retired at 47 in 2013, and I got bored in 2018 and bought this place."
The log cabin has been put on hold because of the COVID-19 pandemic, but McKush said construction could start next year.
"Then we're going to continue with doing things like an Abby Road entrance," McKush said.
Other, more technical, course upgrades to come include ponding projects on holes No. 2 and No. 8 to alleviate some of the drainage problems in low areas, plus the construction of cart paths all around the course, so when it rains, golfers can stay on the paths and not beat up the turf.
While the hole names are Beatles-related, some have double meanings. The first hole, for instance, is named in honor of longtime member John Segna, who had a heart attack there a couple years ago.
"Just by chance a helicopter was coming from Waseca and they ended up picking him up," McKush said of the incident. "There were paramedics on the course, and everybody ran for his safety. When I said I'd like to call (the first hole) 'The Day in the Life,' Jon, who survived, said he would rather call it 'A Little Help From My Friends.'"
He held a contest for naming the holes, and he gave prizes to the contestants who offered names he used. The Beatles wrote about 1,000 songs as a group from 1964 to 1970, and after they split up, they continued as solo artists or in new groups, so there is probably content to work off.
The 18th hole is named "The End," hole No. 9 is "Number 9," hole No. 15 is "Strawberry Fields," where McKush is growing strawberries on the righthand side, and hole No. 5 is "Yellow Submarine."
"We considered putting (the yellow submarine) there, but I'm scared that kids will hit balls off of it and it will crumble," McKush said. So it's displayed in the front of the pro shop, next to the parking lot, instead.
Thanks to the commitment to theme, it's not only golfers are interested in the course. Recently, McKush had a wedding party of big Beatles fans come out and take photos. He also hosted a Beatle-loving couple's 30th anniversary.
"I get a lot of new people and a lot of repeat customers, because they get to see this golf course," McKush said. "And if the Beatles brought them here, it's awesome."