After being cooped up inside for a month, St. Peter siblings Kolbe and Kali Erickson have found a way to get outside, get some exercise and have fun: tennis.
With the weather improving, the pair have more reason to get some fresh air. They've taken advantage of the situation by playing the last few weeks, including five straight days at the St. Peter High School/Community Spirit Park courts.
Kolbe, an 18-year-old freshman civil engineering major at Minnesota State University, Mankato, hasn't won a match against his younger sister. That's probably because he hadn't picked up a racket until this spring, while Kali, a 14-year-old eighth-grader, is in her second season playing for the St. Peter girls tennis team.
Kolbe participated in football and track and field at St. Peter High School.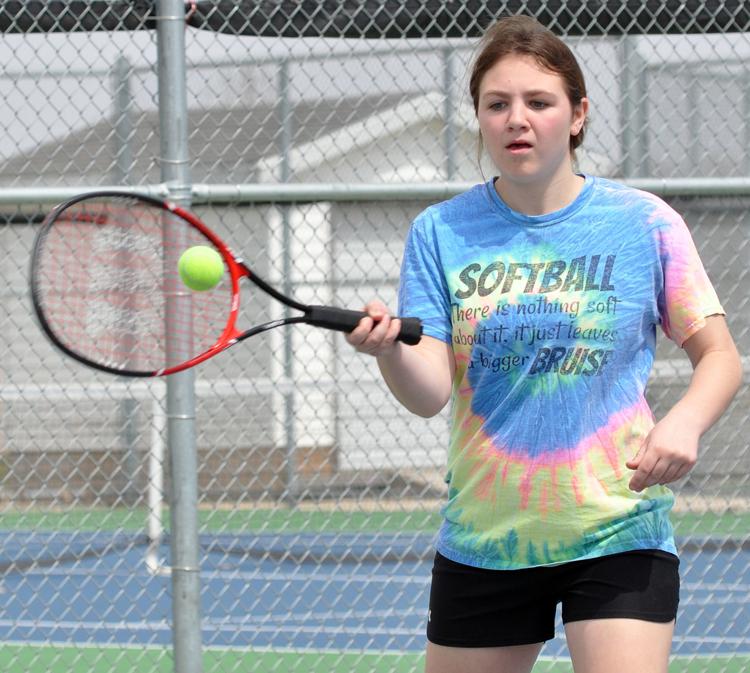 The brother and sister agreed that playing tennis gives them an opportunity to get out of the house and be active. Their dad, Tim Erickson, also sometimes joins the fun.
The governor's stay-at-home order and social distancing guidelines, like staying apart 6 feet, in response to the COVID-19 pandemic, do not apply to people in the same household.
Kolbe, Kali, Tim and his wife, Christy, live together, so they don't need to social distance from each other at home or on the tennis court. A fifth member of the family, Michelle, 20, a 2018 graduate of St. Peter High School, lives and works in early childhood development in Mankato.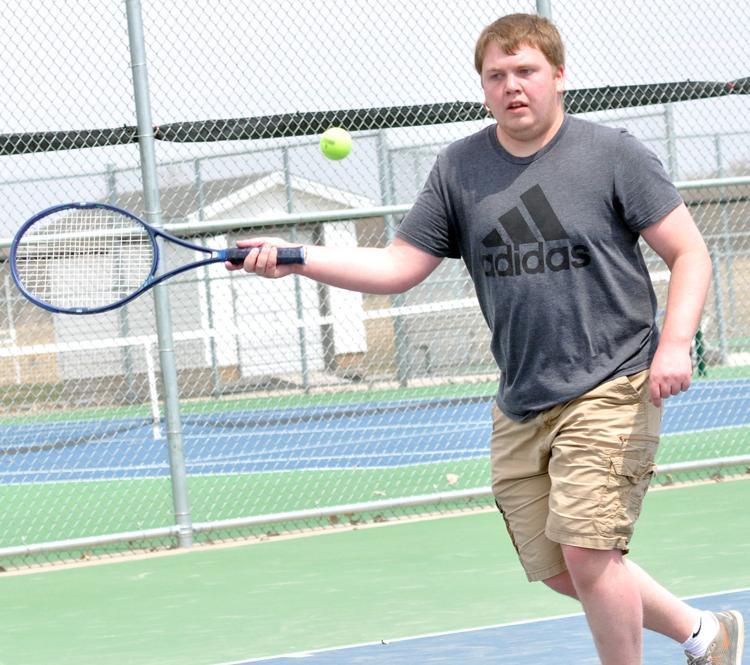 Kolbe and Kali also have been online distance learning since March 30 and will do so the rest of the school year. Kolbe, however, is done soon, with classes ending May 4, while St. Peter classes run until May 28.
However, Kolbe said he doesn't hang out with friends or interact with any other people on the tennis court.
Distance on the court
There has been some mixed messaging when it comes to the safety of playing tennis with non-household members, during the pandemic and stay-at-home restrictions. In Minneapolis, the Parks Department closed all public courts. But some cities have opened tennis clubs for singles play. The United States Tennis Association has a long list of recommended safety precautions to take for those who play.
"The USTA recognizes that the coronavirus has been affecting different parts of the country in different ways and with different timing. We therefore believe it will be possible for people to return to playing tennis safely in some cities and states sooner than in others," reads the USTA website.
The safety measures include keeping 6 feet apart, just playing singles or hitting against a wall, using separate balls, wearing gloves, disinfecting equipment and hands, using your racket/foot to pick up balls, and no changing ends of the court.
Another notable recommendation is to use two sets of balls, one set for each player. Whoever is serving should use their set of balls. And if one of your opponent's tennis balls stops on your side of the court, you should use your racket and foot to lift it up and hit it back to your opponent.
Like the USTA, area high school tennis coaches, including Le Sueur-Henderson girls head coach Linda Seaver, St. Peter girls/boys head coach Aaron Rothenberger and Waseca girls/boys head coach Kyle Collins, believe it's possible to play the sport safely.
While some sports are difficult to follow social distancing, many believe tennis can be played without spreading the virus.
"I believe that tennis can be played with social distancing," Seaver said. "The best scenario would be to play with family members. If you are not playing with family members, it may be best to play singles versus doubles, as this would help to limit the distance between players."
Collins agreed that doubles could be a problem.
"Singles could probably be played," Collins said. "The only common element would be the ball, along with benches, the court, etc. Doubles would be more challenging with the 6-foot rule for social distancing. Maybe we play seven singles matches for varsity, or follow the college format of six singles and 1-3 doubles? Spectators certainly have the advantage here, as they could be 6 feet apart from each other. 
"Players would probably have to wear gloves which could hinder a person's grip. Masks might be tough to wear on the warm days, and during practices. I can see many outdoor sporting events (softball, baseball, tennis, etc.) having hand washing stations at their locations for players, coaches and fans to wash, once we get going again."
Having different balls for each player could get spendy, Collins said. "Balls are not cheap anymore."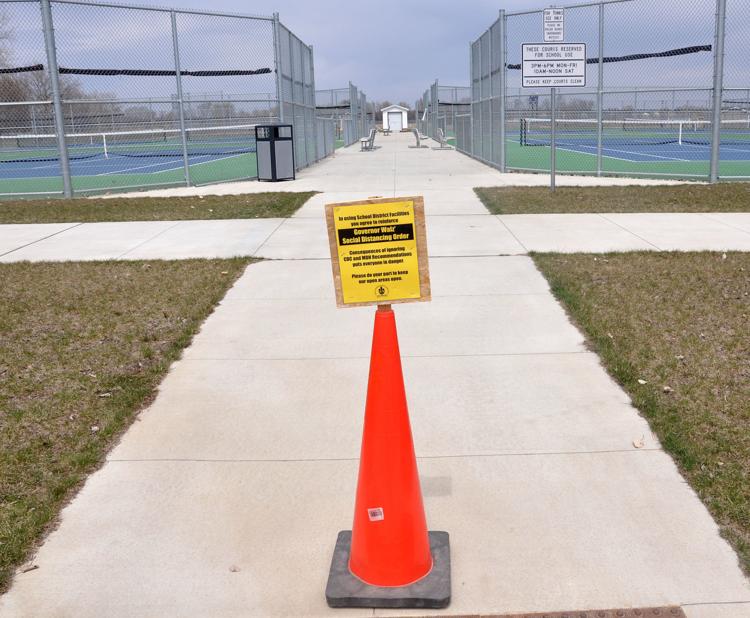 Rothenberger said he would be following similar protocols as the USTA recommends, but he didn't elaborate.
No programming
While the USTA believes it's possible for people to return to playing tennis safely in some cities and states sooner than others, that does not apply to USTA-sanctioned programs. These programs will remain suspended until at least May 31, and the Minnesota State High School League canceled sports, including boys tennis, this spring. 
Waseca typically has 20 to 25 boys tennis players in grades 7 through 12. "This could have a big impact on our seasons to come," Collins said. "Tennis players need to hit balls every day in order to get better. In Waseca, we would have had a lot of returning players (five seniors and four juniors) who were runner-ups in the Big South Conference last spring, and our goal was to challenge for the conference title this spring."
"Initially, we had a lot of our boys and community members playing tennis at the HS courts, when this first broke, but we have since had to lock up the courts. Our players are doing online workouts at home. The school and the USTA have many good workouts. Most of the workouts are not tennis specific.
"The players need to get creative with how they can get out and hit balls in their driveway, street, basement, etc. Hitting on a wall is the ideal scenario, if one person can do it at a time. Also, going out and hitting a few serves on your own makes sense too. Hitting off of a ball machine, if you have one, is another good way to improve your game, individually."
Collins said he has only played tennis in his driveway with his wife and two sons.
Le Sueur, St. Peter, Waseca and Tri-City United have summer tennis camps/lessons scheduled, but it has not been decided if they will go on. Le Sueur has three youth camps scheduled for the summer in June, July and August.
"Last year we had 89 total participants, so we are hoping we will be able to offer this again, but we will follow the recommended guidelines from the state or city when it comes to youth sports and camps," Seaver said. "No decision has been made yet on postponing or cancelling any of them, but we are monitoring and keeping a close eye on this. We are hopeful that we will be able to conduct several of them at some point this summer."
In Le Sueur, the high school tennis program is just for girls and the season is in the fall. The summer high school program usually kicks off the first of June, and Seaver said she is hoping for at least a partial summer program. Usually 20 to 30 kids participate.
"After having the end of the school year cancelled, we are all hoping for activities that seem a little more like normal," Seaver said. "But we will need to continue to evaluate as things keep changing.
Collins said coaches certainly miss the daily interaction with their players. "We'll have to have some tennis get-togethers, when this all ends."
Seaver is unsure about the prospects of high school girls tennis this fall.
"The past six weeks have felt like a year to most, so speculating out to August and September seems impossible," Seaver said.