In their second close battle in four days, the Minnesota River Bulldogs edged the Worthington Trojans 2-1 on Tuesday night at Le Sueur Community Center.
The Bulldogs also nipped the Trojans 3-2 on Friday at Worthington.
For the second straight game, freshman defenseman Ethan Hathaway scored the game-winning goal.
Junior left wing Brendan O'Keefe scored the game-tying goal 1 second before the buzzer ended the second period.
After a scoreless first period in which the Bulldogs outshot the Trojans 13-5, Worthington took a 1-0 lead in the second period on a wrist shot from the slot by junior forward Andrew Benson.
But that was the only goal Bulldogs senior netminder Logan Moe allowed, as he made 25 saves on 26 shots. Worthington goalie Steven Adams also made some big saves, stopping 32 of 34 shots on goal.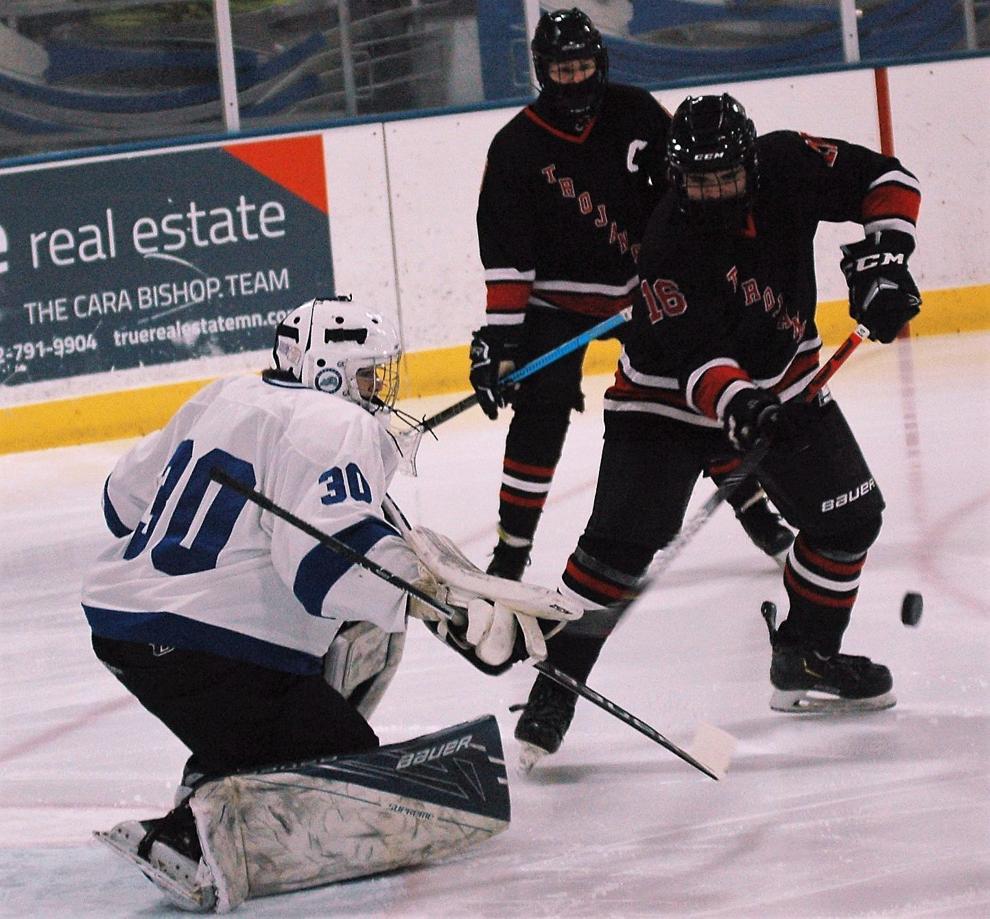 "Logan Moe was absolutely huge for us tonight," Bulldogs head coach Shea Roehrkasse said. "He kept us in the game in a lot of tight spots and allowed us to find a way to pull out a tight one."
With time running down in the second period, O'Keefe took a pass in the front of the net from senior center Brady Sowder and fired a one-timer it into the far side of the net at 16:59 as the buzzer sounded. It was O'Keefe's third goal and 11th point of the season.
"The last-second goal at the end of the second period was a huge momentum swing for us heading into the third period," Roehrkasse said.
Worthington held a 12-9 shots on goal advantage in the second period.
Hathaway scored the game-winning goal on another one-timer on the power play from the right face-off circle at 5:35 of the third period on a crossing pass from Seth Reicks on the left wing. Sowder also got an assist which gives him a team-leading 10 assists and 17 points this season. It was Hathaway's second varsity goal and fourth point.
"Ethan has been doing a great job stepping up and working hard," Roehrkasse said. "His game-winning goal tonight was a beautiful pass and play between him and Seth that we really needed." 
The Bulldogs out shot the Trojans 12-10 in the third period and 34-26 in the game.
The Bulldogs still have some things to work on.
"We had great effort tonight, but for some reason we were just missing on some passes early," Roehrkasse said. "We were trying to do a bit too much instead of keeping things simple. Worthington did a nice job of bottling up the middle and taking away some of our space to complicate things as well."
Worthington dropped to 1-6 overall and in the Big South Conference.
The Bulldogs (7-1, 6-1) travel to Waseca (6-1, 6-1) at 7 p.m. Thursday in a battle for first in the conference.