It's a tradition to play baseball in the summer.
But from T-ball to Legion ball, youth baseball players may not be able to step up to the plate this summer, or at least will need to play a shortened or delayed season, due to the continued impact of the coronavirus.
"There is nothing that says summer more than kids of all ages playing baseball, dreaming of making the winning out, hitting that walk off home run, or striking out the final batter," said Ron Guappone, president of St. Peter Baseball Association. "I remember sitting on the living room couch when I was young, oiling my glove, watching baseball on TV, and just daydreaming about the season to come. Baseball is summer; summer is baseball."
Le Center Mayor Josh Fredrickson, who is general manager of a Town and Country baseball team of 15- to 18-year-olds out of the Tri-City United School District, is just as passionate about baseball.
"I can give you a personal impact on how this is affecting someone like myself," Fredrickson said. "I have coached this year's seniors (2020 grads), most of them since T-ball. Having a son who is a senior and not being able to watch him round out his senior year along with his teammates and classmates has been very difficult for all of us. Most of the TCU seniors both from a baseball or softball standpoint have been working and training for this moment their entire athletic lives and to have that not come to fruition is extremely difficult to watch. While some will go on to play in college or at the amateur level with teams like the Montgomery Mallards, it is never going to be the same as finishing out your high school career with your buddies whom you've played with all of your lives."
TCU
For traveling baseball this year, the TCU Titans will have 97 players, across eight teams: two 10U, one 11U, one 12U, one 13U, one 14U, one 14/15U and one 15U. TCU does not have Legion or VFW teams.
For now, TCU Traveling Baseball (ages 9-15) has delayed the start of their season from late April until late May, but obviously fluid depending upon state guidelines, said Greg Westerman of TCU Traveling Baseball Association. "Registrations are completed with 97 players registered. Hats and jerseys were ordered in March and have been delivered awaiting the start of the season. Player evaluations to divide some teams are only partially completed with primary evaluation date completed but the backup date for those that couldn't attend yet to be completed.
"As of now traveling baseball has only missed the league scheduling, but if able to start in late May, likely will only play the 16-game season without playoffs. All spring training/indoor practices have been cancelled since mid-March.
"I'm cautiously optimistic about keeping the summer baseball season, provided the size of the groups gathering are not too large."
Last year was the first year there was not a Legion team represented by the TCU School District. Since the formation of TCU, the legion team was lately fielded out of Montgomery with coach Bruce Davis at the helm. Two seasons ago was the last year the team was active. I have been told that there are some discussions with the local American Legion Clubs to get things rolling again but have not heard any more than that.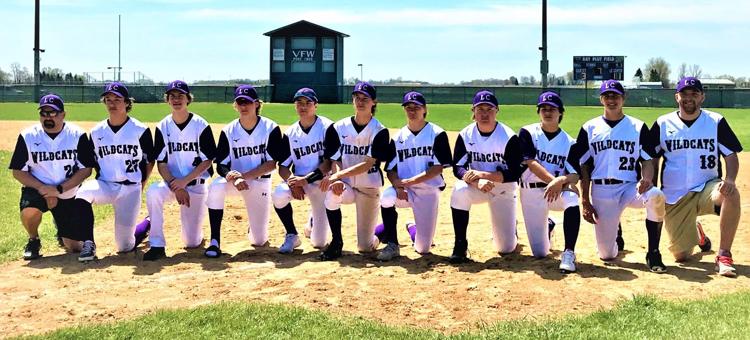 However, last year there were two Town and Country teams out of the TCU District, Le Center and Lonsdale. The Le Center team started three years ago.
Town and Country Baseball is a mirror of the DRS Amateur Baseball League. Typically there are nine or 10 teams. Bill Geisen is the director of the league, has been for decades. Fredrickson serves as the general manager of the Le Center team and is in his 12th year as mayor of the city.
Towns represented last year were: Le Center, New Prague, Vesili, New Market, Elko, St. Patrick, St. Benedict, Lonsdale and Union Hill.
These games run at 10 a.m. Sundays, usually starting the first Sunday in May and wrap up with playoffs by second week in July.
Age groups are typically are 15- to 17-year-olds, players that are 18, or in their senior year of high school are ineligible, depending on the team, some do bring on some 14-year-olds as well.
Not having summer leagues this year would be a huge impact on field use, Frederickson said. "In Le Center, starting around mid-May, we have fields that are packed until the middle of August in most cases every day/night of the week."
Ray Plut Field, which is home to Le Center Wildcats Town and Country team, Le Center Braves over-35 baseball team, and some 14/15U TCU traveling baseball and the Cleveland Spiders amateur baseball is busy most nights.
Le Center North Park is home to TCU Traveling Baseball and TCU Community Ed baseball is booked typically seven days a week.
Le Center Centennial Park (West Park) is home to TCU Traveling Fastpitch Softball which fields age groups from 8U up to 18U and our own Men's League Slow pitch softball is typically booked five to seven days/nights a week.
Fredrickson assists with the fields when needed or when it relates to his teams "I'm involved with either coaching or playing or trying to play anyway. (Town and Country and the Braves) our main ball field person is Matt Collins who handles the majority of the field set up for all the parks during the summer along with the other city parks staff, but Matt is really the main guy for that. He is a teacher/coach in the JWP school district and a varsity football coach for TCU.
In regards to the season and the effects of COVID-19, Fredrickson said, "As it stands right now we are monitoring what actions the state high school league will take, depending on how the governor's executive orders expire or are extended will determine how things will progress, we have discussed the possibility of starting the season later to accommodate any additional extensions placed."