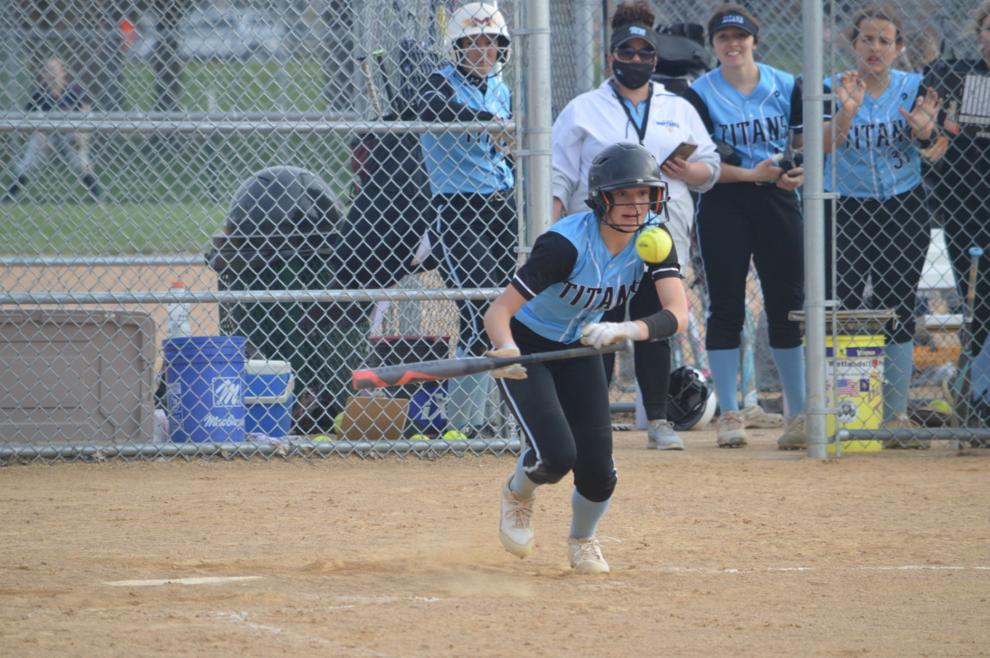 The Tri-City United softball was not at the top of its game. On Monday, the Titans were shutout for six straight innings by St. Peter before falling 12-2 at Montgomery.
The Saints pitcher gave the TItans trouble from the start of the game. Ryenna Pettis pitched a two-hitter.
TCU's Ellaina Novak kept the Saints scoreless at the top of the first, throwing two strikeouts followed by Payton Singleton catching a ground out. But the Titans remained scoreless as well. Brooke Blaschko bunted to reach first on an error, and advanced to third as Molly Closser and Novak walked. Before the Titans could reach home, Pettis struck out three in a row, ending the first inning 0-0.
The Saints took the lead in the second inning, reaching home on an error. The Titans fell in the second 1-2-3 in a fly out and two strikeouts. The third inning was a no-hitter for both teams. Shortstop Lexi Factor caught a groundout and a pop out and right fielder Savannah Squires caught a fly out, but the Titans fell 1-2-3 in the bottom.
The Saints added two runs in the fourth, raising their lead 3-0. At the bottom, the Saints struck out the Titans again 1-2-3. At the top of the fifth, the Saints had their best inning yet, scoring six runs, while TCU had another no-hitter with two strikeouts and a ground out, now at a 9-0 disadvantage.
At the top of the sixth, the Saints collected three more runs, upping the score to 12-0. At the bottom of the sixth, TCU finally earned their first hits. Brooke Blaschko singled on a bunt and Molly Closser singled on a ground ball. Blaschko was taken out on third on a fielder's choice, but Closser advanced to third on an error and reached home on a ground out by Anastasia Rynda for the Titans' first run. Novak scored the second run after reaching home on an error.
Over 22 times at bat, the Titans had two hits, Brooke Blaschko and Molly Closser contributed one each, two runs, Closser and Novak collected one each, and one RBI collected by Anastasia Rynda. The team also struck out 12 times.
Pitching for TCU, Novak threw 91 pitches, 70 strikes and four strikeouts over six innings.