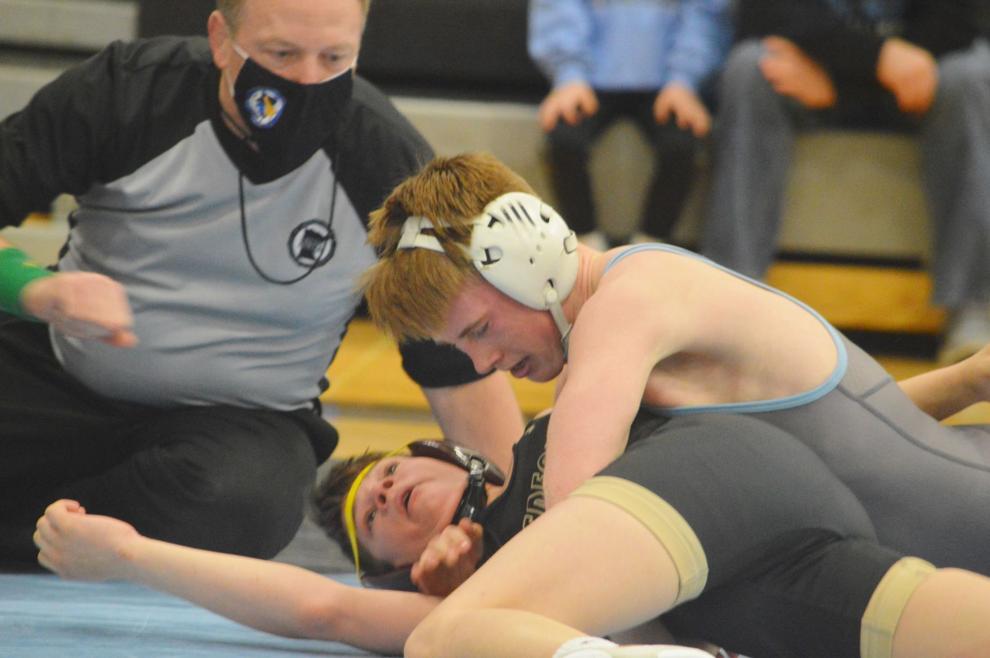 The Tri-City United wrestling team took home a double victory on Tuesday, Feb. 23 at its home triangular. With a dominating performance, the Titans made quick work of Pine Island in less than hour 72-12. TCU entered a more drawn out competition against Medford, but gained a 47-9 victory.
In the first meet, the Titans collected one fall after another. Every TCU wrestler that won claimed victory through a pin or through forfeit, allowing the Titans to rack up the score. Forty minutes in, the meet was over.
Starting the meet off was Ayden Balma, who has collected 16 wins this season, including 11 falls. Balma added to his falls by pinning his opponent in 3:55. Riley Skluzacek, with 11 wins, followed up with a 2:10 fall victory. Chris Johnson then collected his 17th win out of 18 total matches, with an even faster pin in just 46 seconds.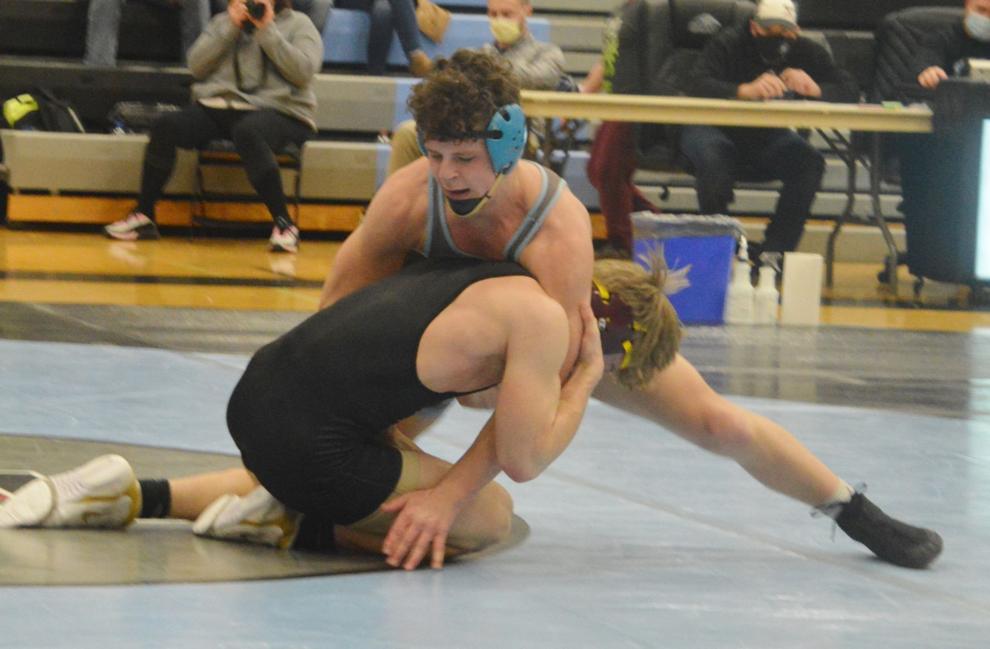 "There was a lot of intensity with the lower weights starting us off and keeping the energy going," said TCU team captain Riley O'Malley.
"It was snowballing," added fellow team Captain Caden O'Malley. "It gets the other kids behind them hyped up and ready to go and it snowballs all the way down."
That snowballing effect continued all the way into the upper weight classes. Zach Balma, with 11 wins, finished off his opponent in just 1:07. Ten-time winner Brant Lemiuex collected a victory by forfeit and Cole Franek, with 13 wins, took down his opponent in 2:10.
After two forfeits benefitting Caleb Whipps and Carter O'Malley, 17 match-winner Caden O'Malley collected a 48-second fall. Marco Reyes took a forfeit before Brody Rud felled his opponent.
The Titans were up 66-0 before the Pine Island collected its first victory, earning six points through forfeit in the 182 class. But the next forfeit went to Riley O'Malley. Pine Island finally received their first wrestling win in the last match with a 3:12 fall, putting up a total 12 points against the Titans' 72.
"The guys opened up; they had fun," said Coach Paul Norgren on the Titans' win. "They work out to prepare for the end of the season and they're starting to have fun when they wrestle. That's what makes it exciting. That's why it didn't last long, but that's what happens when you open up."
The meet against Medford was another dominating performance for the Titans, but that doesn't mean it was easy. While the Titans collected a quick win over Pine Island, the competition against Medford became a drawn out brawl.
That trend started from the opening round in Ayden Balma's match against Medford's Tommy Elwood. Elwood took the first lick with a takedown on Balma, but the TCU wrestler managed to escape his grasp. But Balma struck back with a reversal, coming up 3-2. The match evened out 5-5 in round three. With under a minute remaining, Balma locked his opponent in a near fall to win the match 10-5.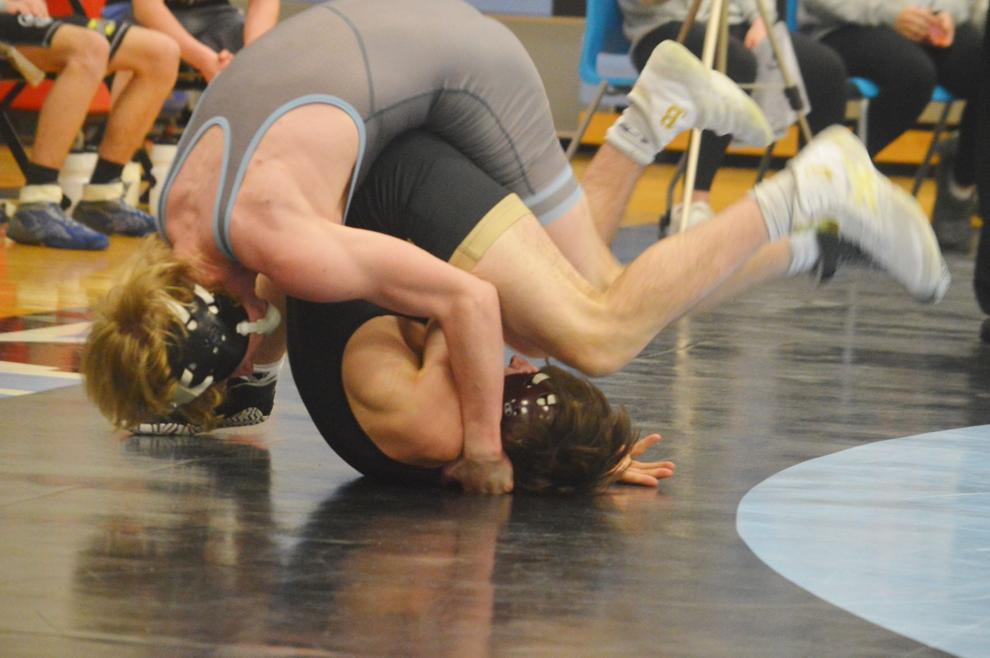 The opening match was followed by swift falls by Chris Johnson in 1:31 and Zach Balma in 1:51.
However, Lemiuex's match against Medford was anything but swift, as the competition was pushed into overtime. His opponent, Derek Bartosch, took the early lead in the first period 5-3. Bartosch collected another two points in the second period, but Lemiuex came back with a reversal leading into a near fall to tie the match up 7-7.
The battle grew more intense as each wrestler made gains. Lemieux had secured an 11-9 lead with just 15 seconds left on the clock in the third round. But Bartosch locked Lemiuex into a near fall, jumping ahead 12-11, until the last second when Lemiuex escaped his grasp. Lemieux's escape locked the score at 12-12, pushing the match into overtime.
When the wrestlers met at the mat again, Bartosch took hold of Lemieux and nearly brought him down, but the Titan wasn't finished. Lemieux leaned to ground, dodged out of Bartosch's attack and came up behind him, pulling a two-point reversal and giving the Titans a nail-biting victory.
After a double forfeit, Cole Franek turned a narrow 5-4 lead into a fall victory, taking down his opponent in 4:54. Carter O'Malley also took home a quick victory with a 3:10 fall. Whipps followed with an aggressive match against Medford's Garron Hoffman. Whipps ran out of the gate with takedown after takedown, delivering a dominant performance over his opponent. Hoffman collected some points through escapes and reversals on Whipps, but the Titan racked up a 20-8 win.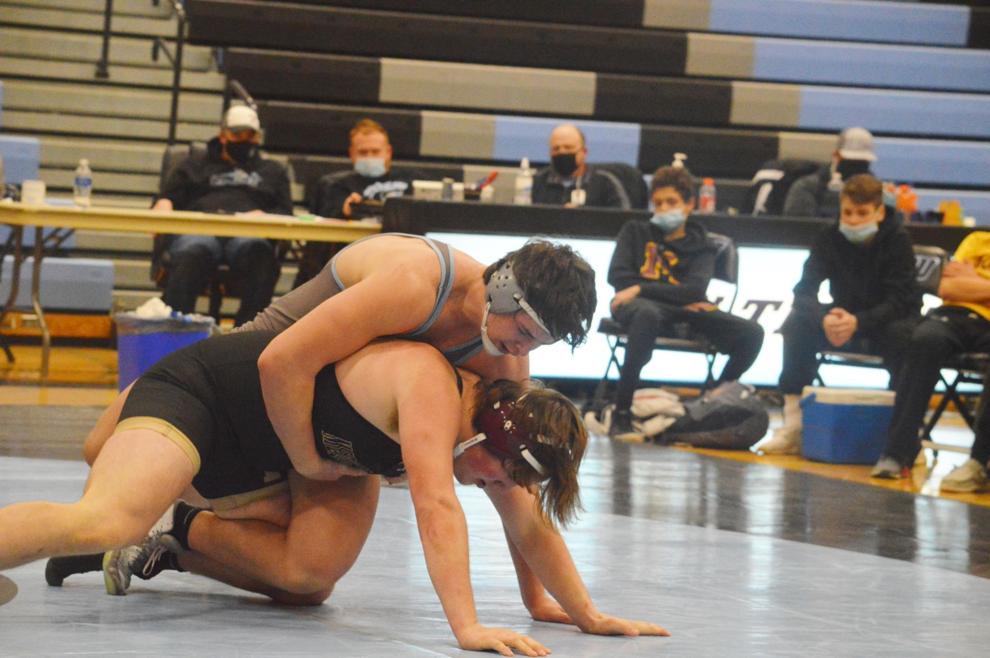 Caden O'Malley collected a 9-4 decision victory to put the Titans up 37-0. After eight matches, the Titans held their opponents to nothing. Medford finally delivered their first win in a close match against Reyes, which saw the opposing team win by a slim 5-3 margin.
Rud struck back with the fastest fall of the match against Medford, pinning his opponent in just 59 seconds. Riley O'Malley claimed the Titans' final win. After racking up takedowns and locking his opponent in a near fall, O'Malley won by major decision 16-7. The meet ended with Medford earning a second win by fall.
The meet wasn't just a high-scoring affair for the Titans, it also marked several milestone wins. Rud took home his 50th win of his wrestling career and sophomore Zach Balma reached 60 wins. Others also reached significant milestones this season include Riley O'Malley, who claimed his 100th victory, Caden O'Malley, who earned number 75, and Whipps with a total 125.
"We work pretty hard in the offseason, so it's when it's good when it actually pays off on the mat," said Whipps.
With two new wins under their belt, the Titans' season record stands at 19-4. TCU has been one of the most competitive teams of Class AA and are just shy of the top 12 rankings. The coaches were optimistic about the team's future and set their goal to reach the state tournament as a team.
"The state tournament is definitely on our minds," said Coach Shaun Timmerman. "That's the ultimate goal this year, and it's definitely something that is within our grasp, but we need to continue to work hard and wrestle hard until that day comes."