Three Le Center entities have expanded to Lonsdale in the past month — and they're all under one roof.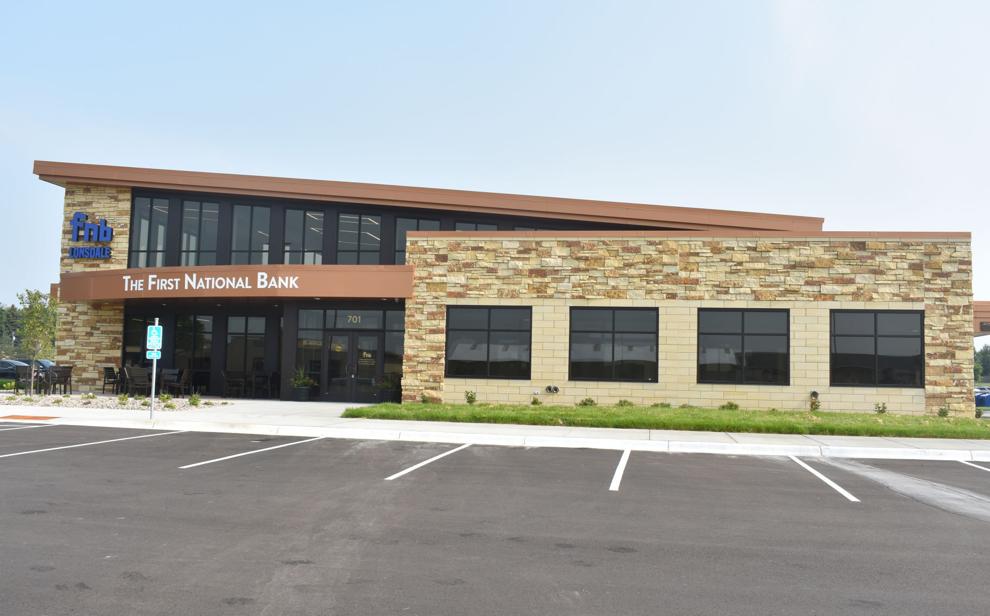 "Everyone has welcomed us with open arms," said Adam Traxler, vice president/commercial lender of First National Bank. "It has been sheer joy; it makes it fun to come into this community that's growing."
Traxler is a fourth generation banker in his family. Even at the age of 6, he remembers pulling weeds for his family's business. He was previously employed at Republic Bank of Duluth, then worked as a commercial lender at the Citizen Bank in Lakeville and Boundary Waters Bank in Woodbury before returning to his Le Center roots.
Like his dad, Greg, did years ago, Traxler transferred knowledge back to First National Bank organization after working elsewhere for an extended period. His dad returned with more operations and technology upon his return to Le Center where Traxler, with a focus on lending, brought back new insight on credit analysis and underwriting.
On expanding services to Lonsdale, Traxler said he looks forward to giving the budding community more options for banking. He pointed out that Le Center has two banks where Lonsdale, until recently, only had one.
Transparency and quick decision-making are two ways Traxler described First National Bank's values. He said clients can call the bank, walk through a deal and have it finalized within days.
"We want to provide a quick and easy process so customers aren't blindsided by fees," Traxler said.
With a strong emphasis on agriculture, Traxler hired an ag and commercial lender, Maria Prange, as part of the team. As a full mortgage originator, First National Bank continues to service loans throughout the life of a loan.
Although First National Bank had a soft opening in July, Traxler said the Lonsdale Chamber of Commerce plans to host a ribbon cutting at the business Aug. 24. This will give the community a chance to stop in for refreshments, see the new building and meet the staff. Traxler extends a thank-you to Chamber Executive Director Shanna Gutzke-Kupp for spreading the word about the bank.
Without putting out a job posting, Traxler said First National Bank hired seven staff members whose banking experience ranges from one to two years to 20-plus years.
"The team has taught me so much I wouldn't have dreamt up," Traxler said. "They bring so much good experience."
Still to come, First National Bank building will house a coffee shop open to the entire community, not just bank customers. The site will mark the first brick and mortar location for Coffee Fool, which sources coffee from Le Center. Treats and pastries from CakeWalk of Northfield will also be available. Greg and Adam Traxler will both run the coffee shop along with Manager Alison Timm.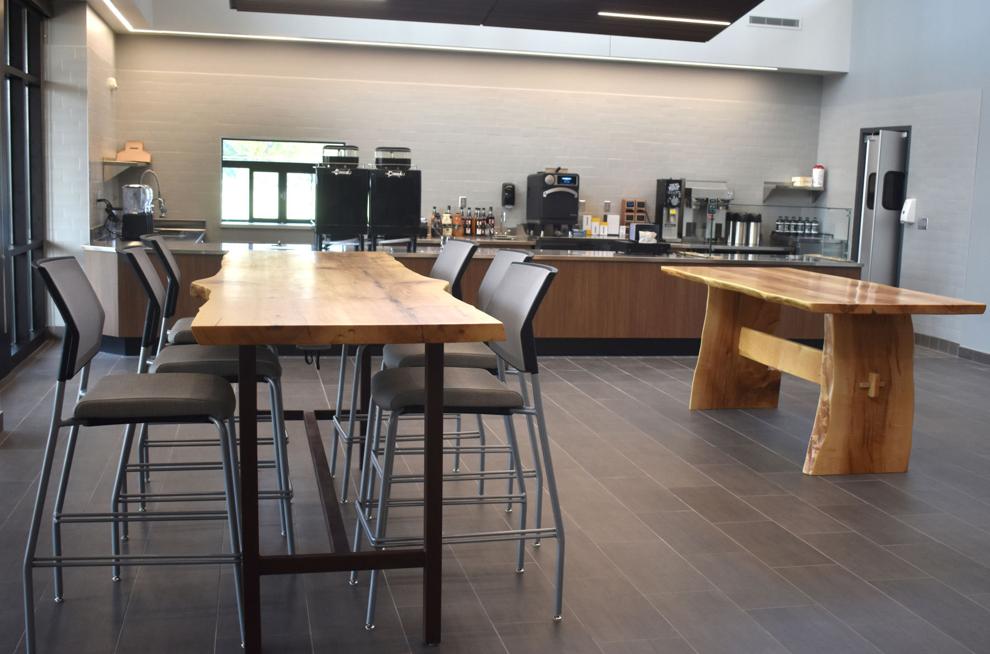 LPL Financial is another business that decided to expand in Lonsdale along with First National Bank. Financial Representative Peter Plut called Lonsdale "a natural fit" since his office has been with First National Bank from the start.
Plut will divide his time evenly between Le Center and Lonsdale along with an assistant, Christina Sandbolte.
"[Christina] will be here around 15 hours a week, and I'll be here when needed and by appointment," Plut said.
House of Insurance Agency is the second entity to share a location with First National Bank. House of Insurance was established in 1945 and has been in brothers Randy and Darian Hunt's family since their parents, Tom and Marlene, bought it in 1989.
House of Insurance Agency was established in 1945 and has been in brothers Randy and Darian Hunt's family since their parents, Tom and Marlene, bought it in 1989.
Darian and Randy bought out the agency from their mother seven years ago and, since then, opened a Montgomery office in 2008. Now, as of July 12, Lonsdale is home to the third location for the family-owned business.
"Our amount of growth over the past seven years has been exponential, and we hope to take the next step with opening an office in Lonsdale and do that like we do in Le Center and Montgomery currently," Randy said.
After hearing of First National Bank of Le Center owner Greg Traxler's plans to open an office in Lonsdale, the Hunt brothers decided to expand to the same area, and within the same building on Ash Street NW. Lonsdale's connection to the Tri-City United school district, which also serves Le Center and Montgomery, was another reason the Hunts wanted to start a third location.
"We thought this would be a perfect opportunity to expand in the area," Randy said. "Because it's such a growing and thriving community, we're excited to grow and expand in that area."
Randy described House of Insurance as a "family-owned, small to midsize business" with the number one goal of customer service. He said instead of sending clients to voicemail, the team prides itself on always answering the phone. The independently owned business represents multiple carriers to find the best fit for individuals and/or their businesses. As Randy said, that includes "anywhere from large to mid-size commercials to someone [who] bought a golf cart."
Two members of the House of Insurance team will serve clients at the Lonsdale office. Pat Lloyd, a licensed agent in Le Center since 2017 and a TCU High School graduate, will operate at the Lonsdale office Monday through Wednesday.
"I think it's a great opportunity for people to shop around for their insurance, especially in today's market, but more importantly to serve the Lonsdale community," Lloyd said at his desk in the Lonsdale First National Bank building. "I'm excited for people to stop by."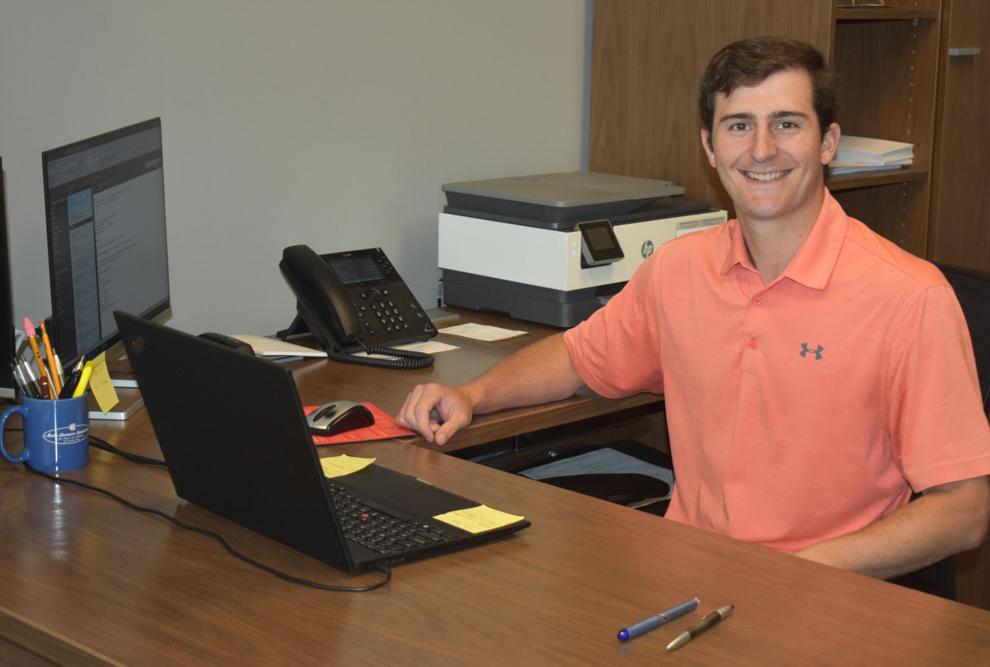 Montgomery resident Tyler Bednar, who has been a licenced agent with House of Insurance for over a year, will then serve Lonsdale Thursday through Friday.
"We are a small town business that prides ourselves in community involvement, so you will see us around," Hunt said.