Seventeen-year-old Rebecca Meger, a senior at New Prague High School, set a new precedent this month by becoming Lonsdale's first female Eagle Scout.
"I feel so grateful and honored because for a long time I was only able to watch the troop without participating," Meger said. "I know what I've done will be talked about for a long time. It makes me happy and gives me pride to be part of how things have changed and what I've done."
Earning the Eagle rank first requires Scouts to complete an Eagle Scout Service Project that exemplifies leadership and benefits the local community. Meger knew mosquitoes were a big problem at the Webster Township Park, and understanding that bats eat mosquitoes, she developed a plan to build bat nursery boxes at the park.
Meger began preparing her project back in January. To move forward with the building and installation of the bat nursery boxes, Meger first needed to ask the Webster Township Board to become the project beneficiary. She raised funds for the project by contacting community members and organizations, like the Tri Lakes Sportsmen's Club and New Market-Elko-Webster Lions Club.
Everything was set to go with the project schedule in place and materials ordered, but the onset of the coronavirus pandemic in March put a wrench in her planning. Health and safety guidelines from Scouting BSA and the Minnesota Department of Health prevented her from involving large groups in the nursery boxes' installation. But by May, she could invite 10 or fewer to the installment day.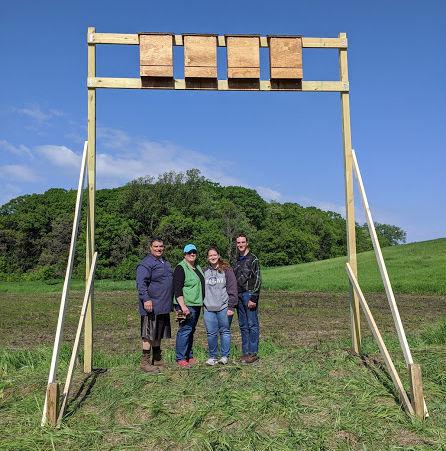 Typically, Scouts have until their 18th birthday to achieve the Eagle rank. Meger turns 18 in November, so she met that deadline, but others in the troop could apply for extensions since their later membership cut short their timeline. By February, all five of the first group of girls in Scouting BSA Troop 327 will have their Eagle rank.
Scouting through the ages
Meger first became involved in Scouts when her brother joined as a Tiger. She attended all the meetings and knew most of the people, but she was first able to participate at age 14 as a Venturing Crew member. Venturing Crew is a co-ed program of Scouting BSA that allows members to participate until they turn 21.
After Scouting BSA Troop 327 opened membership to girls, Meger became involved in the troop. She said the program has given her a chance to be outdoors more than ever before. Although she wasn't initially excited to spend a week of her first summer in Scouting BSA attending a camp called Gray Wolf Youth Leadership Training, it marked a turning point. She decided to "live at camp" for eight weeks out of her summer to teach others the skills she learned.
Meger has applied the teaching skills she's learned from Scouting BSA to other activities, like 4-H and band. She's come to appreciate different teaching styles and wants to make others aware of various learning methods.
Having earned the highest rank in Scouting BS, Meger plans to continue her involvement as a chapter officer and vice chief of the troop's Conclave celebration in the spring. She's postponed her Eagle Scout Court of Honor for a time when more people can gather to celebrate.
A number of people have helped Meger work through the ranks, including her mom, dad, brother Luke and troop leaders like Boy Scout Troop 327 Scoutmaster Scott Pelava, BSA Troop 327 Scoutmaster Nancy Zellner and Venturing Crew Advisor Mark Harper.
"It's an incredible feat, especially when you consider she did it in less than two years," said Pelava. "The whole time she did it she was focused and determined to do it. All the adult leadership is proud to be part of that, giving her the opportunity to do that."
Harper said allowing girls to join Scouting BSA is showing positive outcomes, one of which is Meger's achievement.
"She worked very very hard at it and she had it as a goal to be one of the first," Harper said. "She's done a lot of extra activities, staffed at camp, and so I believe she deserved it."
Zellner called Meger "an amazing young lady" for her ability to accomplish her goal within a limited timeframe.
"She has such attention to detail," Zellner said. "She made it look easy. She did a really great job, and the sky's the limit for her. Once an Eagle, always and Eagle. I'm very proud of her and her accomplishments, and she is a great role model for all young ladies."