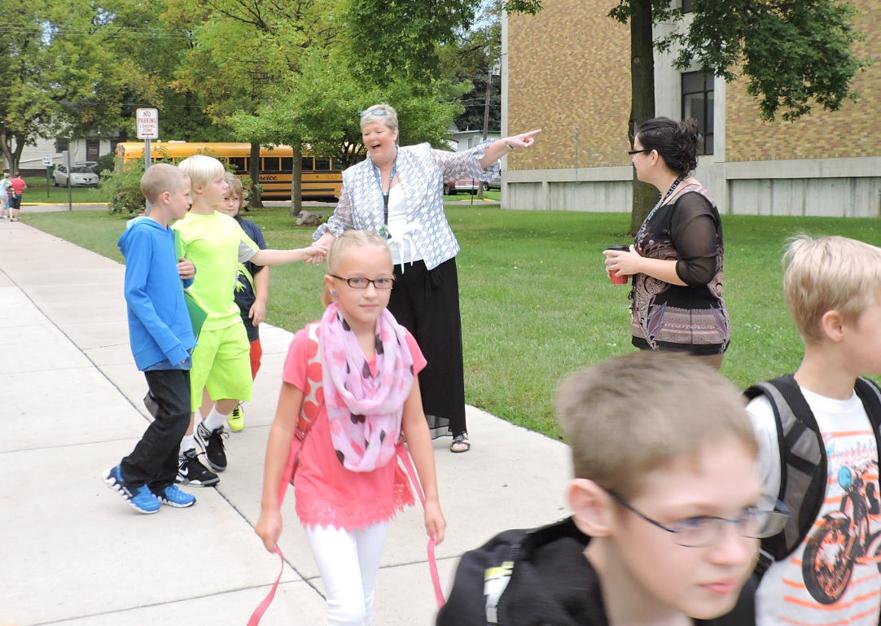 As a graduate of Montgomery-Lonsdale with a more than 30-year career in education, Tri-City United Montgomery Pre-K-8 Principal Deb Dwyer has long been a pillar of the TCU school district.
The 2019-20 school year marks Dwyer's final year with the district before her retirement, but the outgoing principal won't be forgotten by her students, teachers and colleagues.
Before she was a principal, Dwyer graduated from Montgomery-Lonsdale High School. Her father and uncles were educators, as well as her role models at school, so it was only natural that Dwyer would pursue a similar career.
"It kind of came full circle," said Dwyer. "I just had great role models for teachers and obviously my father and my uncles many of whom were educators themselves. I was inspired by how they loved what they did and the teachers that I had were awesome and I wanted to follow in their footsteps and make an impression on kids' lives."
Dwyer had the opportunity to teach in Denver, Colorado, but she couldn't shake her love of small town Minnesota and would return to teach in the same area she grew up. With a teaching career spanning more than 20 years, Dwyer was a mainstay in Le Center classrooms before becoming an administrator.
In 2012, the Le Center and Montgomery-Lonsdale school districts consolidated into what is now the Tri-City United School District. In her new role as the TCU Montgomery principal, Dwyer had the opportunity to lead the school into a new era and she considered it one of the proudest moments in her career.
"My main goal is to enable all students to have opportunities and to learn at high levels, and I really feel that we've been able to do that," said Dwyer. "Part of the consolidation was to bring in opportunities from a little bit larger district into a little bit smaller district. To give students opportunities and to see them grow in various areas was a wonderful goal that I think was accomplished with the consolidation."
As a principal, Dwyer sought to foster a nurturing environment and to build relationships between students and faculty. She was known for starting each school day greeting students with a wave and visiting with them on their way to the cafeteria or the classroom.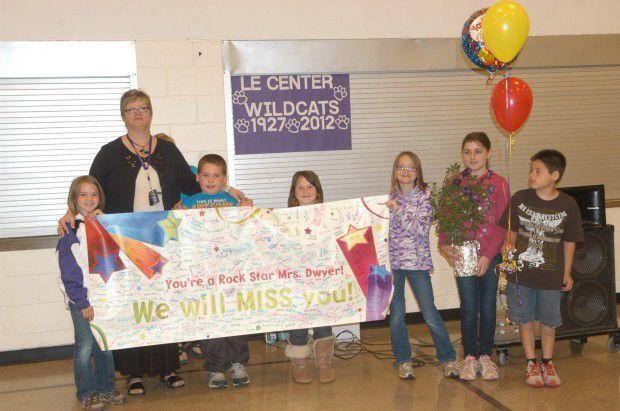 "One of her favorite sayings is 'Make it a great day,' and she'll give you a smile and kind of a fist in the air," said TCU Montgomery fourth grade teacher Nyla Newton. "The kids hear it and the staff hears it and it's always a positive message from her."
Newton has worked across many different buildings in her teaching career, but she said that Dwyer was the best principal she's ever worked with.
"Deb is the kind of principal that every teacher wants to have," said Newton. "She truly cares about the staff and the students. She promotes a positive culture within our building and she's definitely knowledgeable about our curriculum standards. If you have a question, she's right there and easy to go to. I just love how I feel like I can go to her with a new idea and she truly listens and she will let you know one way or another."
Dwyer has also earned praise for her commitment to students. Superintendent Teri Preisler said Dwyer goes all in on everything, whether it was highlighting students and their accomplishments on Twitter or having fun on Halloween.
"I meet with all of our principals and directors each month, and Deb would always go 'I can't wait to show you the data on the student's growth here,'" said Preisler. "She would pull out the spreadsheets and she would have bar graphs, and you knew those were things that weren't just important to her for academics, they were important to her and to the students, because it represented their growth and her belief in them."
After so many years of educating, Dwyer will be able to enjoy a well-deserved retirement. But she said leaving the kids will be hard, especially with COVID-19 shutting school doors for the foreseeable future.
"I'm going to miss seeing the kids' faces and their enthusiasm and seeing their smiles" said Dwyer. "It's bittersweet. I never thought my career would end so abruptly, and I don't know if I'll have the opportunity again to give them hugs and that type of thing. So I definitely will miss their energy, their smiles and their enthusiasm for learning.
"If I knew March 13 would be the last time I would be face-to-face with the kiddos, I would have given them each a big hug," she continued. "They're awesome."