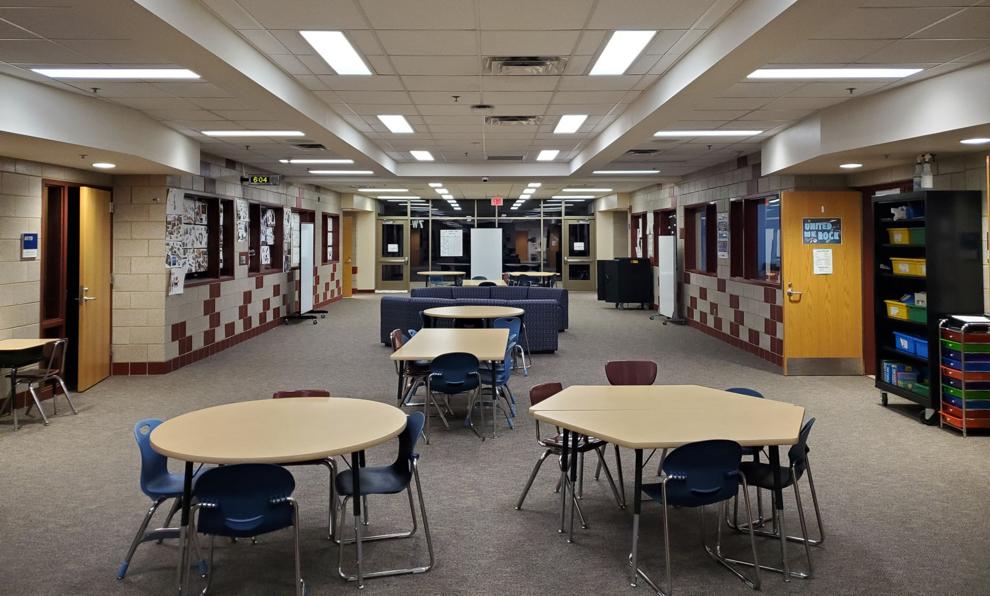 As COVID-19 cases in the community spike, Tri-City United students will be learning from home until next year.
At the Nov. 9 School Board meeting, the TCU administration announced a plan to move grades K-12 to distance learning. The school district's hybrid learning model will end this week on Thursday, Nov. 12 for B group students and Friday, Nov. 13 for A group students. School is out on Monday, Nov. 16 and Tuesday, Nov. 17 to give teachers time to plan for distance learning beginning on Wednesday, Nov. 18. The district will remain in distance learning until at least Jan. 15, 2021.
The plan was debuted as Le Sueur County is reporting record numbers of COVID-19 cases daily. During the first week of November, Le Sueur County saw 121 new cases of the coronavirus. In those seven days, more cases were detected than in the entire month of September.
The communities in Le Sueur County that are part of Tri-City United School district have been hit the hardest by the virus. Le Center and Montgomery lead the rest of the county in COVID-19 cases. In total, 186 cases, about 22% confirmed in Le Sueur County, were from Le Center. Montgomery has reported 165 cases, the second highest amount in the county, making up 20% of confirmed cases.
Le Sueur County's 14-day case rate, which informs safe learning models for schools, is at a record high in the past three months. At its current rate of 33.23 cases per 10,000 people, the Minnesota Department of Health recommends a hybrid model for elementary students and distance learning model for secondary. From discussions with the Le Sueur County Department of Health, Superintendent Lonnie Seifert believed that cases could rise even further in the coming months.
Meanwhile, in Rice County, where Lonsdale is located, cases are also surging. In a Nov. 5 update from Rice County Public Health, the 14-day case rate was at 40.3, well above the recommended trigger point for distance learning.
School resources are already being strained under the current model, said Seifert. There are six active coronavirus cases in the Tri-City United community and 119 students and staff have been in quarantine due to being in contact with a confirmed case. The quarantines have resulted in a staff shortage.
"It looked like today we were semi-distance learning," said Seifert. "We had seven to eight teachers that were distance learning, because they couldn't be in the building. Also in our support services … Mr. Johnson was helping serve lunch today in the high school, because we don't have many food service people at the high school right now."
The superintendent worried these problems may continue as the holidays approach. Many of the cases in the past week are being linked to Halloween by the Le Sueur County Department of Health, and major holidays like Thanksgiving, Christmas, and New Years Day could be opportunities for further spread. By staying in distance learning through January, the school would not have to move back and forth between models, said Seifert.
Not all students will have to distance learn. TCU plans to continue in-person instruction for special services students — which may include groups like special education students and English language learners — and pre-kindergarten students. Administration will assess more opportunities for in-person learning as the year continues.
Childcare services will continue to be provided for Tier I workers and district employees. Families requesting childcare services may also receive assistance depending on staffing availability.
The fall sports season, along with fall activities, such as robotics, speech and knowledge bowl, are planned to continue as normal. The Tri-City United fall musical will also be allowed to continue, but with some new limitations. The musical will be held on just one night and will be livestreamed to the community. Students may be given a select number of tickets to give to friends and family to attend in-person and a filmed version of the musical will be distributed for the students to keep.
But for the winter sports season, only varsity teams will play. Seifert said that this will allow for seniors to finish their seasons while limitations on participation would reduce the opportunity for the virus to spread. Each team would also have their own space for practices and games.
Community education and youth groups will still be allowed to use school facilities for classes and practices, but youth athletics will be prohibited from hosting tournaments at the school.
All of the school's plans for athletics and activities may be subject to change as the year goes on.
"If we start seeing an increase in the participants having issues or our staff having issues that we can't just do it anymore, we would have to shut it down," said Seifert. "Because we can't do that to our staff."
The proposal drew praise from several School Board members.
"I just want to say I like this plan," said Ashley Rosival. "I think it's well thought out. I appreciate the administration putting in their two cents on it since they are the ones that will have to carry it out."
"These aren't easy decisions to be made," said School board Chair Marsha Franek. "We'll just move forward and hope to get these kids back in school soon."