In Rice County, new and existing businesses have opportunities to receive free coaching and education and take advantage of a number of other resources without leaving their community.
Faribault and Lonsdale's Chambers of Commerce recently worked together to get the word out about these opportunities for new and existing businesses at a Lunch and Learn event.
Over 30 were in attendance at the Lunch and Learn Tuesday at the Lonsdale American Legion. Sponsored by the Lonsdale Economic Development Authority (EDA) and catered by Smoke, the occasion gave business owners and employees an educational networking opportunity along with a free meal.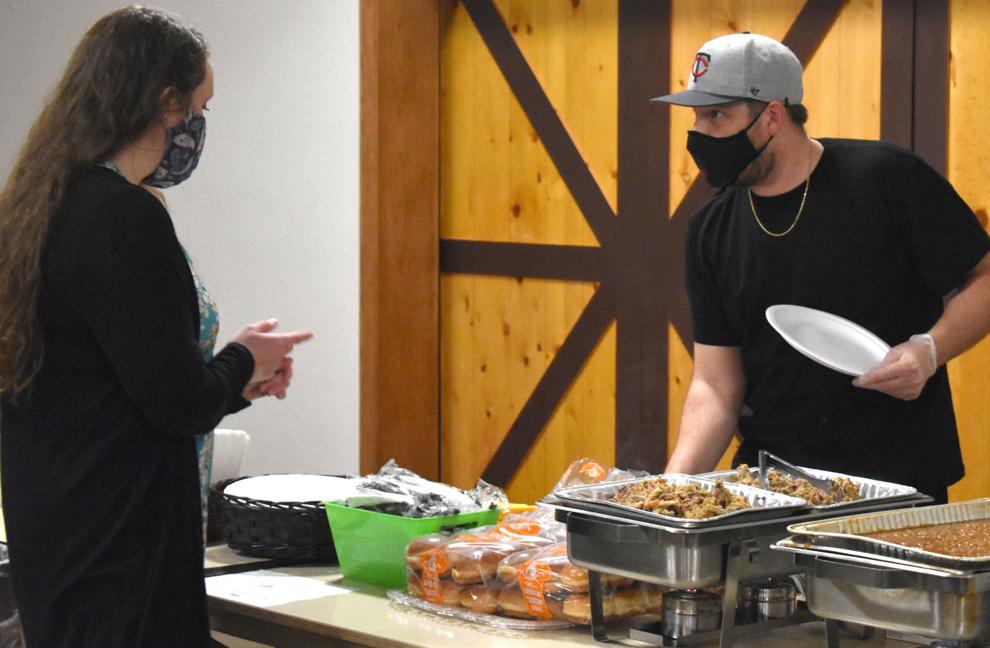 A survey of Lonsdale's Business Retention and Expansion (BRE) program members, conducted by the University of Minnesota Extension, indicated that Lonsdale business owners are interested in more educational opportunities. The Lunch and Learn was one way for the EDA to respond to that feedback before July, when the U of M Extension can hold events in person again.
Pam Bishop, vice president of economic development for the Southern Minnesota Initiative Foundation (SMIF), spoke to the crowd about The Prosperity Initiative. A program of SMIF, The Prosperity Initiative provides resources like regular education, coaching and resources to workers who identify as Black, Indigenous or people of color in SMIF's 20-county region.
Bishop said SMIF has served 70 individuals since the inception of The Prosperity Initiative in 2015. Applicants who are selected receive six months of coaching based on three to five priorities they identify for their business. Sometimes clients work with three to four coaches during the six-month process, she said.
"The goal is to remove isolation," Bishop said. "Most are in retail service, some innovative companies … food trucks, restaurants."
SMIF is currently recruiting members of the 2021 Prosperity Initiative Cohort with applications due April 30.
The SBDC offers free business coaching with trained coaches in the areas of business plan development, financial analysis, loan packaging, feasibility analysis, market research, strategic planning, E-commerce and succession planning among other topics.
Johnson used the example of Jessica Prill, owner of the Fleur De Lis Gallery in Faribault, who came to the SBDC for counseling and now has an online presence to make her selection of art products available 24/7. The SBDC has also been working with businesses that have owners nearing retirement.
Johnson also spoke about SCORE, which stands for Service Corps of Retired Executives. Free of charge, SCORE offers confidential counseling services to small business entrepreneurs to help them start their companies, grow and succeed. Founded in 1964, SCORE has over 11,000 volunteers through the U.S. with 310 chapters nationwide.
Another opportunity for proposed and existing businesses is the Downtown Micro Grant program, currently offered to Faribault historic district businesses exclusively. Offered annually through the Faribault Main Street Program, awards range from $500 to $5,000.
"Every one of the businesses who got a grant in the last few years is still going," Johnson said. "… We'd be so happy to share the process with Lonsdale, especially being in Rice County."
Following the presentations and questions, guests introduced themselves by sharing their names and businesses along with information and updates about their services.
The next networking event offered through the Lonsdale Chamber of Commerce will be 7:30 to 8:30 a.m. at Tri-City United Lonsdale Elementary. Guests will share a light breakfast, meet with Superintendent Lonnie Seifert and TCU Lonsdale Principal Tony Johnson, and tour the school to learn about health and safety protocols implemented during the pandemic.