Marisa Rotter almost feels like her family is on vacation since her children's school, Tri-City United Lonsdale Elementary, closed in response to COVID-19. They don't need to wake up to alarms, and the family is together more than usual.
But even though Marisa's sixth grader Jules and second grader Max haven't been in school since mid-March, their learning continues outside the classroom. Students across the district are at home with their parents, but they continue to check in with their teachers virtually and complete their tasks on their own time.
Marisa was a bit nervous about the transition at first, thinking distance learning would pose challenges similar to blended learning days, which the district implements during weather-related school cancellations. That wasn't the case, she found. Compared to blended learning days, students connect more frequently with their teachers during distance learning.
Jules and Max have loved completing one task after another without waiting for a cue from their teachers, said Marisa. They've both set up their personal learning areas and agreed it's quieter than a classroom with less distractions. But they have commented to their mom that they miss seeing their friends at lunch and recess or while riding the bus. Instead, Jules texts her friends each day, Max has virtual "play dates" and they both see their classmates during online school meetings.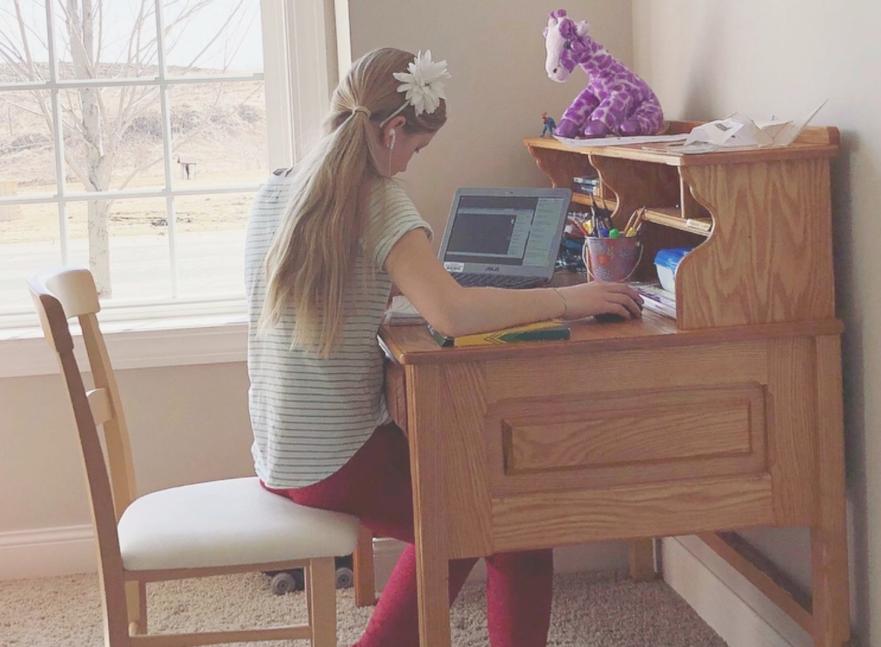 Before distance learning, Marisa said she mainly spoke with her children's teachers if they needed help with an assignment. With Jules and Max at home during the school day, she's gained a rare insight into her children's school life.
"I already knew our teachers were good, but now I'm actually seeing for myself," said Marisa.
TCU parent Kristen Glockner agreed that she appreciates the live chats TCU teachers hold with students.
"It keeps them accountable and connected," said Glockner. "We also have three teenagers that can work on their own, so that has helped as well. I feel for the younger elementary families."
According to Marisa, distance learning was accessible to Jules from the start and has become easier for Max to navigate after she helped him figure out the platforms. Now, he can work on his own.
"The teachers make it really easy for us and fun," said Marisa. "My kids seem like they're excited to learn and excited to do their work. I know that has to do with the teachers."
Just as students have quickly adapted to a new learning style and setting, TCU teachers have made adjustments to their curriculum and formats in response to the school shutdown. Without even seeing one another in person, families and teachers have worked together to make the transition possible.
TCU Lonsdale Elementary second-grade teachers Abby Brockway and Kristen Munden work as a team to plan and ensure they meet all their students' needs. Brockway said they talk daily to stay on the same page and do their best to stay consistent on the SeeSaw and Google Classroom platforms they use. Apart from a few students who receive paper copies, the majority of the work is handled online. The TCU tech support team made sure all families had devices and working internet.
"I would say that families have been incredible in helping to make this entire transition successful," said Brockway. "They have been supportive and have helped their children with issues that have arisen. Our students have been flexible, work hard, and have made us teachers extremely proud."
TCU Lonsdale kindergarten teachers Ellie Ryan, Ann Swartout and Emily Dahl also share the same lesson plans and chat daily. Ryan said kindergarten teachers also make sure their students have a story read to them each day and that they work on their phonics skills, writing and math. Like the second-graders, kindergartners use SeeSaw and Google Classroom. In lieu of the morning meetings these teachers usually hold with their students at school, they talk about the day and the weather or practice counting among other forms of group sharing during online "hangout" sessions. Students may join whichever hangout they choose.
"[Hangout] is my favorite time of the day, because it is a great time to connect with students and most importantly students are able to connect with one another," said Ryan.
Like Brockway, Ryan said families have been positive and encouraging each day, and her students have adapted well to distance learning.
"They come to hangouts each day with a smile on their faces and a fun new story to tell me," said Ryan. "Each day I leave our hangouts with the biggest smile on my face. They truly are the MVPs of all of this … This is really a team effort and I am so proud of how everyone has stepped up to the challenge!"
But no change comes without its ups and downs, so challenges with distance learning were to be expected.
"I would say that the biggest struggle is when technology isn't working the way we had planned," said Brockway. "There have been a few different times when this has happened, and students have been great about taking a break and trying again later."
Apart from any technological issues that may have occurred, Ryan said the biggest challenge is being away from her students.
"We've definitely made the adjustments," said Ryan, "but I miss talking and interacting face to face with not only my kindergarteners, but all the students in the school."