The heart is fragile, and young hearts in particular need to be handled with care.
"It takes a long time to flatten out the creases of somebody's heart," Tri-City United Lonsdale Principal Meyer told fourth-graders Friday morning. "We can forgive, but my message to you is a lot of times people don't forget."
The concept of a wrinkled heart is something Tri-City United Lonsdale students understand on a deep level following Meyer's lesson, a serious look at what happens to the heart if it's subject to bullying.
As part of a year-long campaign to spread kindness and put an end to bullying, Principal Mollie Meyer has presented a different lesson each month to every grade level. In the month of January, she focused on "wrinkled hearts," how to repair them and what to do to keep them whole.
Meyer began each lesson reading the book "My Wrinkled Heart" by Veronica Lloyd, which tells the story of a young girl who transfers to a new school and begins to feel isolated. The character never before experienced the "wrinkles" that formed in her heart until her classmates started putting her down. Years later, the girl admits that those wrinkles in her heart didn't completely go away. But with newfound strength, she learned to see the creases as signs of strength.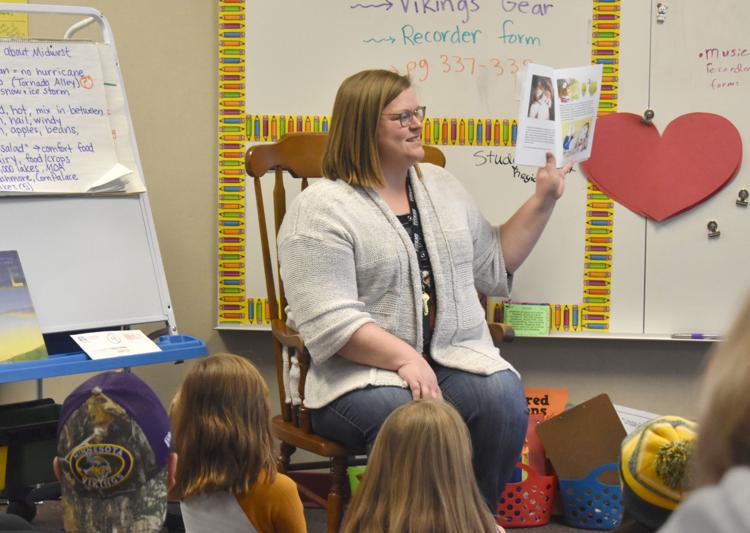 While reading the book, Meyer occasionally stopped to ask the students questions like, "Was any of this her fault?"
Students responded with a resounding "No."
During the fourth-graders' lesson, a few students described their own experiences of feeling excluded, particularly if they transferred from another school. Meyer encouraged students to be accepting of everyone and recognize that new students might be more quiet than usual at first because they're nervous.
After finishing the story, Meyer asked students to name things they've witnessed or experienced that could result in a wrinkled heart. As students listed fighting, name calling, spreading rumors, yelling, budging in line and saying "I hate you" as causes of a wrinkled heart, Meyer crumpled up sections of a construction paper heart to illustrate the damage.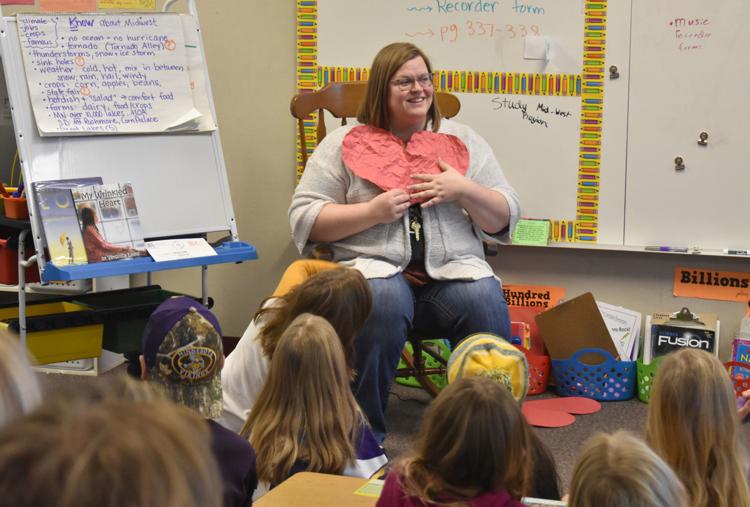 Then, Meyer asked students to consider ways to repair a wrinkled heart. Students' ideas included apologizing, sticking up for someone, offering compliments or asking, "Are you OK?"
If someone witnessed an incident of bullying, fourth-grader Charlie Enge suggested saying, "I'm sorry, you didn't deserve to be treated like that."
To conclude the lesson, each student received the name of a classmate on a slip of paper and wrote a kind message to him or her on a paper heart. Students then delivered their hearts to their partners. Meyer told students these weren't meant to be Valentines or love notes but instead compliments and words of encouragement.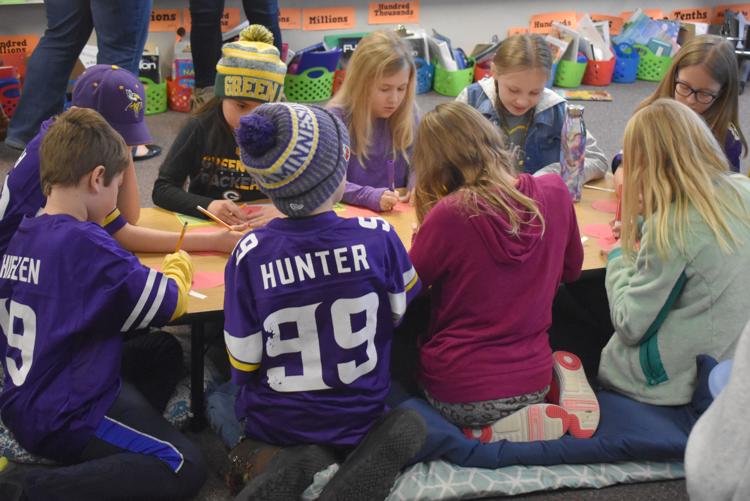 "It just means as classmates we care for one another, and we work hard to make sure someone's heart stays flat," said Meyer. "We want to prevent people's hearts from being wrinkled."