There wasn't the usual mingling, speeches and comedian, but Lonsdale Annual Dinner-goers had the unique opportunity to take the party home with them this year.
The drive-thru format made the Lonsdale Annual Dinner a quick stop for over 60 vehicles Tuesday evening on North Main. Guests pulled up to the Lonsdale Chamber of Commerce office and received swag bags from the Lonsdale Ambassadors and Chamber board members.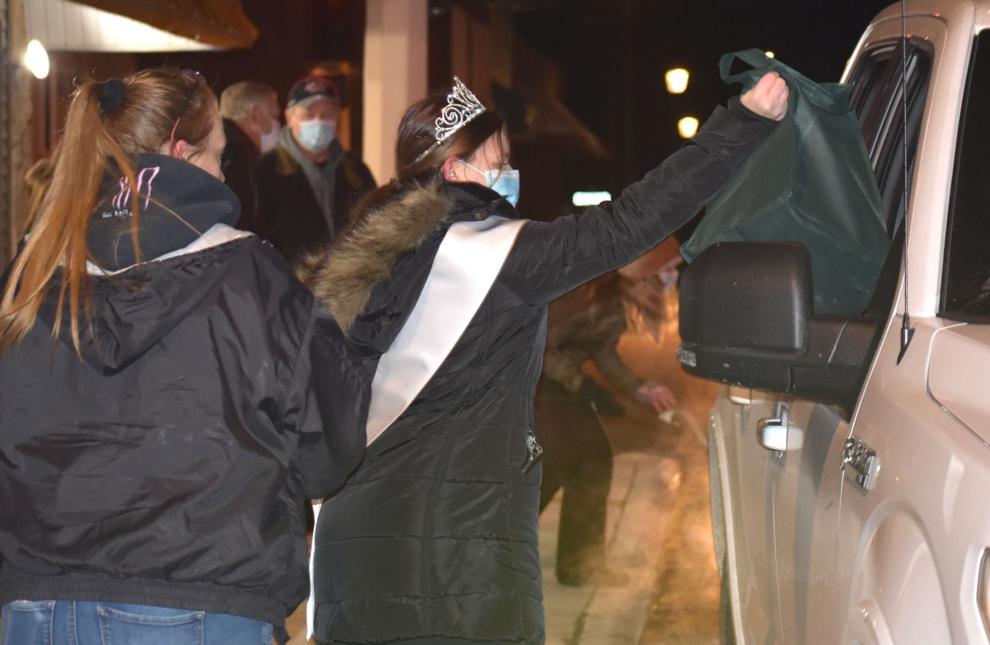 Swag bags contained a variety of merchandise from Lonsdale Chamber members, including potholders, can koozies, chip clips, liquor, candy, magnets, toothbrushes, pens, and other promotional materials.
Guests also received $50 in gift cards from seven Chamber member restaurants, including Lonsdale American Legion, Smoke, Somethin' Tasty, Subway, Pizzeria 201, Ranchero Supper Club, and Whistle Stop Tavern and Grill. Chamber Sponsor Steele-Waseca Cooperative Electric made it possible for the Lonsdale Chamber to purchase $3,000 worth of gift cards from the restaurants in exchange for guests' tickets.
During the 6 p.m. hour, KCHK Radio broadcast live from the drive-thru event, giving drivers opportunities to promote their businesses.
During the broadcasting, Lonsdale Chamber Executive Director Shanna Gutzke-Kupp announced Lonsdale First! Loyalty Program winners. Mike Shirek won $50, Joe Kodada won two $50 checks and one $100 check, Tom Kodada won $50 and $100, and Chelsea DeRudder won $100 and $300.
Throughout the months of November and December 2020, when the Lonsdale First! Loyalty Program ran, Chamber Executive Director Shanna Gutzke-Kupp reported participants spent $530,000 in Lonsdale.
Another drawing winner was Pizzeria 201 of Montgomery, which will receive a 50% rebate on its Chamber membership.
The main event of the evening was the announcement of the 2020 Business of the Year Award, which Gutzke-Kupp presented to Generation Building Center. She hand delivered the award plaque to business employees Wednesday afternoon.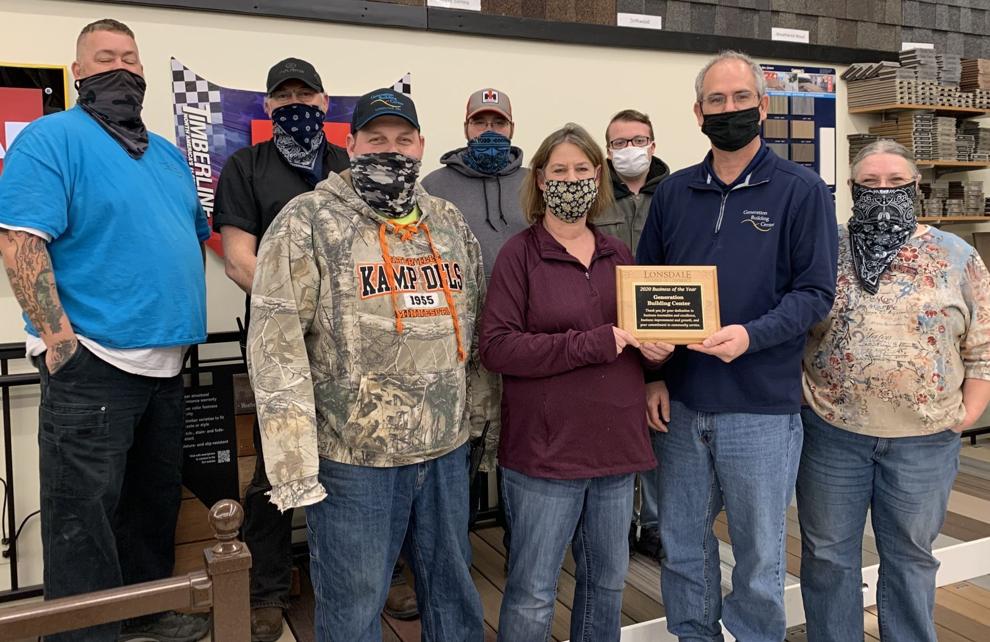 "We're very honored to be recognized by our business peers," said Tom Wickman, owner of Generation Building Center. "It feels good that we're doing a good job; we're excited about that. It's been a tough year for all businesses and it's kind of nice to have recognition after a long, hard year."
Tom and Jenni Wickman bought Generation Building Center in 2017, taking over the business Randy Stangler started in Lonsdale in 2011.
"Since taking over the business, they have added to their rental and contractor sales. Adding more wood, power tools, outdoor equipment, bouncy houses, bigger tents and other inventory. They are the first to sponsor and donate items to the Lonsdale community for any fundraiser or event in need," Shanna Gutzke-Kupp said in her announcement of the winner.
Additionally, Jenni Wickman participates on the Lonsdale Community Day Committee and joined the Lonsdale Chamber Board of Directors last year.
"They truly care about this community and go above and beyond to help," Gutzke-Kupp said. "Not only do they volunteer, they bring their three beautiful daughters and their significant others to help too."