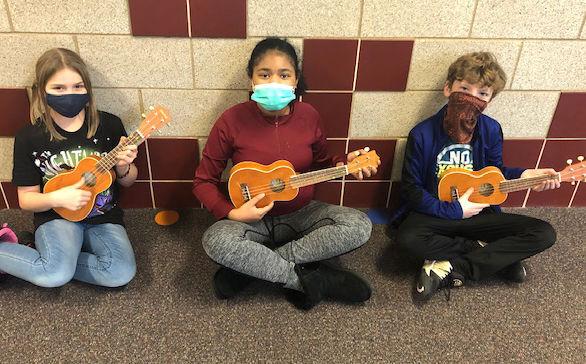 "I get really excited about ukuleles," she said. "At the Music Education Conference, someone else won a ukulele from a drawing and gave it to me, because he attended the ukulele class with me and saw how excited I was about ukuleles."
Nielsen hasn't only been teaching herself how to play ukulele but teaching her students at TCU Lonsdale as well. Wanting other elementary students in the district to benefit from the program, she organized a fundraiser to bring ukuleles to TCU Le Center and TCU Montgomery.
At the TCU School Board meeting Jan. 11, the board approved a fundraiser for a district wide ukulele program. Nielsen usually asks parents to help cover the cost of the recorders fourth graders use, so she hopes parents will be willing to chip in as little as $5 to the ukulele programs. To contribute, she asks parents to write checks out to TCU Music in an envelop labeled "ukulele project" to send with their child to school.
The story of how TCU Lonsdale started using ukuleles began last school year, when Nielsen's sixth-grade students raised money to see the touring musical "Anastasia" in April.
Because of the pandemic, students couldn't use their fundraiser money the way they intended. The sixth graders decided they wanted to donate the money to benefit future TCU Lonsdale students, and the topic of ukuleles resurfaced.
TCU Lonsdale could afford 10 ukuleles last spring, and Neilsen brought them with her to teach TCU Montgomery elementary students as well. The hardest part, she said, was that students had a hard time giving up their turn.
"Students were immediately in love with the ukulele," Nielsen said. "I introduced them in a center-based class. One of the stations was a ukulele station where the students were learning how to strum and discovering high and low notes. By far, it was the most popular choice in our grade levels."
The whole goal with the ukulele program, said Nielsen, is to give students another opportunity to learn how to play music independently. Apart from keeping them safe during the pandemic without the spread of aerosols, it will enrich their music experience with a trending instrument. The ukulele is also accessible to students with diverse learning needs, she noted.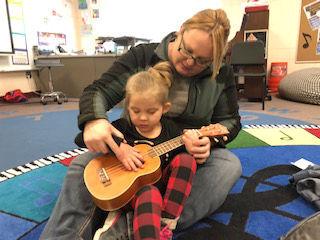 "I already have some students who take ukulele lessons, and they are already better players than I am," Nielsen said.
A COVID-friendly instrument
After the district acquires the necessary funding, TCU music teacher Thomas Stevning-Roe will teach ukulele to students at TCU Le Center and TCU Montgomery. Fourth-graders will primarily use the instrument as a replacement for the recorder, he said, but he wants students in other grade levels to benefit from the program as well.
"A big reason for acquiring ukuleles for our music program is that they won't contribute to spreading COVID, since they don't require air to play, unlike recorders, which are the 'go-to' instrument for fourth graders to start picking up," Stevning-Roe said.
Nielsen doesn't see recorders being gone forever (though she joked that some might prefer it that way). Instead, her hope is that once the pandemic is over, younger grades will spend more time with the ukuleles.
"The resilience and tenacity is valuable no matter the instrument," Nielsen said. "I think [the recorder and the ukulele] serve different purposes."
While the recorder prepares students for band, she said students can learn how to accompany themselves by playing the ukulele. Some students might prefer one over the other, or see a different level of success, which Nielsen pointed out gives them an opportunity to learn about themselves.
"I never like the idea of using a tool once and putting it away," Nielsen said. "It's something we would pull back in throughout their time in elementary school so they can explore their musical understanding."
Preparing concerts during the pandemic comes with a lot of questions, but Nielsen said students will showcase their talents in the future, even if it needs to wait until next school year.
"It's something we really want to honor," she said. "It's such a great activity and experience for the community to have together. We're constantly coming up with ideas and ways to make concerts happen."