Already regarded as the safest town in Minnesota based on crime data from 2018, Lonsdale appears to have only gotten safer.
The Lonsdale Police Department saw a 16% decrease in incidents from 2019 to 2020, according to the department's annual report. The department had already seen an 11% decrease in incidents from 2019 to 2018, but after responding to 4,128 incidents in 2019, the total dropped to 3,460 in 2020.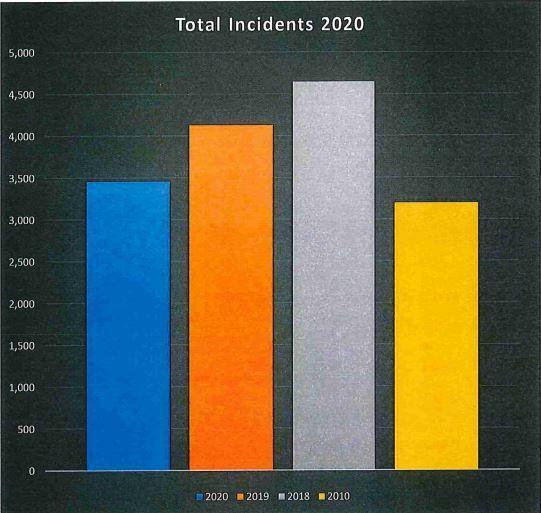 According to Police Chief Jason Schmitz, who presented the report to the City Council during its March 25 meeting, the decrease is largely attributed to the COVID-19 pandemic.
"For a few months starting in March, there was an uncertainty with the virus and the main concern was keeping officers and staff healthy," Schmitz said. "During that time, officers were making less traffic stops and having less contacts."
Schmitz reported that a virus traveled through the department in February last year and affected four officers. After that passed, he said officers, staff and their families have stayed healthy and done their part to disinfect shared work spaces and squad cars.
During the pandemic, the department changed its response on particular types of calls, especially non-life-threatening circumstances involving the elderly.
"Between the police department, rescue squad and ambulance, we're trying to keep minimal person-to-person contact with the elderly or those with pre-existing conditions," Schmitz said.
Traffic stops, DWI (driving under the influence) citations, and total citations issued all decreased in 2020. The number of traffic stops decreased from 930 in 2019 to 702 in 2020, and DWIs dropped from 13 to six in that time frame. The Police Department issued 303 citations in 2019, and that number decreased to 226 last year.
Motor vehicle accidents were similar to previous years but slightly up. There were 28 in 2020 and 26 in 2019.
While some public safety departments experienced an increase in domestic cases during the pandemic, Schmitz reported a decrease in domestic calls in Lonsdale. There were 13 domestic incidents in 2020, down from 21 in 2019. But similar to other public safety facilities, Schmitz noted an increase in mental health calls during the pandemic.
Assault crimes in Lonsdale were down to one incident in 2020, after three reported incidents in 2019 and two in 2018. Criminal sexual assault incidents neither increased or decreased from 2019 to 2020, remaining at six.
Lonsdale saw more thefts in 2020 than the previous two years. Thefts from vehicles increased from 4 in both 2018 and 2019 to 19 thefts from vehicles in 2020. A decade ago, Lonsdale also reported 19 thefts from vehicles. Twenty-five general theft incidents happened in 2020, an increase from 18 in 2019 and 19 in 2018.
Burglaries were also up in 2020, when 10 incidents were reported. In 2019, there were only two burglary incidents in Lonsdale.
Property damage and vandalism incidents were more comparable to previous years. Twenty-one incidents of that nature occurred in 2020, one fewer than 2019 and one more than 2018.
Another piece Schmitz reported was a large increase in Permit to Purchase firearms. In 2020, the department processed 111 requests after 33 had been the average the previous three years. So far in 21, Schmitz said the department has processed approximately 20.
While community interactions were limited in 2020, Schmitz mentioned two major events were birthday parade celebrations for residents and the Knights of Columbus' law enforcement appreciation meal in September last year.
As part of his report, Schmitz also noted Lonsdale's status as the safest town in Minnesota, as indicated by an AdvisorSmith analysis of crime data by the Federal Bureau of Investigation (FBI). With a population of less than 10,000, Lonsdale fit into the "town" category while midsize cities contained 10,000 to 50,000 residents, and large cities had a population of 50,000 or more. Lonsdale was ranked first among 181 towns included in the analysis.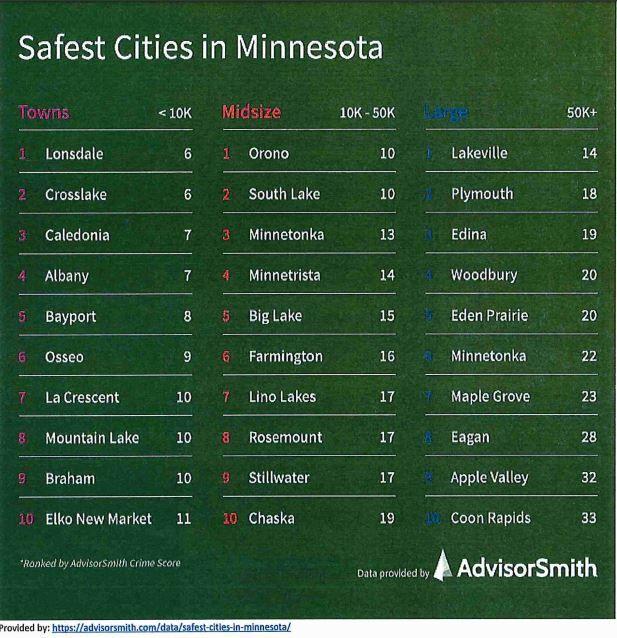 The data used in the study reflected crime levels in 2018. Based on levels of property crimes and violent crimes reported by each city, the study revealed the average crime score in the state was 37 with the lowest at 6 and the highest at 148. According to the analysis, Lonsdale's score was 6 — the lowest score any of the 270 cities and towns had earned. Crosslake, population 2,204, was the only other town with a crime score just as low.