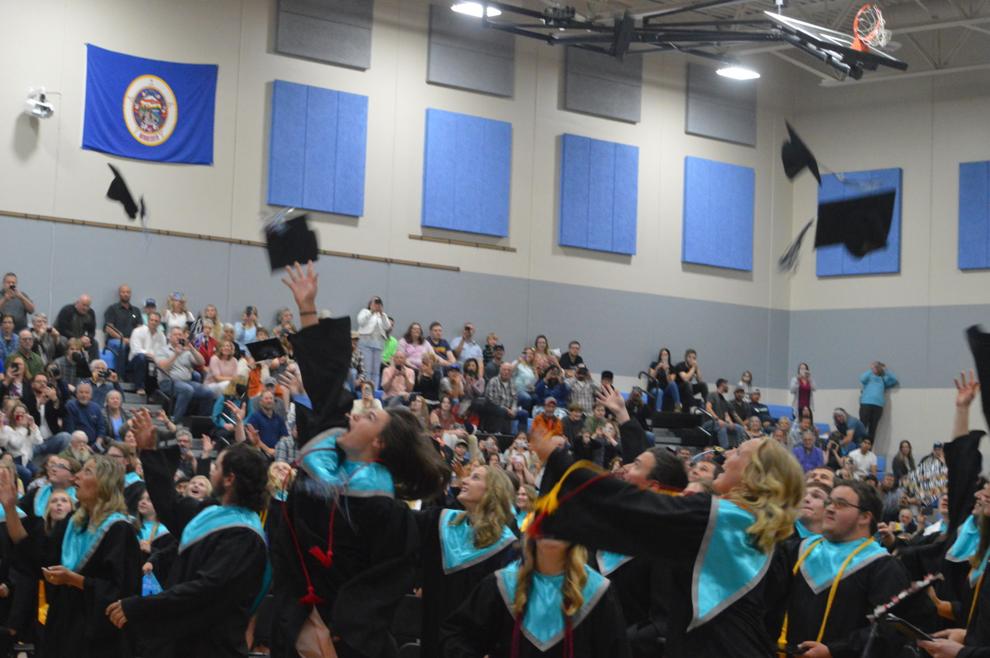 A sea of caps and gowns colored black, silver and blue caps and gowns flooded the Tri-City United gymnasium on Friday, while blue and gold spread across the Le Sueur-Henderson gym on Sunday. Families looked down from the bleachers at their children all grown up with open faces. The scene would have been unthinkable just a month ago, but after a school-year plagued by shifting learning models and COVID-19 protocols, TCU and LS-H high schools gave the gift of normalcy for the graduating class of 2021.
"This was not an easy year, nor was it the year that we had planned and hoped for," said student speaker Maria Mendez-Martinez. "Although this was not an easy year, we managed to get the graduation we have always dreamed of and seen in our favorite movies. Today is the day that we get to see how happy we made our parents after the tremendous headaches they probably went through just for us."
The class of 2021 reminisced on the good, the bad and the once-in-a-lifetime experiences of the past year.
The graduates spent a year adapting to rapid changes of the pandemic. Starting the fall in "A groups" and "B groups," students transitioned to distance learning in the winter. At TCU students returned to hybrid and finally to in-person learning in the spring, while LS-H transitioned to in-person before ending the year in hybrid.
The pandemic also led to one-of-a-kind proms. The Titans sailed on riverboats in the Twin Cities. The boating trip across the river included dinner with casino games, bingo, a caricaturist, karaoke and yard games. LS-H held their first outdoor prom where cohorts of students danced in pods of six.
Along the way, Titans put their names in the record books. The wrestling team entered the state tournament for the first time in school history. Annabelle Davies was crowned state weightlifting champion three years in a row. Brianna Harper and Alex "George" Watts were inducted into the first class of female Eagle Scouts nationwide. Kaitlyn Goettl-Rutt virtually attended Business Professionals of America (BPA) National Leadership Conference. TCU also celebrated its first ever Robotics tournament this year and its first AVID graduating class.
"We will always remember the time we had together," said student speaker Rachel Rynda. "We will remember Mr. Doyle's hello's as we walked down the hall and Mr. Miller's stories and just how excited he was to tell them. We will remember Mr. Kruiger's science jokes and Ms. Squires hunting people down in the hallways after not returning to her class. We will remember our designated hang out rooms, whether it was in the Ag Room or e-cafe. We will remember what we lost and what we gained. We will remember winning both our junior and senior year powder puff games and the absolute crazy things that happened to us."
The Titans class also remembered a classmate who couldn't be there to join them. Graduates wore a red B on their caps in memory of TCU student Blake Asher, who was killed in a single-vehicle accident last year.
"As time has gone we learned to cherish each other after the class of 2021 lost a classmate," said Mendez-Martinez. "Blake Asher is his name, we miss him dearly and today as the most important day we all say congratulations to you. As you can see, the majority of us are wearing a red B on our cap that's to represent him. Blake, you are not forgotten but always in our minds."
Before graduates tossed their caps in the air and prepared for the wide world after high school, Principal Alan Fitterer left the student with one final message.
"Each and everyone of you after tonight has the opportunity to begin anew, to start fresh, to begin that new chapter in your life," said Fitterer. "You are your own author, the writer of the words, the illustrator of your life. You get to determine your own path, that next route. You can dream and then turn that dream into reality by setting and achieving your goals."