"Chiari" was not a word in Heather Nebel's vocabulary a decade ago. But now that the neurological disorder has impacted her son, she's made it her goal to share the definition with as many people as she can reach.
"I don't want parents to go through what [Carter's father and I] went through and feel as alone as we did," said Nebel.
Chiari malformation affects over 300,000 people in the U.S., and it's only been diagnosable since the invention of the MRI, according to Nebel. The neurological disorder happens if the cerebellum, or the bottom part of the brain, pushes out of the skull. This creates pressure on the brain and spine and therefore interferes with the regular flow of cerebrospinal fluid. Symptoms vary from person to person but often include severe headaches that become worse with coughing and sneezing.
Nebel's 8-year-old son, Carter Maskrey, seems like an average child who likes watching YouTube videos, playing with Lego, riding his bike, being outside, and playing video games. But when he was just 11 months old, he was diagnosed with Chiari malformation.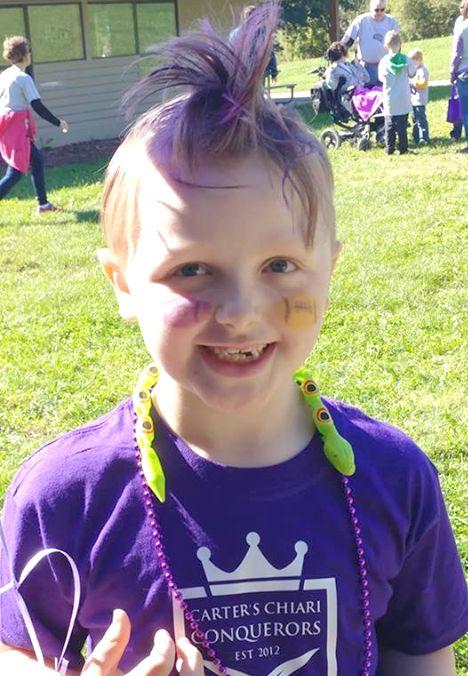 "Chiari is hard because Carter looks completely normal," said Nebel. "…You would never know there are issues."
Early difficulties
Carter was born with fluid in his lungs, though Nebel didn't understand why. Even after an extended stay in the hospital, he continued gagging and choking for unknown reasons. Carter was a happy baby, so doctors assumed his condition couldn't be too terrible. But Nebel kept thinking, "What if he's happy because he doesn't know any different?" and continued looking for answers.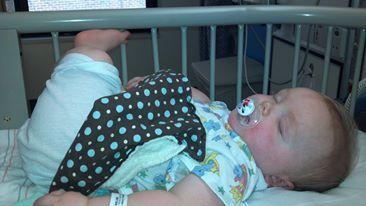 After a couple surgeries, Carter's condition grew worse. Nebel didn't even want to take him out in public because his gagging persisted so frequently. A swallow study conducted at the University of Minnesota gave her a clue. The radiologist blamed Carters gagging on silent aspiration, the result of food and beverages going into the lungs instead of the stomach.
Carter discovery led Nebel to consult a lung doctor, who examined each of Carter's symptoms and grouped them together. After Carter was diagnosed with sleep apnea, he underwent surgery and a sleep study.
After Chiari came up on Carter's MRI, a doctor wrote the name of the disorder on a card and gave it to Nebel. She was instructed not to Google it, but instead to see a neurosurgeon to confirm a diagnosis.
Nebel spent the Christmas season waiting to see a surgeon in January. Not knowing what to expect or who to talk to, she remembers this being an emotionally and financially taxing time. Thankfully, the surgeon made Nebel and Carter's father feel better about the brain surgery their child would undergo in mid-February, just after his first birthday.
After the procedure, the surgeon told Nebel in the waiting room that 'Carter's surgery was successful. Still, Nebel remembers he looked disheveled and stressed, as though he had fought a battle. Carter had to be resuscitated during surgery and lost 40% of his blood in seconds. Already on a breathing tube, there was no need for CPR when the surgeon flipped Carter over.
"It was a very big shock," said Nebel. "Knowing all we went through, I would do it over again because it worked."
Nebel noticed a night and day difference with Carter after the surgery. He could finally eat solid foods without choking or gagging, there was no more hospitalization, and his walking became more coordinated.
Chiari symptoms have impacted Carter now and then as he's grown from a toddler into a young boy, but Nebel finds ways to eliminate issues. Maskrey couldn't speak intelligibly until age 4, when a speech therapist helped him out. He still aspirates sometimes, but not when he uses a straw to drink fluids. Carter also has hypermobility syndrome as a related condition, so Nebel said it takes him about 300% more energy than other children his age to complete certain activities. He has occasional seizures, he's a bit behind emotionally and socially, and there's a chance he may need brain surgery again later in life. That's a scary thought for Carter, but Nebel reminds him he's OK right now.
New opportunities
Because of Maskrey's Chiari malformation, he'll never be able to play sports.
Even though football is out of the question for Carter, having Chiari introduced a unique privilege involving a sports team. A program called Team Impact pairs children with chronic illnesses with college sports teams, so Carter is literally drafted on to the St. Olaf College football team. He attends practices and games, wears the team jersey, and has developed strong relationships with the coaches and players.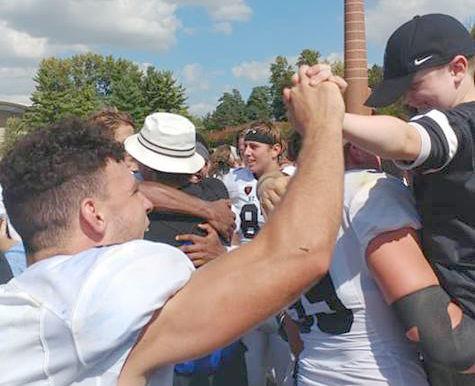 Head Coach James Killian said having Carter around gives his players perspective when they're having an off day. Even these college football players, said Killian, haven't endured the pain Carter has as a little boy.
Carter has been on the team longer than Killian. Approaching his "senior" year this fall, he has one year left in the program. At the start of each season, Nebel shares a video about her son's condition so the freshmen players can become familiar with Carter.
"It's definitely an emotional time to see what Heather's had to go through, so we want to make [Carter's] experience as memorable as we can," said Killian. "… I would say we learn more from Carter than we're able to give back to him."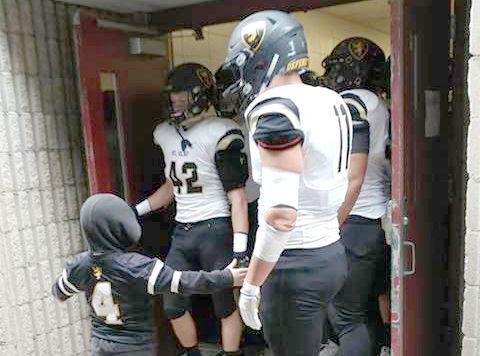 One of the former St. Olaf coaches referred Nebel to Lonsdale as a place to move from Red Wing three years ago. Carter was able to start kindergarten at Tri-City United Lonsdale Elementary after the move.
"I love the school here," said Nebel. "The teachers have been amazing, the paras have been amazing; we'll never move out of the area because the schools have been really good."
Now remarried with a 2-year-old, Nebel works from her Lonsdale home as a volunteer and event coordinator for Conquer Chiari, the largest organization in the country to fund Chiari research. Since it's 2004 beginning, its raised $3.9 million for the Conquer Chiari Research Center at the University of Akron in Ohio. Nebel and the organization founder are the only two employees of Conquer Chiari.
In 2012, Nebel started the Chiari Golf Tournament at Mount Frontenac Golf Course in Frontenac to honor her son. This year's event is from 8 a.m. to 2:30 p.m. Aug. 17, and all proceeds go to Conquer Chiari to help research Chiari malformation.