Eight years ago Dave Luedtke, owner of Dagry Tooling Inc., accepted a unique request from a client. With a crew of workers, Dagry built a 43-foot sailboat outside under a shelter behind their Owatonna building. On Tuesday the boat was finally loaded on a truck to make its way to Lake Superior, where the next phase of building will continue.
For Luedtke, seeing the boat come together and sitting on the truck was fulfilling. The project proved to be unlike any other the precision machine shop has taken on.
"First of a kind for us and last of a kind, too," Luedtke said.
Dagry is a metal fabrication shop just beyond Owatonna city limits. The manufacturing company specializes in creating parts for a variety of things, whether it's a concept product in development, tools to make a job easier or parts for discontinued machines, as well as any other project a client might need. They work with materials such as polycarbonate, stainless steel and aluminum.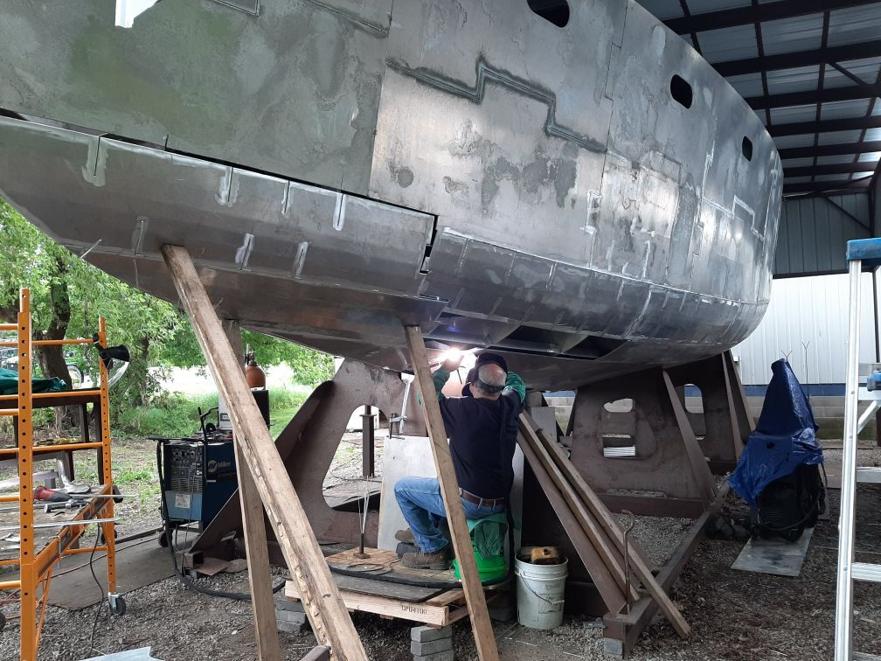 Client and owner of the boat, JP Kreutter, spent Tuesday morning with the crew watching the boat get loaded onto the semi, he planned to follow the truck up to Superior, Wisconsin. After several years of waiting, Kreutter was looking forward to the project moving onto the next step.
"It's exciting," Kreutter said. Kreutter has been in the Owatonna area for around 30 years, working for Federated Insurance for a number of years before starting his own State Farm Agency. His wife, Katy is from Owatonna and his two children have been raised in town.
As agreed, Dagry took on the project part time, working when there was time and the weather was decent.
"With aluminum welding, if it's not good weather you don't weld," Luedtke said.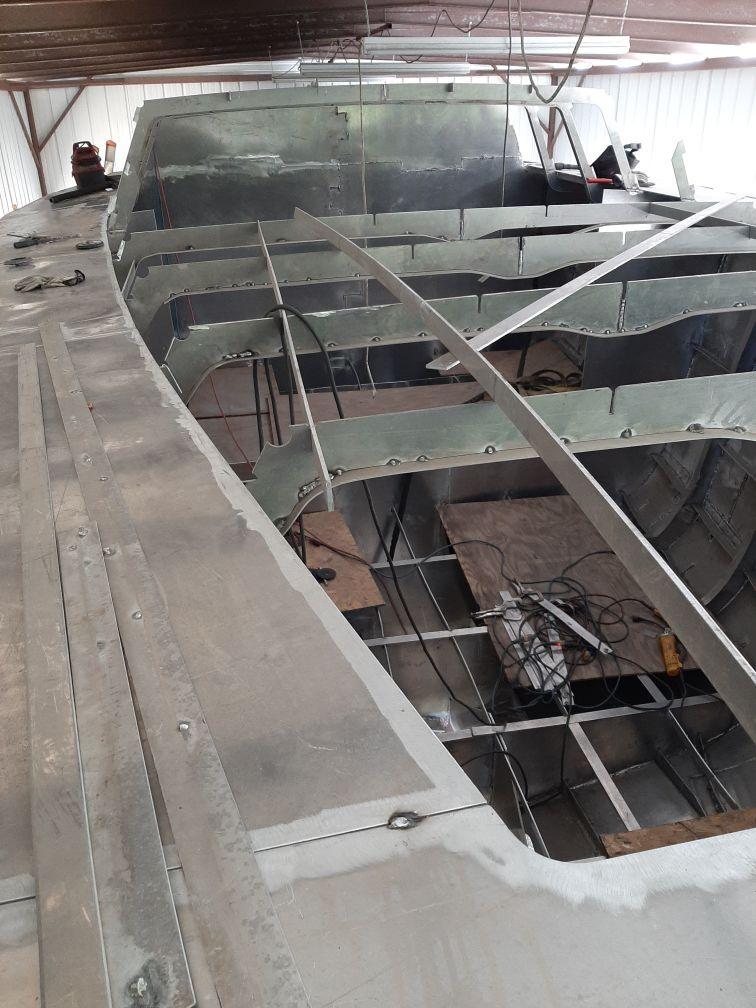 Even as a side project, Luedtke did not expect the boat to take as long as it did to finish. More recently the company has picked up the speed on completing the project.
"The last two years we've been real proactive, almost full time in the summer," Luedtke said.
The crew worked under a roof, which sheltered them from rain and sun, but not wind. Luedtke estimates about five welders worked on the boat throughout the project timeline, carefully welding precision cut pieces of metal together. The project always provided the welders with something to do. Each metal piece was marked to identify where it should be welded.
"It's just one big jigsaw puzzle, is all it is basically," Luedtke said.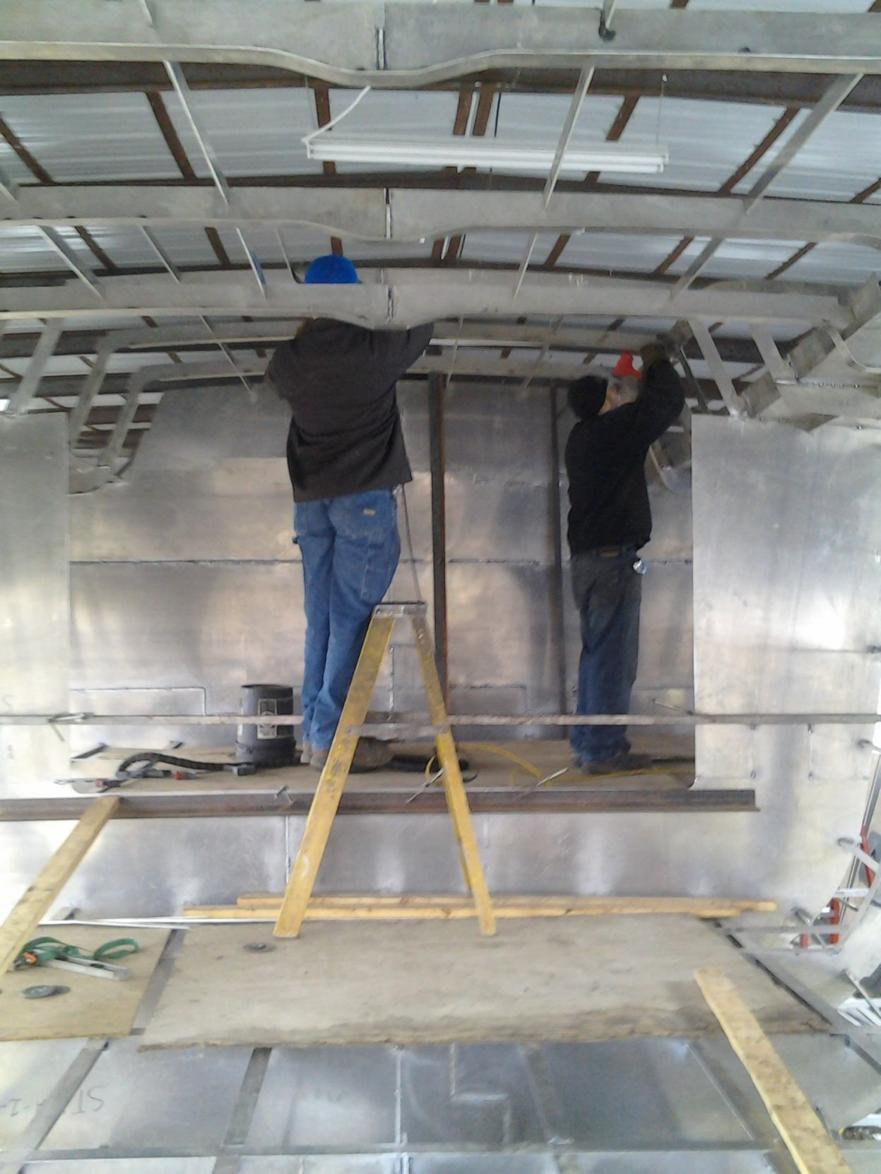 Luedtke found aligning the bow to be the most difficult aspect of the project, with multiple curves coming from different directions to account for.
After thousands of hours of work, the skeleton and outer shell of the boat was completed. Although Dagry wasn't able to get everything done, Luedtke estimates that with one more week of work the crew could have finished the small amount of welding that was left, but a crane and truck had already been scheduled for the pick up on Tuesday.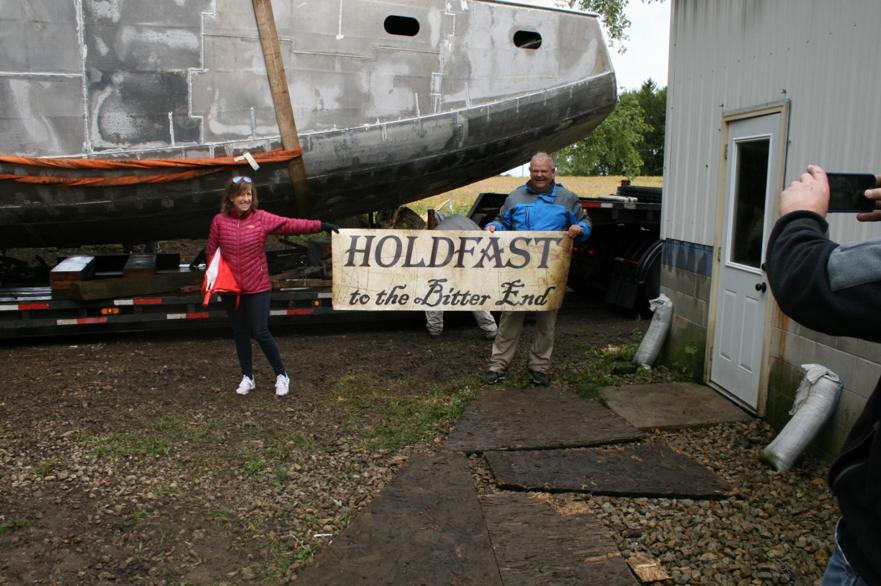 The boat is named "Holdfast," after Kreutter's life-changing experience with a group of training and nutrition coaches called Holdfast. With their help he lost 35 pounds of fat and gained 10 pound of muscle, adding that he is healthier in ways that he has not been in a while.
"I chose to name my boat Holdfast because it encompasses triumph, perseverance, but also doing it the right way, on my own terms no matter how long it takes," Kreutter wrote in a narrative provided to the People's Press. "The goal is to not just make it through the storm but to survive better, stronger, more confident afterward."
Holdfast is also a nautical term which refers to holding strong to a lifeline during a storm.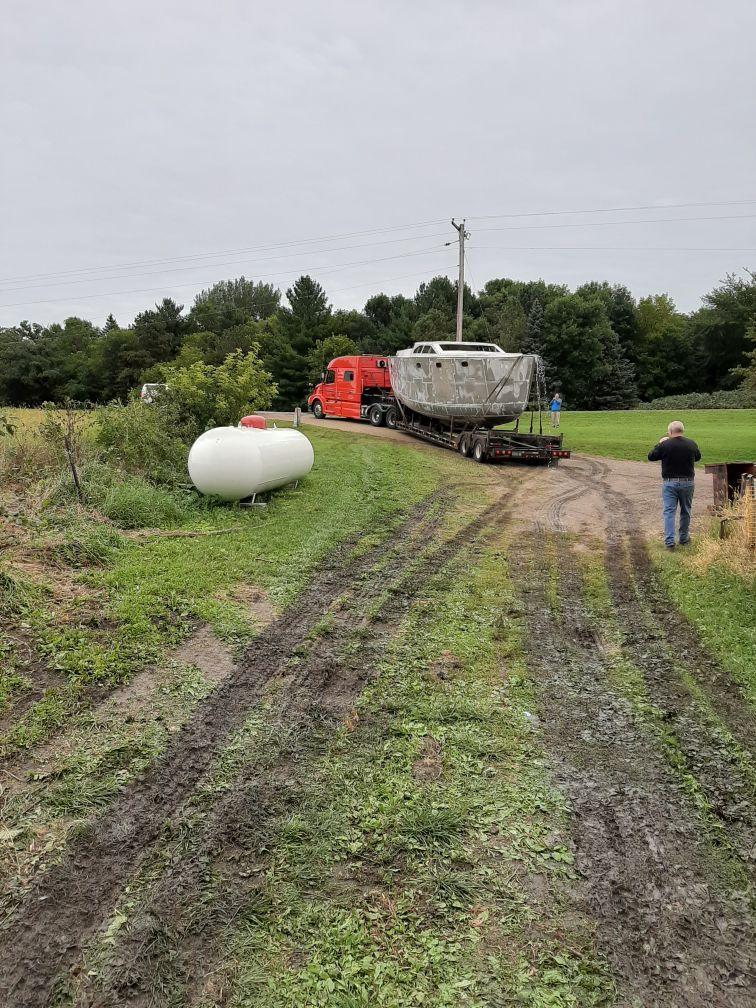 It took over four hours to remove the roofed shelter, pick up the boat with the crane and put it on the truck. Dagry employees, many who had seen the project develop throughout the years, watched as the boat was lowered onto the truck.
"It's kind of exciting for everybody," Luedtke said.
Once on the truck, the boat made its way to Superior, Wisconsin. There the boat will be finished. The keel and mast will be installed and any additional cutting, welding and smoothing will be touched up. Then painting, sealing, electrical work and some interior work will be completed. Luedtke says this could take another couple of years.
Dagry will now cut up the steel stand the boat was built on, and turn their attention back to other projects in the works.