Every building on Lonsdale Main Street has a story, and most date back to a period long before the current businesses occupied those spaces.
Not all residents know the origin of these buildings, so the Old Town Lonsdale Business members want to collect information to share publicly.
While members haven't named a concrete end goal, Joy Cherney, who spearheaded the Old Town Lonsdale Businesses group last year, believes the answer will become more clear as residents come forward with any pictures or stories that represent Lonsdale's past. Since the group's main goal is to draw awareness to Lonsdale's Main Street, one possibility is displaying each building's history inside the corresponding place of business.
Fritz Duban, former city administrator for Lonsdale, attended the most recent Old Town Lonsdale Businesses meeting Tuesday, Jan. 21 at Quilting by the Hearth and shared what he knows about Lonsdale's Main Street history.
Thomas Wilby's land donation to the railroad company, which originally planned to build the railroad through Veseli, was the linchpin in Lonsdale's establishment. And according to Duban, Lonsdale's name came from a railroad worker, who said the town should be named after him.
Incorporated in 1903, Lonsdale grew to the point where homeowners in Veseli pulled their houses via horse and buggy or steam engines to the new land, said Duban.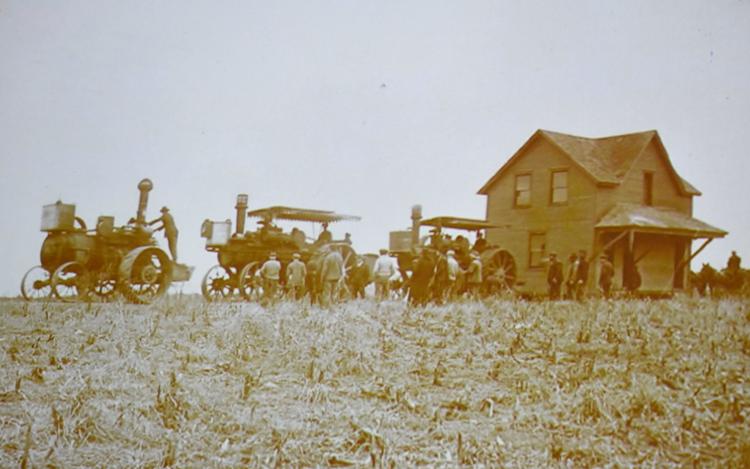 The main street, said Duban, was one block west of where the current Main Street businesses begin. There were three car dealers in town, but he said those disappeared long before the 1960s. He recalled when a hardware store was stationed at the site of the current Veterans Memorial Park, it was a bar before that. He described a jail behind the former liquor store, which moved sites several times, a doctor's office with a dentist's office in the back, and movies projected on the back of one of the Main Street buildings.
"If all that information could somehow be consolidated … it would be just fascinating," said Lisa Strawhacker, owner of Quilting by the Hearth.
Cherney and Strawhacker agreed to visit the Rice County Historical Society to find more information about Lonsdale's history.
Getting off the Ground
Old Town Lonsdale Businesses has spent the past few months becoming more established as a group. Business owners and employees meet monthly, and the group has launched an Old Town Lonsdale Facebook page.
As a marketing tool, the group created a wrack card that lists several participating Main Street businesses. Residents who bring the card to the listed businesses receive special offers. When these cards run out, if they're successful, the group hopes more businesses will agree to be listed on the second batch.
In another discussion at its January meeting, Old Town Lonsdale members brainstormed ideas for their first community event to host. Tentatively, the group may host a Leap Year event Feb. 29 called "Leap into Lonsdale," if enough Main Street businesses agree to participate.