Maggie and Nicholas Stensaas never lived in Lonsdale before this year, but they're making a long-time dream come true on a farm five miles south of town.
As co-owners of New Frontier Farms, the Stensaases just processed one batch of 50 chickens that sold out immediately, and they have 25 of the next batch already reserved. Egg sales started recently, and they made their first appearance at the Lonsdale Farmers Market a couple weeks ago. By next spring, they hope to have an on-site store.
"We both wanted to be farmers our whole lives, so it's been fun being our own bosses," Maggie said.
Maggie grew up in Lakeville, on what she calls a 4-H farm. Her parents, Mike and Tina Stiles, had a commercial beef herd but earned their income off the farm.
Nicholas grew up in Kansas, and although he lived in town, his extended family in South Dakota exposed him to farm life.
The couple met at South Dakota State University in Brookings, South Dakota, where they both deepened their knowledge of agriculture. Nicholas earned his degree in agricultural science while Maggie obtained her degrees in speech communication and dairy production with an animal science minor. Maggie and Nicholas acquired an interest in rotational grazing and soil health from their classes as SDSU and coupled that knowledge with their pre-existing interest in farming.
After having their first son, Cooper, now 2½, Maggie and Nicholas realized they wanted to live closer to family. The couple moved in with Maggie's Lakeville family in May as they searched for a home of their own, and their Montgomery-based realtor showed them the Lonsdale farm. They both missed living in a small community and liked the acreage, barn and house, so they made the choice to move in. Since then, they've given birth to their second son, Tucker, now 1 month old.
"We've been very busy since the day we signed," Nicholas said.
Added Maggie: "We've been really happy with the support from the community of Lonsdale … My grandpa used to send his cattle to Lonsdale, so it's come full circle."
Maggie said animals haven't lived on their Lonsdale land since the 1950s; in their barn, they even found medicine for pigs dating back to that era. The red barn, which makes their home easy to spot, has a rock foundation from the late 1800s or early 1900s.
"We're very thankful the previous owner took care of it," Maggie said of the barn, which she might paint blue in the future to match their branding.
Half of the chicks on the Stensaas' farm are boilers that will weigh up to five or seven pounds, and the other half are cornish game hens that will weigh two to three pounds. Maggie said the latter will be perfect for couples with smaller families. After they've grown, the poultry will be processed at the beginning of November. The Stensaases also raise straight run chickens, which can be hens or roosters, and layer chickens that grow up to lay a variety of brown and green eggs.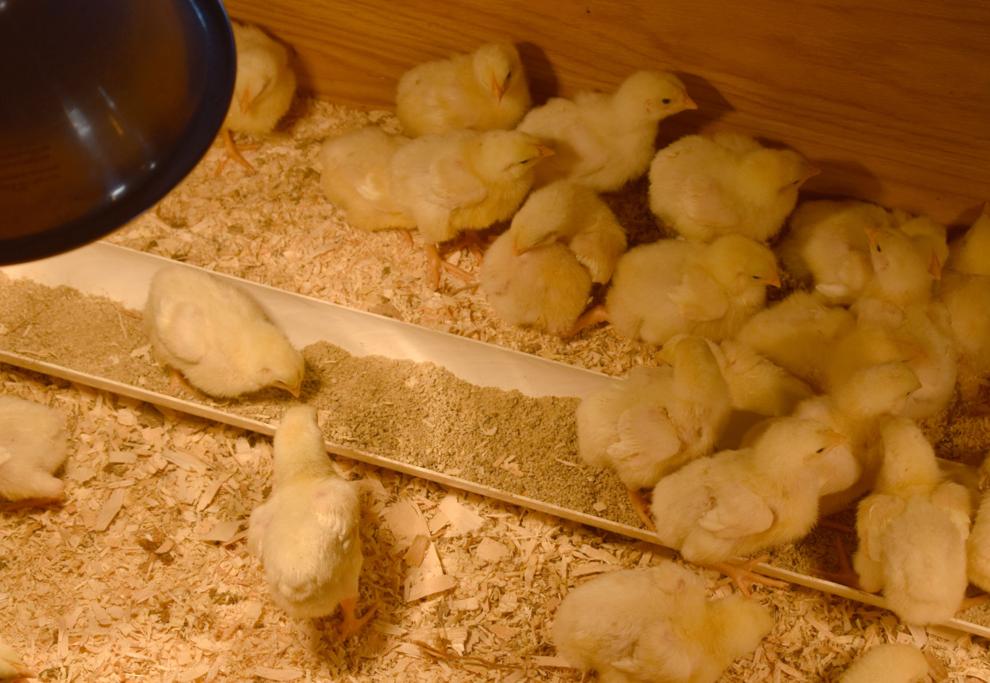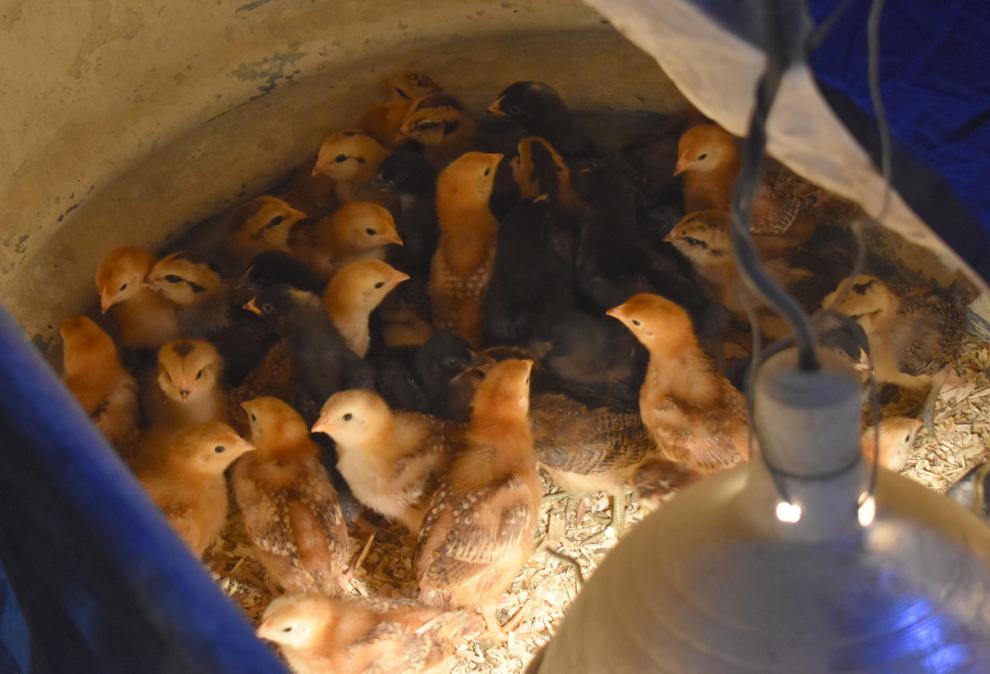 After the chickens feather indoors, the Stensaases transfer them to a "chicken tractor," or a mobile chicken home. This allows them access to fresh grass and keeps them safe from predators. They currently have 38 laying hens in the chicken tractor, and they all lay brown eggs.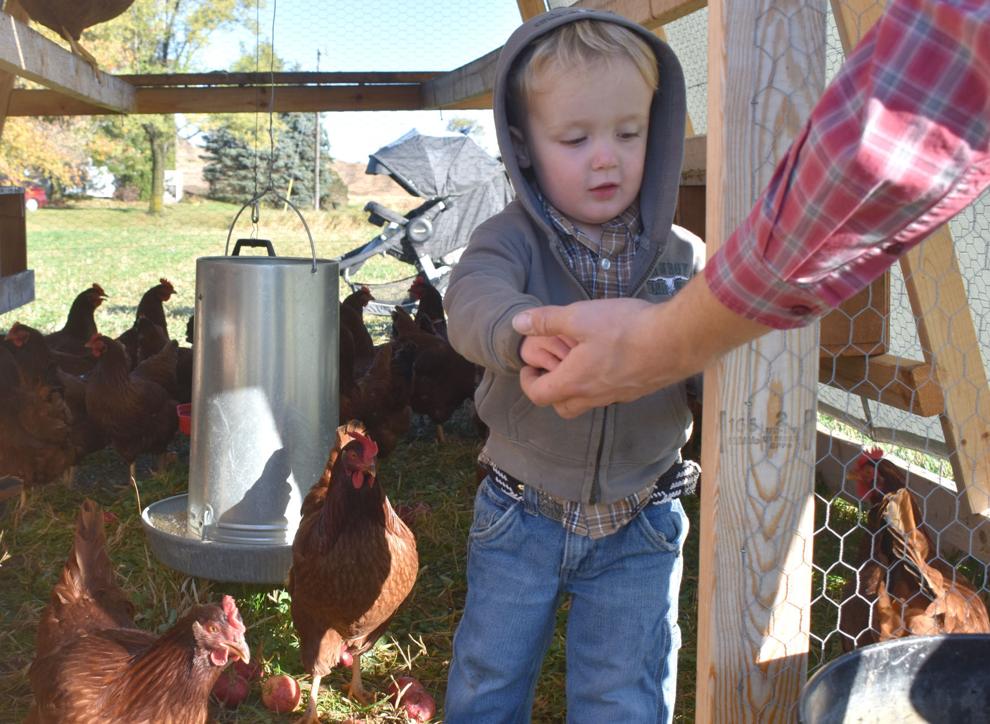 Maggie has never owned turkeys before, but she and Nicholas now keep 13 in a turkey tractor. The bourbon red turkeys are due for production one week before Thanksgiving, and 11 are already reserved.
"My favorite thing about poultry is how different they all are," Maggie said. "Turkeys are so curious; they're always watching and paying attention to things, which has been really fun."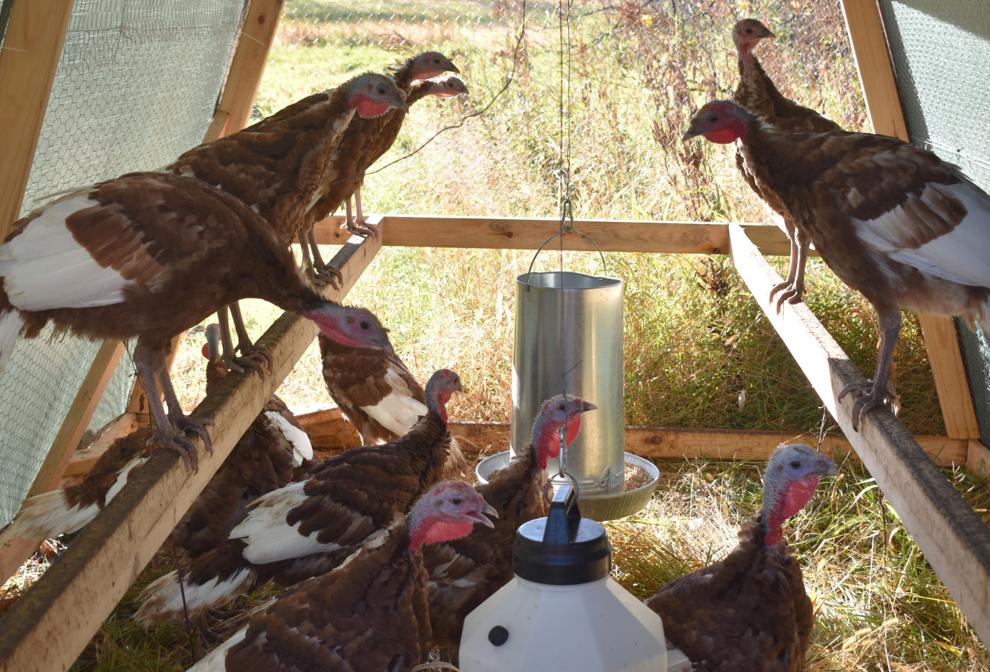 Apart from poultry, Maggie and Nicholas house their dairy goat, Angela, in their barn. Angela is 1 ½ years old, and her goat milk will be used to make soaps and lotions. Maggie hopes to eventually process the goat's milk for edible products as well.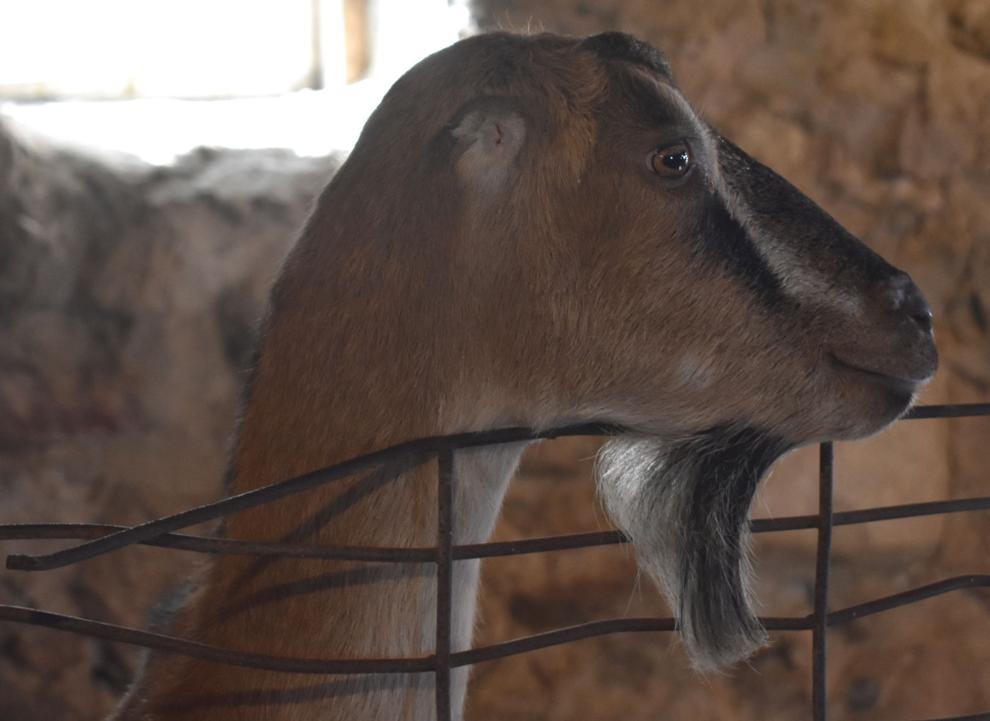 The Stensaases keep their two heifers, Gertrude and Whoopi, fenced in outside the barn. Both heifers are 1 year old and will be ready to have calves next fall. Gertie's breed is good for grass-based systems, Maggie said, and Whoopi's breed has a high level of beta carotene, which supports lung, eye and skin health. Maggie will also use the cows' milk for soap and lotion products next year.
Six holstein dairy steers, which are 2 to 4 months old, will be processed in the winter of 2021. Most of the steers came from a Medford dairy farm, but others are from the University of Minnesota Extension. Maggie said the steers will be out on the pasture next summer, but right now they're still getting used to the grass.
The pigs are the newest additions to the Stensaas' farm. Nicholas and Maggie will raise the pigs, which are about 12 weeks old, until February. The Lonsdale Country Market will then process the pigs for the Stensasses to sell in halves and wholes. The Stensaases have been feeding the pigs and the heifers waste apples from a local orchard, and they want to work with grocery stores in that regard to accomplish their mission of sustainability.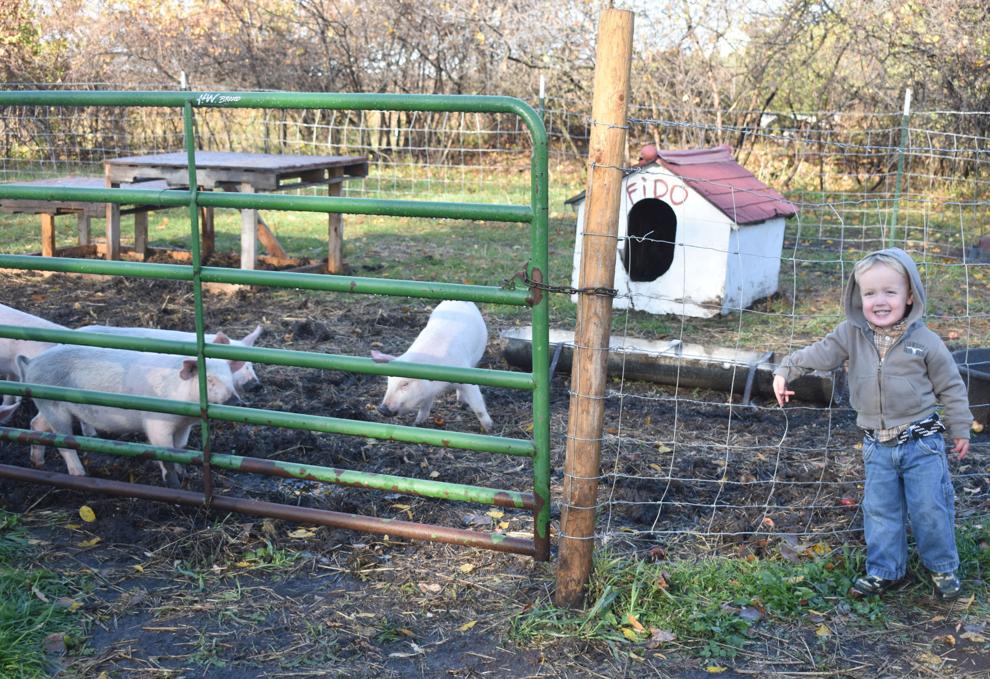 Maggie and Nicholas use their animals to build up the land in different ways. The cattle, while fenced in for now, will eventually graze the grass in the pasture. The pigs naturally till the soil, which they will prepare for next year, and the chickens have been fertilizing the field.
It isn't just Maggie and Nicholas who enjoy farming — since moving to Lonsdale, they've watched Cooper become comfortable with animals he once found terrifying, like their horse, Dusty. As they walk around the farm, he eagerly retrieves eggs from the chicken tractor and points out the pigs. Unlike his brother, Tucker's farm exposure begins as an infant.
"There's always something to do on the farm for Cooper," Nicholas said.
Unlike his brother, Tucker's farm exposure begins as an infant. Maggie said she's thankful for her parents and the help they've provided since their move to Minnesota.
Added Maggie: "We're excited to be here and grow our family and our farm."